Review of KeePass Professional Edition Password Safe
What is KeePass Password Safe?
KeePass 2.x, also referred to as KeePass Professional edition, is a free password safe software under the open source software (GPL) license. KeePass Professional is the successor of KeePass 1.x, called the classic edition, which is still available as it does not have Microsoft .NET Framework or Mono 2.2 prerequisites. In this review we look at KeePass 2.08.
System Requirements (5 out of 5)
KeePass 2.08 runs on recent 32-bit and 64-bit versions of Microsoft Windows with Microsoft .NET Framework 2.0 or later installed, as well as on Mac OS X, Linux and UNIX variants which run Mono 2.2 or later.
Install (5 out of 5)
KeePass Professional Edition comes in two editions as a portable executable which works on all supported operating systems or as installer only for Windows. Throughout this article KeePass will be used on a Windows based computer.
The Windows installer based installation lets you change the setup language and then initializes the setup wizard. You will be shown the EULA and then given the option to change the install path. The next screen is for component selection, the default, Full Installation, has been chosen for this review; alternatives are Compact and Custom.
The subsequent screen gives you the option to change the start menu folder and leads over to additional tasks where you can tick Desktop and Quick Launch bar icons if you wish to have them. Leave the kdbx file association ticked and click Next, then Install if all your selections are correct. When the installation finishes KeePass Password Safe is launched by default.
Users of the portable edition of KeePass can simply double click KeePass.exe. This works great even if the software is run from a USB stick for example. As a matter of fact, I prefer and use the portable edition.
Setup (5 out of 5)
To use the password safe you first have to create a new secure database. Go to File, New and save NewDatabase.kdbx under a name and path convenient to you.
Now you can choose how to secure your password database by any combination of a Master Password, a Key File or Windows User Account integration; this is called multi-factor authentication, but in this article we can do we a strong password only.
Make sure Master Password is ticked and then enter and confirm your secret password. Observe the Estimated quality bar to see the strength of your password. On the next screen you can optionally enter the default user name for new entries. Then Click OK.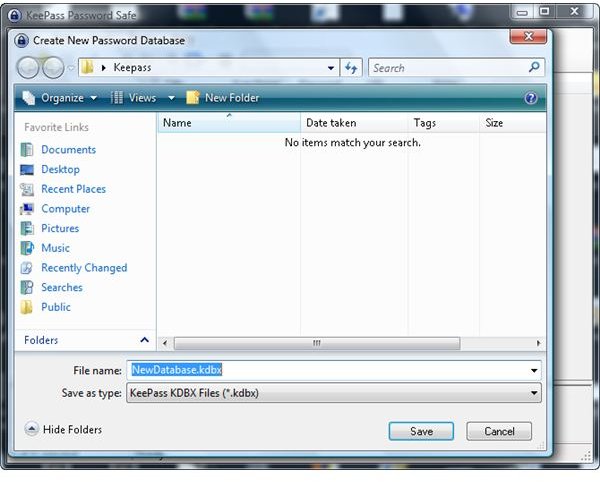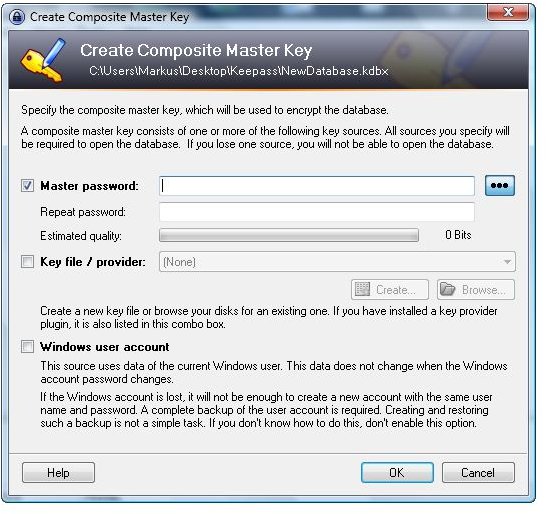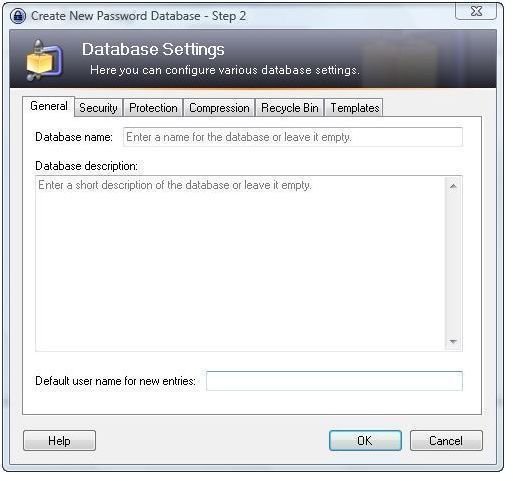 Interface (5 out of 5)
The KeePass GUI is intuitive and logically organized. User names and passwords can be inserted into logon fields by means of drag & drop; copy/paste is also supported of course.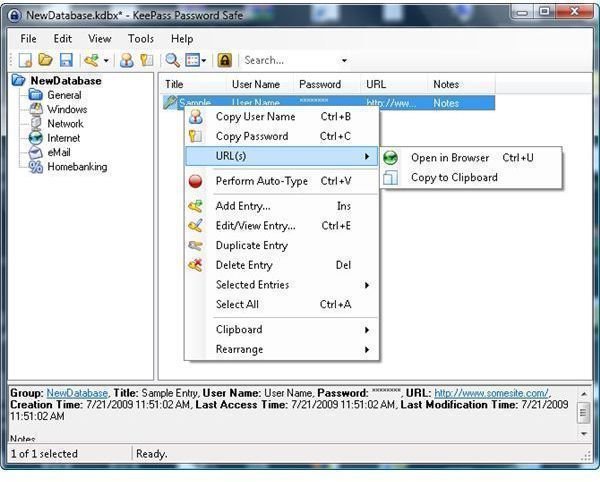 Features (5 out of 5)
KeePass Password Safe can store your user name and passwords for any website including Web based email, Internet banking etc. Instead of remembering all your credentials just remember the KeePass Master password.
You can add a new entry in KeePass by selecting the category in left pane and right-clicking into the right pane. Fill in the information including the URL so that you can later right-click the entry, and then select URL(s) –> Open in Browser.
Under the Tools menu you find a useful password generator, a TAN wizard and the Options menu. There, I recommend you check the security tab's first option and set Lock workspace after the following number of seconds to 60 or any other value you find secure.
Best practice: I consider KeePass the number one tool for account information which needs to be kept highly secure (However, for the vast majority of my web accounts, like logins to forums for example, I use a quicker tool called Roboform Pro).
Help & Support (4 out of 5)
KeePass contains a local a local help file as well as an online help center and a forum with a lot of postings in the help section due to the popularity of the program. Besides, the software is straightforward and I had never any issues using KeePass.
Price to Value (5 out of 5)
KeePass 2.08 is completely free.
The Bottom Line
As a best practice use KeePass for secure account information storage and Roboform for performance browsing. Make sure you always remember complex master passwords!
References
Author's own experience

Screenshots by the writer