Kaspersky Anti-Virus 2010 Review
Introduction
Kaspersky has released the new version of their top-rated anti-virus – Kaspersky 2010. The new version is boasting new features. This article will discuss what to expect with Kaspersky Anti-Virus 2010 (KAV).
Installation and System Requirements (5 out of 5)
The new version of Kaspersky Anti-Virus requires Windows XP, Vista and Windows 7. It will work in 32-bit and 64-bit systems. The vendor noted that safe mode will not work in XP 64-bit and will limitation if run in safe mode using 64-bit of Vista.
During installation of KAV 2010, the installer will display the standard End-User License Agreement. After agreeing with the EULA, another terms of agreement is displayed: Kaspersky Security Network Data Collection Statement in which if you agree, you will be participating in the Kaspersky Security Network by allowing the program to collect selected security and application data. This is similar to SpyNet in Windows Defender or any threat center by many anti-malware vendors that will help them in providing protection signatures for risks in the wild. It is not required to agree to the Kaspersky Security Network because the installation will proceed if you uncheck the box that you agree to the terms of participation in the said security network.
You can customize the component that KAV installer will install: Virtual Keyboard, Proactive Defense, and Anti-virus for File, IM, Web, E-mail and Program Kernel and scan tasks. A system restart is not required to start using KAV 2010.
Features and Options (4 out of 5)
The features and options in using KAV 2010 are quite extensive but don't let it stop you in trying the program. Most of the options are very useful and offer what most computers need as protection:
File Anti-Virus: Protection by KAV against known malware
Mail Anti-Virus: E-mail protection
Web Anti-Virus: Network protection to scan web traffic
IM Anti-Virus: Scans instant messaging for malicious objects
Proactive Defense: Heuristic protection
Anti-Phishing: Fraud protection
Extra Tools and features in KAV 2010 are displayed in its Security + window which let you use the following tools:
Virtual Keyboard
Rescue Disk
Browser Tune-up
Privacy Cleaner
Windows Settings Troubleshooting Utility: To check the security settings in Windows e.g. if Autorun is enabled and if Windows Update is disabled.
Special Game mode
Browser Helper Object to identify unsafe website - I noticed that this feature is not working. I visited few unsafe website and even search the internet for known malware links but I can't see any visible color coding that it is supposed to display or warn.
Performance, Tasks and Update (5 out of 5)
KAV 2010 lets you rollback to using previous database if the new database is corrupted or providing false positive. This is quite useful since false positive or corrupted download can happen. It's always recommended that we configure the anti-malware to send copy in quarantine for any threat it will detect.
The scan tasks in KAV 2010 are similar to what we expect with advanced anti-virus except that KAV 2010 is also offering Vulnerability Scan. KAV is running with acceptable memory during PC usage and during scanning.
Protection and Detection (3 out of 5)
I used 201 confirmed malware samples to test KAV 2010's resident protection. The malware samples were located in Virtual PC. To proceed with the test, I started transferring the directory that has 201 malware files from Virtual PC
to the hosts system where Kaspersky is installed. The resident protect able to detect 159 malware only and left 42 undetected. Running an on-demand scan failed to detect the 42 malware
. I changed the settings to its highest protection level but the result is the same.
Price to Value (4 out of 5)
Kaspersky AV 2010 is $39.95 – a protection for PC and web that is worth investing if you want the extra tools that is not offered by other anti-virus program: NOD32, Microsoft Security Essentials or AntiVir
The Bottom Line
Detection and performance of Kaspersky AV 2010 is average. I suggest giving this advanced protection a try only if a free and effective anti-virus does not meet your needs.
Images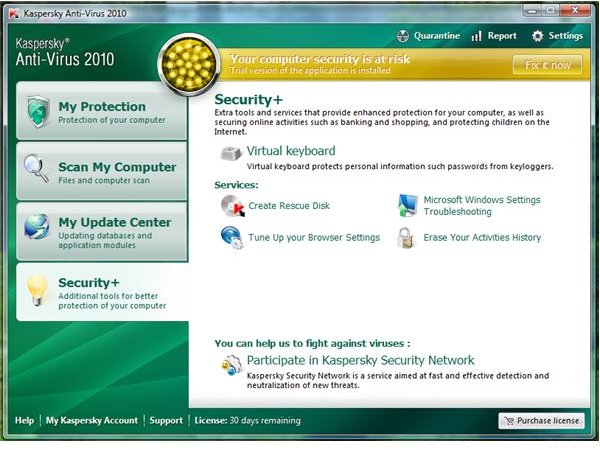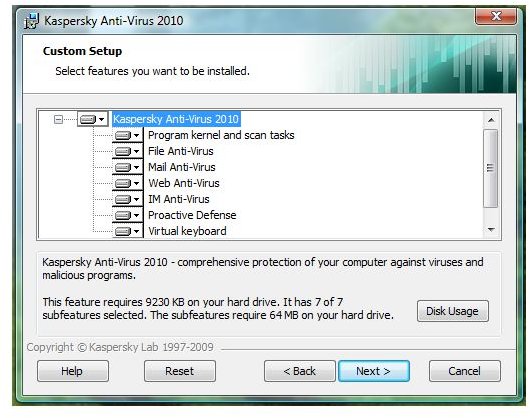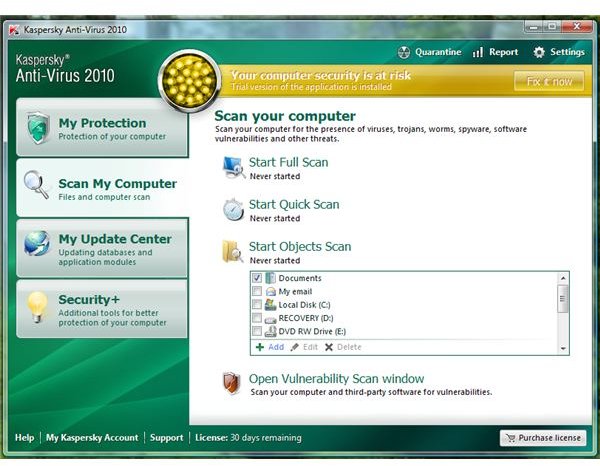 More Reviews!
Be sure to check out Bright Hub's reviews of other leading anti-virus and security solutions including Norman Antivirus and Antispyware, Norton Internet Security, McAfee Total Protection, Blink Professional and ZoneAlarm Internet Security Suite.