Acronis True Image: The Best Backup Software for Small Business Server
What is True Image for SBS
Acronis True Image for SBS enables SMBs to quickly recover from failed servers or workstations quickly, even if the recovery platform is from a different vendor with different hardware specifications.
I was pretty excited about reviewing True Image for SBS. I quickly installed a workstation copy on my laptop for testing. Since all True Image products work the same, no matter the platform, this provided a good way to walk through backups, restores, and other features.
As part of my test, I created a scheduled backup job and a True Image boot CD. Comments on other components or capabilities are based on my review of the manual and online help.
Ease of Implementation (5 out of 5)
Installing True Image was painless, except for the expected reboot to complete the process. Unless you want to perform a customer configuration–which really isn't necessary with this product–all you have to do is click a couple of Next or I Agree buttons and the install program does the rest. The Custom setup window is shown in Figure 1.
Setting up backups is standard. A Windows Explorer-like view allowed me to select an entire partition, an entire drive for imaging, or specific folders.
Also included in the standard license is the ability to create bootable Acronis media, used to recover servers that fail to boot. Once the system is booted from the bootable media, such as a CD, a previously created image can be restored to quickly recover interrupted business processes.
Other components on the standard SBS distribution are a management console–used to remotely manage backups and restores–and a backup server manager–used to manage backup storage.
A significant benefit obtained from an Acronis solution is Universal Restore, a separate component that allows the restoration of an x86 server onto another x86 hardware platform, even if it is a different model or from a different vendor. Again, this is a separate module that must be purchased and maintained as a separate license.
All of these components are easy to install and configure, given basic knowledge of file structures and the servers involved.
Price to Value (4 out of 5)
There are a lot of features packed into the basic SBS license, as listed above, for the basic price of about $499 per server. However, the SBS package only supports Microsoft Small Business Server. If you want to backup a Linux or Windows Server system, you need to purchase the Enterprise version for about $600 more. Individual Windows Server licenses are also available.
I would much rather see a comprehensive Windows backup solution for $499 than separating SBS from the pack.
Day-to-day System Management (5 out of 5)
Just like the initial implementation, maintaining this backup/restore solution is very easy. In addition to the intuitive interfaces provided to configure backups and effect restores, True Image SBS also enables technical staff to maintain server images, including:
Restoring specific files or folders
Making changes to configurations stored on an image
Cleaning malware infestations that made it to the backup image
Feature Set (5 out of 5)
Where do I begin. In addition to good old backup and restore, the following features come with the standard license:
Excludes file types from backups
Creates encrypted backup images
Creates bootable images using Acronis Active Restore
Throttles to control hard disk write speed and network bandwidth use
Allows changes to images
Multi-volume snapshots
Converts images to VMDK or VHD for implementation in a virtualized environment, supporting VMware, Microsoft, and Parallels
Remote unattended restores
Recovers failed servers to dissimilar x86 platforms when used with Universal Restore, a separate component that does not come with the standard license
Help and Support (4 out of 5)
My interaction with Acronis while conducting research for this review was positive. In addition, application help and the product manual are well written, containing step-by-step instructions for backup, recovery, and other activities. However, the Acronis Web site was down the entire time I worked on this article. This is a problem when attempting to access online support services. For that reason, I dropped the Help and Support rating down a notch.
Conclusion
Overall I found this to be an easy to use, effective SMB business continuity solution, which allows reduction of recovery periods. Further, workstation backups can be configured and managed using the same True Image console. Workstation licenses are just under $80 each.
Tables and Figures (Hover for caption, click to enlarge)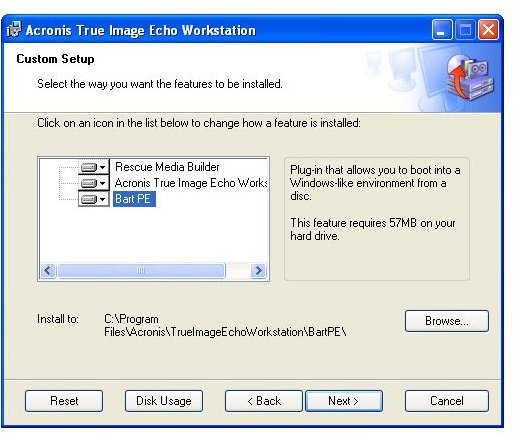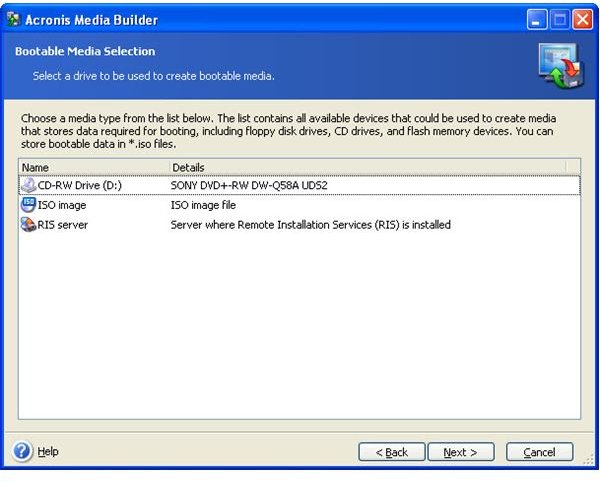 Other Backup Solutions
Should you be debating whether to go with an in-house backup solution such as Acronis True Image or an online backup solution, be sure to check out our article Online vs Offline Data Backup and our review of SoSure Online Backup.
More Reviews!
Would you like to read more reviews? Look around Bright Hub and you'll find reviews of numerous other leading security solutions including ioSafe External Hard Drive, SpamTitan, GFI MailEssentials, Atek Secure Password Organizer, GFI LANguard, Norton Internet Security, Panda Internet Security, ESET Smart Security, McAfee Site Advisor, Norman Internet Security Suite and Undelete.