A Completely Free Firewall - Is PC Tools Firewall Plus Right for You?
Introduction
PC Tools offers Firewall Plus 5 for Windows as an easy, free PC firewall for Windows users. A compact, easy to install firewall, that still has options for expert users? Let's see if it lives up to its promise.
Features (4 out of 5)
I reviewed version 5.0.0.38, which was released June 24th, 2009. The firewall is compact, and the download is simple. Firewall Plus runs on Windows Vista (32 bit), XP, 2000 and Server 2003.
PC Tools aims Firewall Plus at "people, not just experts". The firewall is designed for automatic protection without the need for users to answer innumerable questions, while providing the ability for experienced and expert users to create their own firewall rules. The firewall offers Smart Updates to keep the firewall aware of new threats from the Internet.
PC Tools does suggest that Firewall Plus be used in conjunction with their Spyware Doctor–apparently some detection and protection against spyware and adware isn't covered by the firewall's functions. Well, this isn't a review of Spyware Doctor, and although it has received excellent ratings, it's not completely free for the full featured version of the product.
Firewall Plus 5 does offer during setup to install the free version of ThreatFire to protect against viruses and malicious behavior.
Performance (4 out of 5)
Unlike some of the personal firewall products out there, Firewall Plus is definitely fast and easy to set up and configure, and you don't notice that it's running. I've had some firewalls that unfortunately seemed to make every Internet connection drag, but Firewall Plus didn't slow things down at all. It is a quick process for you to make changes in the configuration as well. The install disables other firewalls for you, so that's fast and easy during the install as well. I liked the traffic flow information in the system tray, and it was fast to see what was happening in the detailed view. It was easy to enable or disable logging for individual applications.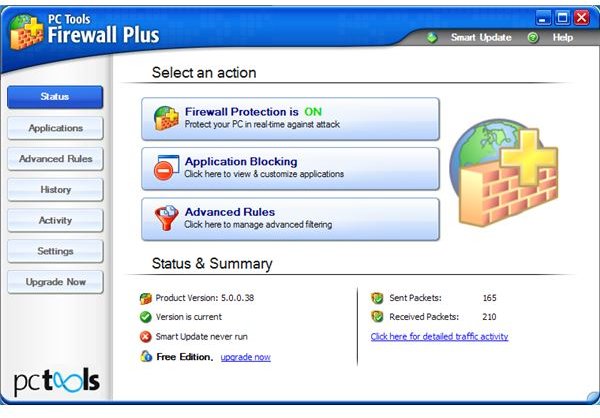 Pricing (5 out of 5)
Hey, you can't beat the price–it's free! PC Tools notes that there are no "catches, limitations, or time-limits" for use of the free product. Considering how good the product is, and that it doesn't cost anything to try, I have to recommend it. It may not be as full featured as some of the competition, but again, it's free. The other features you may desire can be gained at a low cost from PC Tools as well, or if you need something more sophisticated, free probably wouldn't work for you anyway. There's always the option to upgrade to their Internet Security 2009 product, for only $59.95 for up to 3 computers. That's a deal.
Overall (4 out of 5)
I was impressed with the ease of setup, configuration, and ease of use of Firewall Plus. I had not seen ThreatFire before, but it appears to have promise. All PC host firewalls that integrate with Windows must have the same general feature set–how they implement those features and present the user interface is what makes the difference. A firewall that is frustrating for users to use and doesn't provide strong protection won't last in the market. Firewall Plus is easy to use, and provides good protection. Download it and try for yourself at PC Tools website.
Be sure to check out our reviews of PC Tools other security products: PC Tools Internet Security and PC Tools AntiVirus.