Web Security Guard - Protecting Your Browser With a Cost
About
Web Security Guard (WSG) alerts you to bad websites, supposedly before you browse to them (doesn't always seem true, as the site loads in the background). In its database it has ratings by the WSG team, user, "Google Advisory", and PhishTank.
Installation (4 out of 5)
The installation was quick and smooth, the only negative aspect of it was that it offered to set Crawler.com as the search provider, and the check box was selected by default
. This is one of my pet hates as it could result in an incautious user who clicks through the screens too quickly and without reading fully finding that their system has been changed in a way that they never expected.
Visuals/GUI (2 out of 5)
Something that set me off was that

. Browser space is precious, and a lot of the entries on the toolbar didn't have anything to do with security. I mean, what does some fun skins and cursors and smileys havein common with protecting you from malware?
To compare, WOT just has a little

and SiteAdvisor has a small button (with an optional search box).
WSG is a security application, but it also is something like adware. I have been offered countless times to set "Crawler" as this or that (I didn't pay much attention to the ads). Spyware Terminator is also promoted, and most of the items in the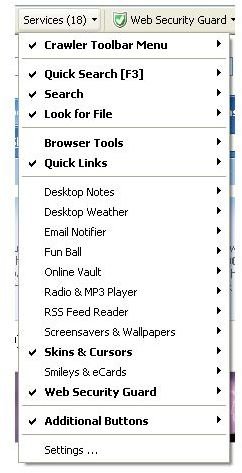 are totally not related.
Effectiveness (3 out of 5)
To its credit, WSG does catch a fair amount of malicious sites. It is something like a combination of WOT and SiteAdvisor. WOT says whether a site is dangerous or not by what users say, and SiteAdvisor scans websites. One problem with WSG is that, like SiteAdvisor, it can rate a site as good and then the site "turns bad," or vice versa.
Another downside is the lack of a widely publicized forum (there is one here, though not many people are on it). WOT has a nice little section in their forum for people to post website links and ask them to be rated one way or another.
In my experience, warnings and information tabs are a bit slow in opening, too.
Conclusion (3 out of 5)
If you are content with ads and non-security bits and pieces, WSG is okay for you. But for most, the extra tidbits are not relevant (and after all, who wants a browser like this
? [Note: WSG itself will only install one toolbar; it will take many more from other sources to look like the picture] ).
To sum it up, you are probably better off with WOT and SiteAdvisor.