Review of Tizer Secure Beta
Introduction
X-Wire Technology introduced Tizer Secure anti-malware on May 2009 with 30-day free trial beta version. It has Advanced Malware Removal Technologies with several types of protection tools.
Installation and System Requirements (5 out of 5)
Tizer Secure's installation process is easy but unlike other anti-malware programs, it requires a reboot before you can use the program. The installer will try to detect for other anti-malware that can conflict with the program. After installation, Tizer Secure does not report itself to Windows Security Center as antivirus or anti-spyware.
Windows XP/Server 2003/2000/Vista are the system requirements in using Tizer Secure. The product requires email registration to enable all the functions in the program.
Features (3 out of 5)
Tizer Secure is offering Advanced Malware Removal Technologies: 4 levels of scanning technologies, 8 scanning tools and 18 enhanced protection tools.
The 4 level of scanning technology are:
D-Scan – this is similar to signature based scan
AHED – this is the advanced heuristic technology
R-Scan – a behavioral scan
Rootkit Scan – will scan the system for known hidden process that is malicious
The 8 levels of scanning tool that Tizer Secure is offering is similar to other anti-malware programs: On-access, deep, quick, single, on-demand, processes, drive and compression scanning.
Tizer Secure is offering huge number of protection tools by offering monitoring tool for Hosts file, browser and homepage hijacks, LSP, site guard, immunizer, CPU watch, context menu, rootkit, winlogon and many more! Tizer Secure is also offering registry optimizer which is not common feature in anti-malware programs.
Performance and Updates (1 out of 5)
Tizer Secure's updating process is easy to use. It will search for detection database, ActiveX database and application updates.
The commit or virtual memory size for Tizer Secure is 70 to 80MB. When I test Tizer Secure to scan 30 malware samples, it detected 7 only. I allow the program to quarantine the 7 threats but the program's quarantine feature failed to record or lists the items it has quarantined.
Price to Value (2 out of 5)
The program is offered as 30-day free trial beta version. The pricing is not available in vendor's website with the following information only: "When your 30-day trial expires, you can purchase a license to download and use the newest version of Tizer Secure".
Conclusion
If you are looking for software that can protect your system and privacy, look for other anti-malware programs because Tizer Secure is currently in beta, no clear pricing and lacking detection ability.
Tizer Secure Screenshots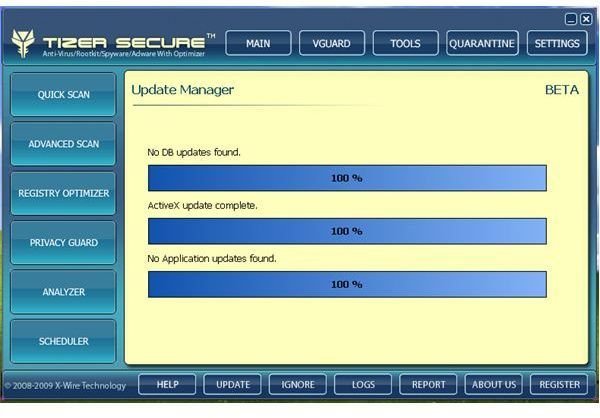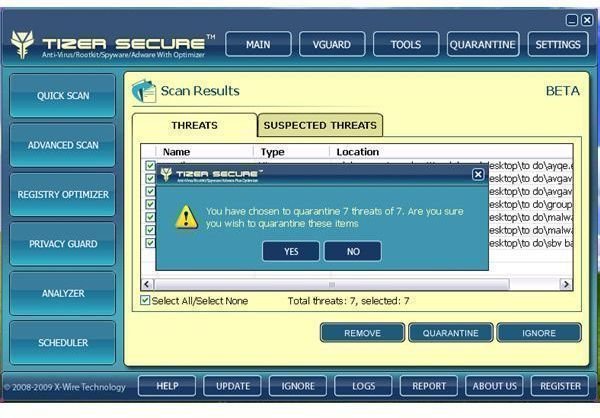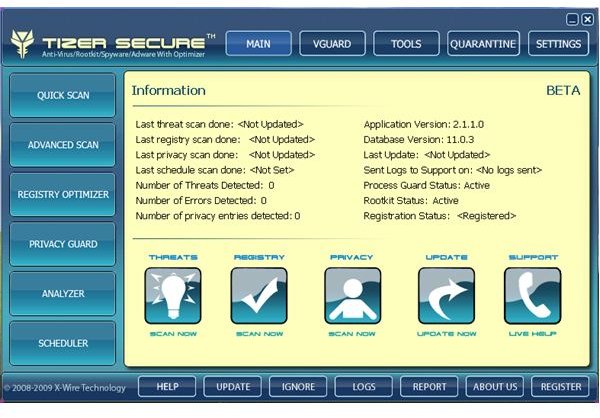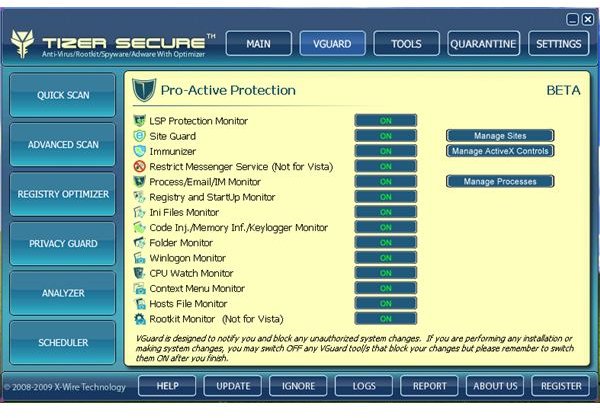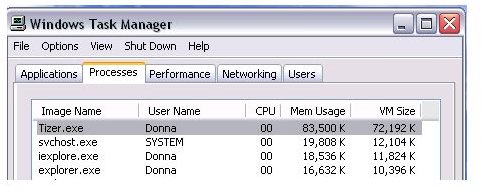 More Reviews!
Be sure to check out our reviews of other leading antivirus and security products including ESET Smart Security, Norton Internet Security, Kaspersky Internet Security, Comodo Internet Security and Webroot AntiVirus with AntiSpyware.