AVG Anti-Virus 8.0 Network Edition Review
INTRODUCTION
If you've been an avid internet junkie (like me) for the last 10 years or so, you've probably heard of AVG. Hailed by men, women, children, and computer nerds of all shapes and sizes for their free Anti-Virus software, AVG has become a household name among the security-savy web surfing crowd. Now AVG releases their latest security suite, Anti-Virus 8.0 Network Edition. The company's website (www.grisoft.com) describes their latest offering as "Antivirus and antispyware protection for your Microsoft Windows Small Business Server network." Do they deliver? Read on to find out!
Price to Value (4 out of 5)
AVG Anti-Virus 8.0 Network Edition is sold in a license package + 1 method. Essentially the smallest license package you can puchase is 5 + 1 (5 system licenses + 1 server license). This entry-level package is priced at $247.99 for a 1 year subscription or $371.99 for a 2 year subscription. That comes to $41.33 per license and $62.00 per license respectively. When taking into consideration the feature set, straightforward interface, and superior support this security tool is an excellent value.
Installation & Setup (4 out of 5)
Installation couldn't have been easier with just two self-extracting executable files. One for the AVG Build (core software) and the second for the AVG Remote Administration (network administration tool).
NOTE: Before I continue, it's important to note that I do not have my own LAN environment in which to test the AVG Remote Administration tool so this review will focus mainly on the features and performance of the core build software. However, I will touch on the Remote Administration GUI and utilities in the User Interface section.
So let's begin with the specs of my test system:
Dell XPS 410
Intel Core2 DUO 6600 (2.40GHz)
2.00GB RAM
250GB Hard Drive
Microsoft Windows XP Media Center Edition (SP2)
The AVG Build installation is quick (no more than 5 minutes) and takes you into the First Run Wizard upon completion. The wizard walks you through configuring scheduled scans. Next the setup asks you for permission to collect certain types of information from your system in order to help AVG identify potential threats on the web. Call me paranoid but I elected to skip this step. The setup then takes you to an update screen that searches the AVG servers for critical "threat detection updates." Interestingly enough the program was already up to date and no updates were needed. (In my 2 weeks of testing, I only had to update twice.) Finally, a system restart was required and setup completed. The entire process took less than 15 minutes. See below for screenshots.
The AVG Remote Administration installation is quick as well (also taken less than 5 minutes). Upon completion, the AVG Admin Server Deployment Wizard launches and walks you through creating a deployment database and an UpdateProxy role. The wizard gives you four different database options to choose from for your deployment database:
Firebird
Microsoft SQL Server
Oracle 10g
SQL Server 2005 Express
After selecting your database system the wizard creates the database and stores access and mirroring settings to it. Then the wizard takes you through creating the UpdateProxy role. This simply tells the software where to gather (and store) updates for distribution to licensed PCs. The wizard gives you the ability to select the update locations but I simply went with the defaults. See below for screenshots.
Setup Screens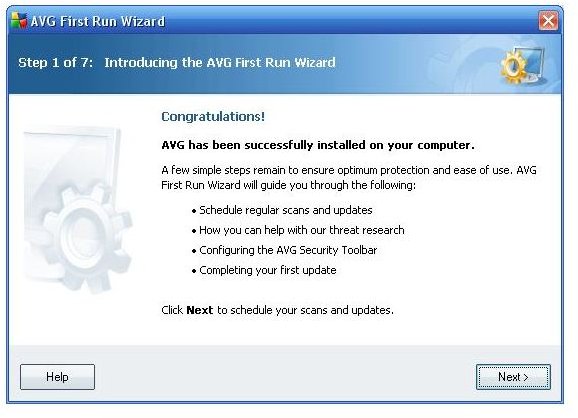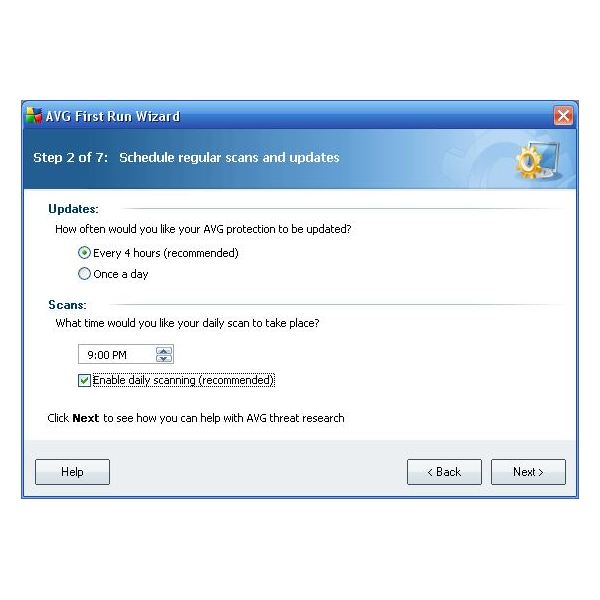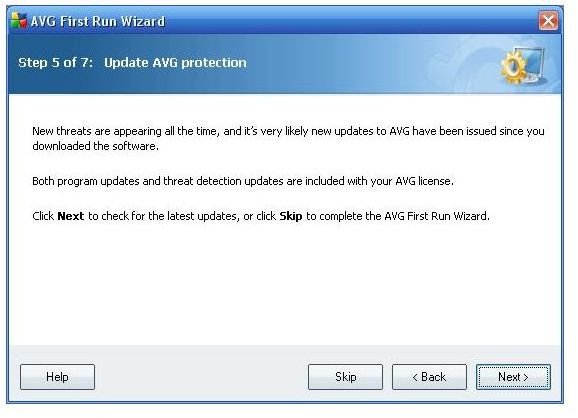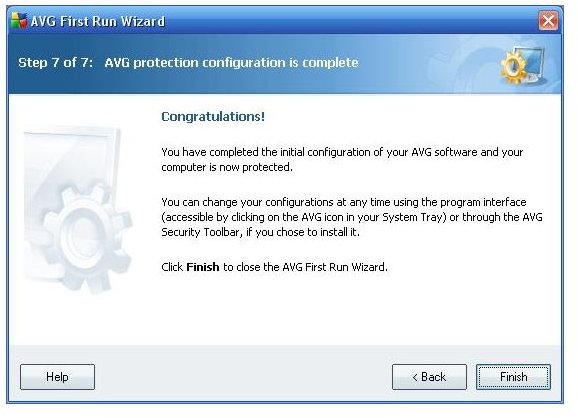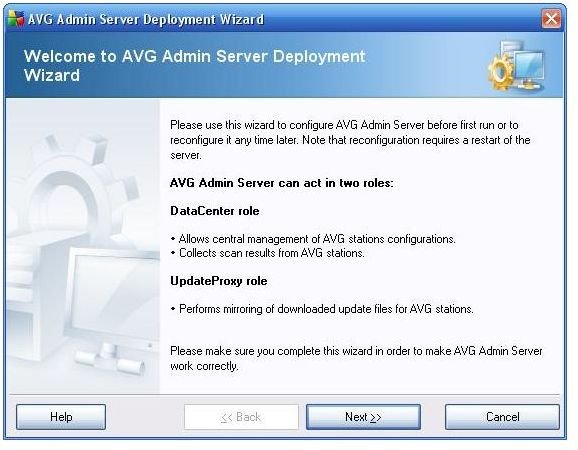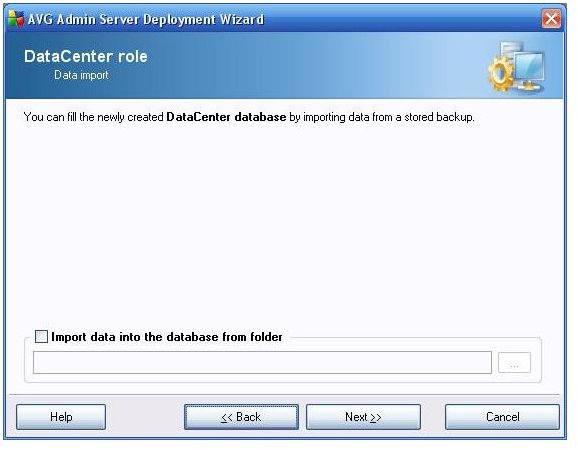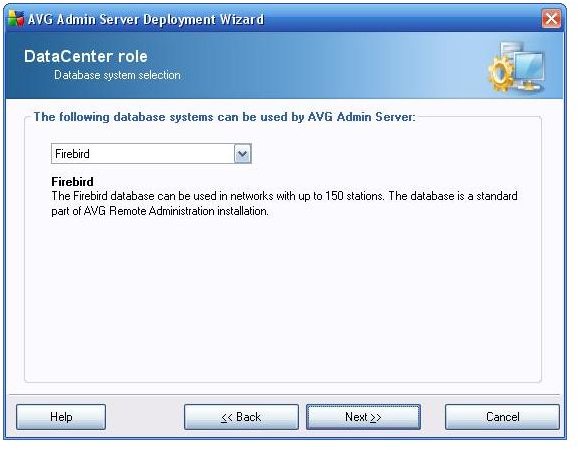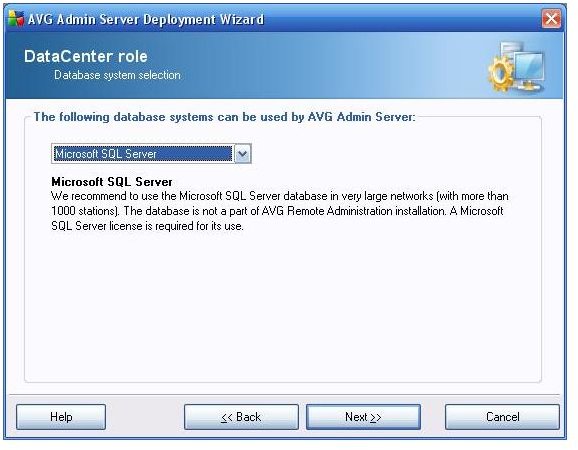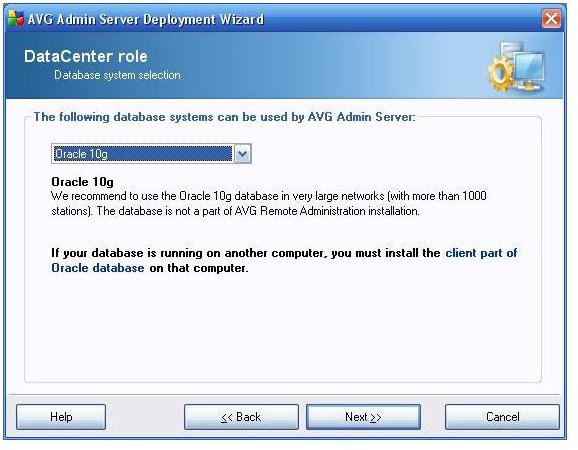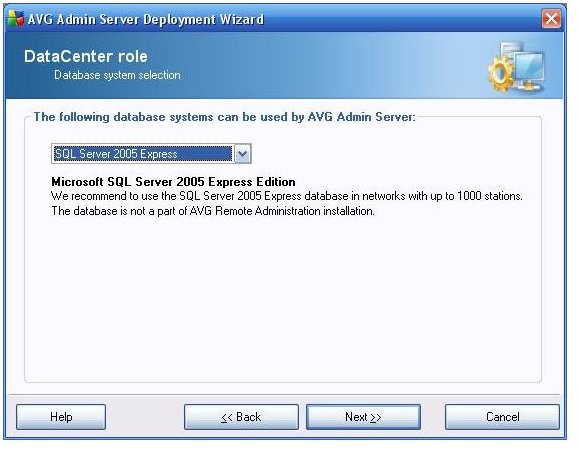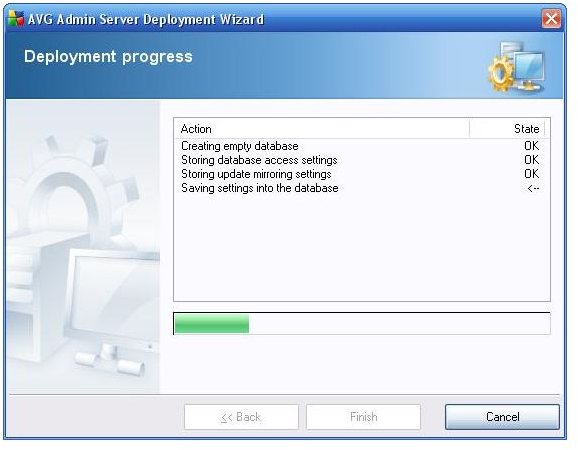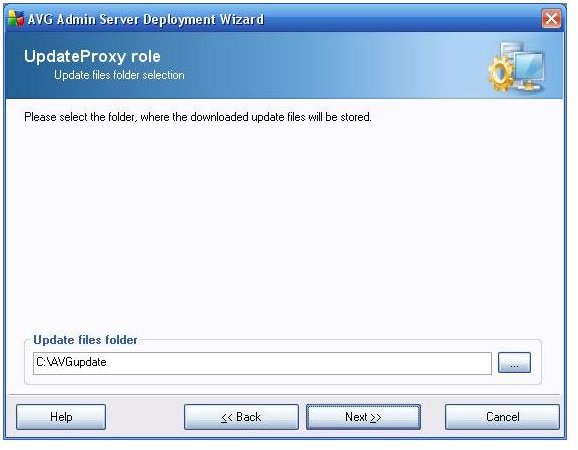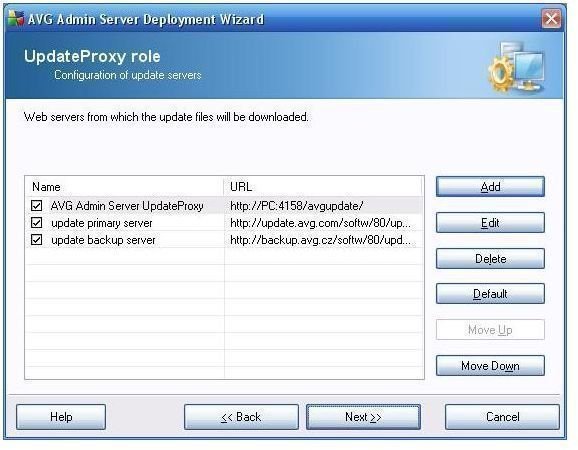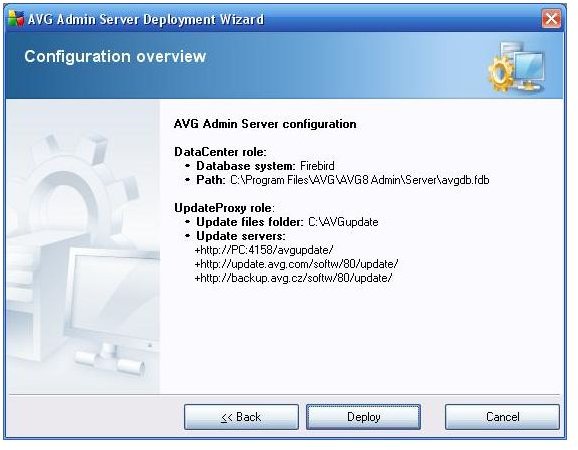 First Scan (4 out of 5)
After my test system finished restarting, the initial system scan was initiated. I ran a full system scan which ran for 45:48 and found 3 items and successfully removed them. At this point I launched FireFox and immediately discovered that the AVG Safe Search add-on had been automatically installed. More on this awesome little tool in the Product Features section.
User Interface (4 out of 5)
The user interface is very clean, well organized, and easy to navigate. It consists of File, Components, History, Tools, and Help drop down boxes and a Security Components and Status Overview screen. This screen lists the following tools:
Anti-Virus
Anti-Spyware
Anti-Rootkit
E-mail Scanner
License
LinkScanner
Web Shield
Resident Shield
Update Manager
Double-clicking on a tool will take you to its component screen and give you additional configuration options. However, most of the configuration is automatically done for you during the install process.
Advanced Settings
The Tools drop down menu gives you an Advanced Settings option. There are no big surprises on the Advanced Settings screen. It's arranged in the typical tree structure fashion with sub categories for each of the tools on the Security Components and Status Overview screen.
Product Features (4 out of 5)
AVG Anti-Virus 8.0 Network Edition is packed with useful tools and features. AVG dubs these product features as "Key Technologies." Here is a brief explanation of the top 5:
Anti-Virus: protection against viruses, worms and trojans
Anti-Spyware: protection against spyware, adware and identity-theft
Anti-Rootkit: protection against hidden threats (rootkits)
Web Shield & LinkScanner: protection against malicious websites
Firewall: protection against hackers (desktop only)
AVG Safe Search
My favorite feature however is the AVG Safe Search add-on that was automatically installed in Mozilla Firefox. When a search is performed (via in Google's search engine for example), AVG lists an icon next to all of the search results. This icon shows whether the site is known to be a safe site or whether it poses risks. If you mouse over the Safesearch icon, it gives a brief description of the site safety reading. See below for a screen shot.
AVG Safe Search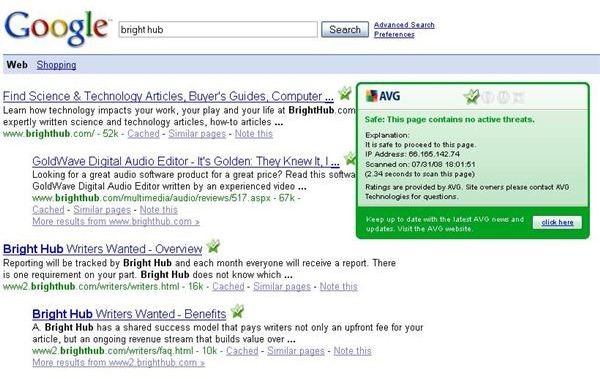 Performance (4 out of 5)
After the initial installation was complete I setup a scheduled scan to run every night at 9:00pm and set it as a full system scan. There was a slight drain on system performance and web browser while the scan was running but I expected this when I elected to perform full system scans. I must admit though, it was a bit annoying at times. However, this can probably be avoided by setting up a custom scan to hit only the most critical system folders (C:\Windows\System32, etc.).
System scans successfully identified potentially malicious content (usually in browser history, cache, and cookies) and removed the threats.The program keeps a log of all system scans so it's easy to go back and reference scan history for troubleshooting purposes.
Updates are quick and easy. With the exception of a few Update Manager components (which request user input), the updates were almost totally transparent to me. Very nice indeed.
Help & Support (4 out of 5)
AVG's help and support are comprehensive, simple to follow, and easy to implement. As expected, the two main sources for help and support are the in-program help and the AVG support page. I never required assistance with the software but I feel confident that if I ever need it, it will be readily available to me.
Conclusions
Is AVG Anti-Virus 8.0 Network Edition a good fit for the small business environment? I believe so. I have been using AVG products for nearly 10 years now and have never had to deal with any virus, malware, or spam slipping through AVG's finger. Over the past month of testing this latest release, I can confidently say that AVG consistently puts out quality products. Anti-Virus 8.0 Network Edition is no exception.
Looking back, I still wish I would have had access to a small network in order to test the Remote Administration tool but unfortunately I did not. So if you're reading this and you have had the opportunity to test it, please let me know your thoughts! I'll be sure to add your comments to this article (giving you props, kudos, and the appropriate level of recognition) for your help.
So in conclusion, I feel that AVG Anti-Virus 8.0 Network Edition provides a solid set of security features and useful tools at an excellent value. The software is user-friendly, robust, and will offer you a level of protection that few others can match.
Be sure to check out our review of AVG Technologies' home user product AVG Antivirus Free.
More Reviews!
Would you like to read more reviews? Look around Bright Hub and you'll find reviews of numerous other leading security solutions including Norton Internet Security, Kaspersky Internet Security, ESET Smart Security, McAfee Total Protection, Blink Professional and ZoneAlarm Internet Security Suite.