Best External Hard Drive Review: ioSafe Solo is the Top Rated External Hard Drive for a Backup Solution
ioSafe – A Top Rated External Hard Drive
Like bikinis and speedos, external hard drives have gradually become smaller and cuter over the years (scratch that … speedos are never cute … especially small speedos!). But there are times when appearance should be considered secondary to functionality, and external hard drives are just such a case. Would you prefer your critical data to be backed up to something that's small, sleek and shiny but which offers no real security at all? Or would you prefer it to be protected by a suit of armor?
And that's basically what the ioSafe Solo USB external hard drive is: armor for your data.
Chances are that, like most people, you store some pretty important stuff on your computer - work documents, photos and videos of your kids and family, etc. - much of it stuff that you may not be able to replace were your computer to be damaged. And, if you're running a business, there's no doubt that your computer holds valuable data. Copying your data to an external hard drive provides some protection, but not complete protection as the same event disaster that causes the loss of your computer may also cause the loss of your external drive. ioSafe have addressed this problem by releasing a range of disaster-proof hard drives.
Security Features (5 out of 5)
The ioSafe external hard drive is almost completely disaster-proof. It can withstand temperatures up to 1550º F, can withstand being immersed in up to 10 feet of water for up to 36 hours and, on NAS and USD-RAID models - not the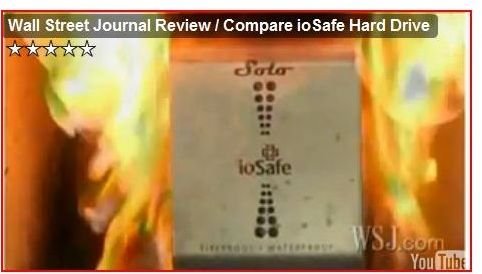 Solo - rebar-reinforced crush-zones enable the hard drive to survive the collapse of a two story building. Additionally, as a theft-protection measure, the ioSafe has holes bored in its shell so that it can easily be bolted to the floor.
In short, whether your house is flooded, burned to a cinder or flattened by a tornado, the data on the ioSafe will still be intact. The video on the company's website shows an ioSafe hard drive being burned and broiled, and it's data surviving (this is seriously impressive - be sure to check it out!).
Should the ioSafe not be in working order after a disaster, the company will attempt to recover the data - at their expense - and ship it back to you together with a new ioSafe. Should ioSafe not be able to recover the data, the company will pay up to $1000 to have a third-party data recovery service attempt to recover it. Note that ioSafe's data recovery service only applies for 12 months after purchase, but can be extended for up to 5 years.
Price To Value (5 out of 5)
At $149.99 for the 500 GB model, this is not be the cheapest external drive on the market - shop around and you'd undoubtedly be able to find something for a bit less - but the security features packed into the ioSafe Solo mean that the extra dollars are money well spent. Ask yourself: were you to lose your data in a disaster, how much would you be willing to pay to get it back? Probably considerably more than the few extra bucks that the ioSafe costs!
The Bottom Line (5 out of 5)
It's this simple: if you're looking for a desktop external hard drive, the ioSafe Solo is the one to get. It will do more to protect your data than any other external hard drive on the market. Highly recommended!
Specifications
Capacity: 500 GB, 1 TB or 1.5 TB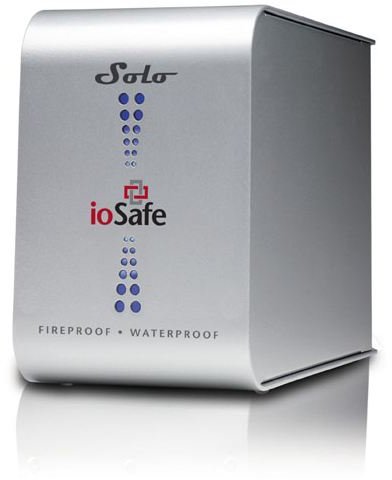 Speed: 7200 RPM
Connections: USB 2.0
Supported Operating Systems: Windows XP, Windows Vista, Windows 7, Mac OS 8.6 and greater
Warranty: 3 years extendable up to 5 years
Disaster Recovery Service: 1 years extendable up to 5 years
Weight: 15 lbs (so don't expect to be able to carry it around in your pocket!)
In addition to the Solo, ioSafe also make disaster-proof internal drives, NAS devices and USB RAID systems which can help business implement economical disaster recovery solutions. For additional information, visit the ioSafe website.
How ioSafe External Hard Drives Compare to the Competition
How does the ioSafe compare to other secure external hard drives? Read our articles Seagate BlackArmor versus ioSafe Solo and Fireproof External Drive Face-off: ioSafe Solo Versus FireKing MediaVault to see how the ioSafe stacks up to other rugged external hard drives.
More Reviews!
Be sure to check out our reviews of other security solutions including the IronKey S200, G-Data AntiVirus and the Atek Secure Password Organizer.