Norton AntiVirus 2009: Leaner, Meaner, Faster
Introduction
Note: to learn about the latest version of Norton, be sure sure to check out our Norton AntiVirus 2010 Review.
"Norton 2008: Another Bloatware Exercise." "Norton AntiVirus 2008: Resource-Hogging Bloatware." "NOD32 Blows Away Norton AntiVirus Bloatware." Search for reviews of older Norton products, and you'll find numerous headlines such as these. While Norton AntiVirus (NAV) has always been an effective product, it's also a product which has always had a reputation as … well, resource-hogging bloatware. And that reputation is not undeserved. When compared to a product such as NOD32, Norton is indeed a big, clunky performance-draining lug of an application. Or, rather, it used to be. Symantec says that NAV 2009 is considerably lighter and speedier than previous versions. Let's see whether it lives up to those claims.
Installation and Setup (5 out of 5)
Installation is speedy and entirely painless. Once the setup files have been downloaded, the actual installation process takes less than 60 seconds. No reboot is needed. No configuration is needed. The product simply works right out of the box.
User Interface (5 out of 5)
Some security products can be confusing, but NAV is not. It has a clean and streamlined interface and all the options are right where you would expect them to be. The only extraneous item in the interface is the CPU Meter - which was no doubt included at the request of Symantec's marketing people! - but it certainly doesn't detract from the program's usability.
Features (5 out of 5)
As you would expect, NAV offers real-time, scheduled, on-demand, IM email scanning options. Updates are pushed out extremely speedily - once every 5 to 15 minutes, on average.
InSight is a performance feature that's new to the Norton 2009 product line and it's also one that is particularly interesting. Here's how it works. Symantec collect information from their community of users about the files that are present on their computers (but don't worry, no personal information is collected and easy can opt out completely if you wish!). The most common files are analalyzed and, if found to be safe, excluded from scanning which results in faster, fewer and shorter scans. That's a very basic explanation - a more detailed one can be found in the Symantec blog.
Effectiveness (5 out of 5)
Stopping viruses is an antivirus solutions raison d'être, and it's something at which NAV 2009 excels. In independent tests by bodies such as AV Comparatives, NAV almost always comes out on the top - or, at least, very close to the top - of the pile. The VB100 Award is given to solutions which 1) detects all In the Wild viruses during both on-demand and on-access scanning and 2) generates no false positives when scanning a set of clean files - and it's an award that NAV hasn't missed out on in almost a decade. The product is certified by both ICSA and West Coast Labs and, in addition to blocking viruses, NAV also blocks rootkits, spyware, Trojans, etc.
The bottom line is the protection offered by NAV is about as good as you can get.
Performance (5 out of 5)
Symantec promised that NAV would be leaner, meaner and less of a resource-hog - and they delivered. NAV 2009 uses less than 8 MB of RAM, has practically zero impact on system performance and offers speedy scan times.
Price to Value (4 out of 5)
At $39.99, NAV costs the same NOD32 and is cheaper than Kaspersky Anti-Virus ($59.95). Given NAV's excellent detetion capabilities, it's a pretty good deal.
Conclusion (5 out of 5)
In the past, using a Norton product was akin to commuting to work in an Abrams tank - it'd keep you safe, but made for extremely slow going. But that's changed. NAV 2009 is easy on resources, easy to use and, most importantly, has excellent detection capabilities. There really is nothing not to like about Norton AntiVirus 2009. Highly recommended!
Check out our reviews of other Norton Products: Norton Internet Security and Norton 360.
Need some help deciding whether to buy Norton AntiVirus, Internet Security or 360? Check out our article Norton 360, Norton AntiVirus 2009, Norton Internet Security: Which One is Right for You? for some guidance and help!
Images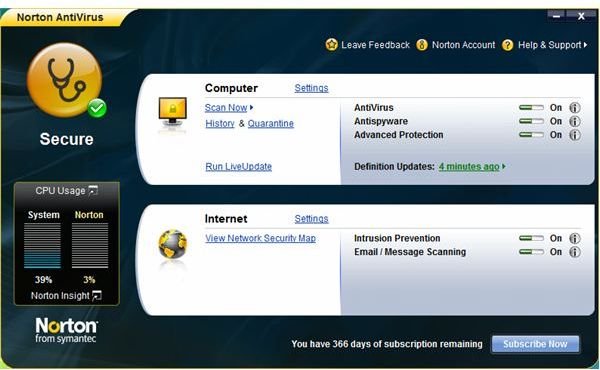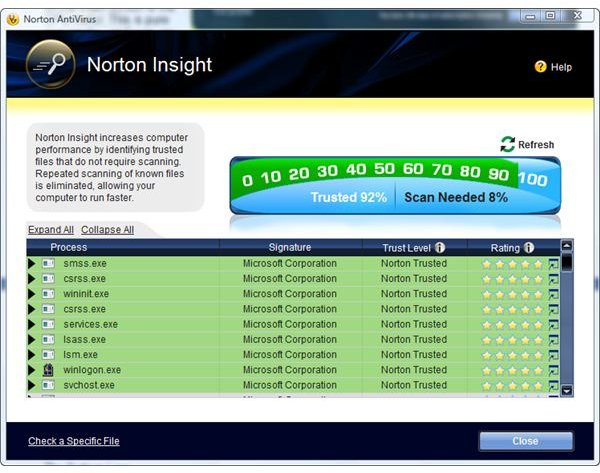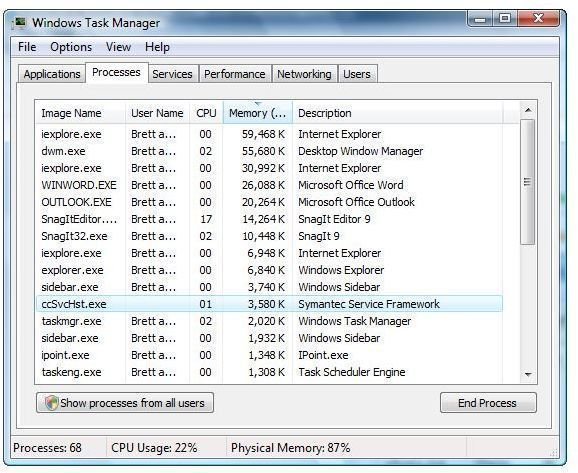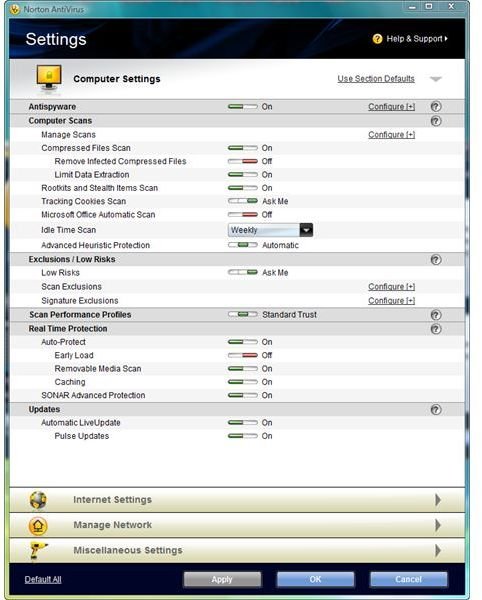 More Reviews!
Be sure to check out our reviews of other antivirus and security solutions including Norman Antivirus and Antispyware, ESET Smart Security, ParetoLogic Anti-Virus, BitDefender Antivirus and TrustPort Antivirus.