a-squared Anti-Malware: Provides Real-Time Protection From Malware
Introduction
a-squared Anti-Malware provides protection against Trojans, Worms, Viruses, Dialers and Spyware and other internet security threats. a-squared monitors in real time and can detect both known and unknown forms of malware. This protection allows a person to surf the internet freely without fear of hackers and harmful software.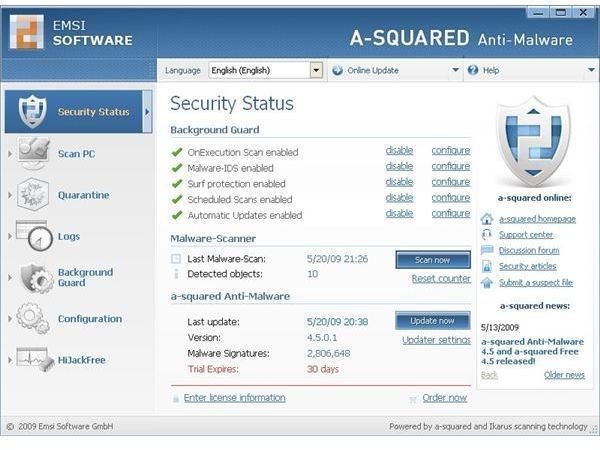 Installation & Setup (4 out of 5)
Installation and configuration are quick and easy with a Setup Wizard that will guide you through the entire process.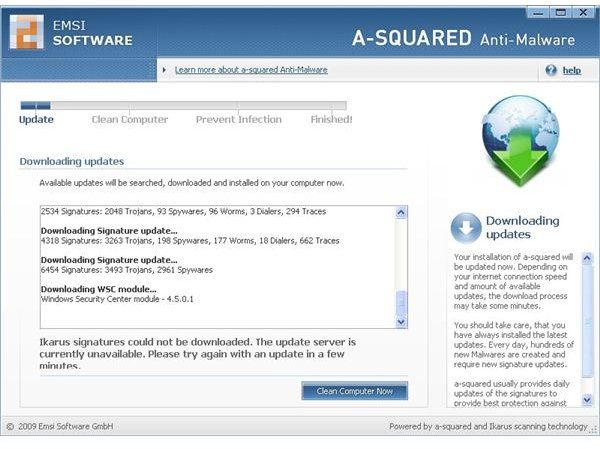 User Interface (5 out of 5)
The program's streamlined and intuitive interface makes navigation simple. a-squared options are easily accessible and self-explanatory.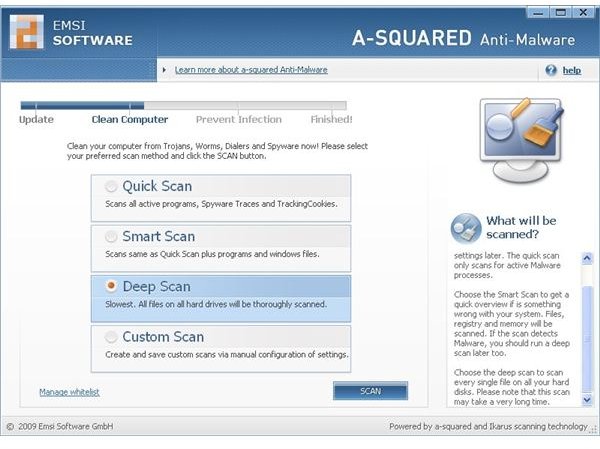 Features (4 out of 5)
In order to maximize security, a-squared Anti-Malware uses two scanning engines: a-squared and Ikarus. The combined protection capability of both engines ensures the maximum safety of user's PC. These engines also help the user to block malware those trying to enter into user's PC from internet. After scanning user's PC a-squared Anti-Malware will list down the malware that have infected her system. User can easily remove these malware using the Quarantine or Delete operation.
The Background Guard Settings will ensure that User's PC is protected using real time scan. User can enable the a-squared Anti-Malware to guard your system when user is using internet. User can also utilize "Activate OnExecution Scan" and "Activate Surf protection" for complete online protection. Automatic updates will ensure that users are not missing any program changes.
User will be informed by a-squared Anti-Malware using the alert facility about any malware attack. User can customize the alert setting to reduce the rate of false alarms. The "Activate intelligent alert reduction", "Community-based alert reduction" and "Activate paranoid mode" are the various types of alert setting provided. User can easily refer to the right pane to know more about each type of settings.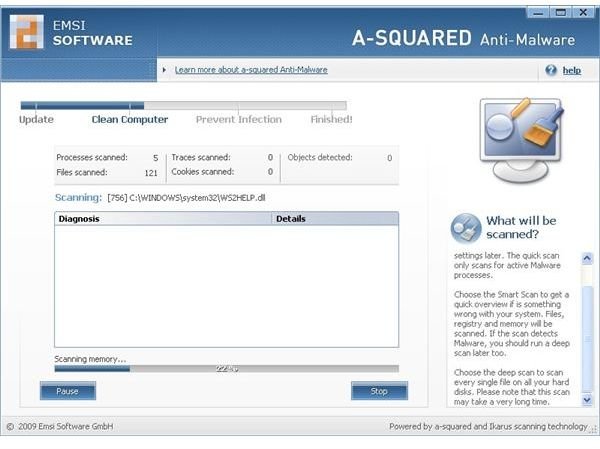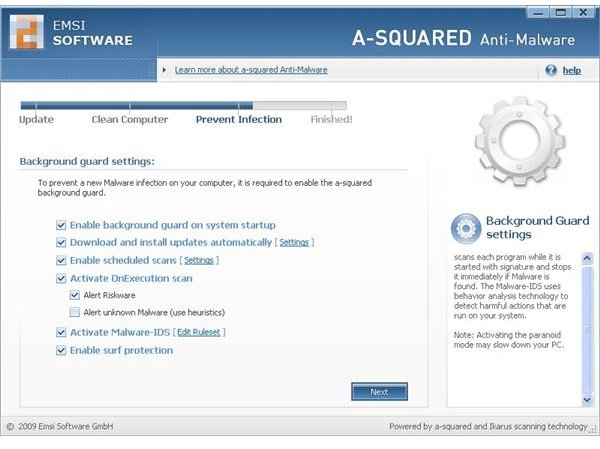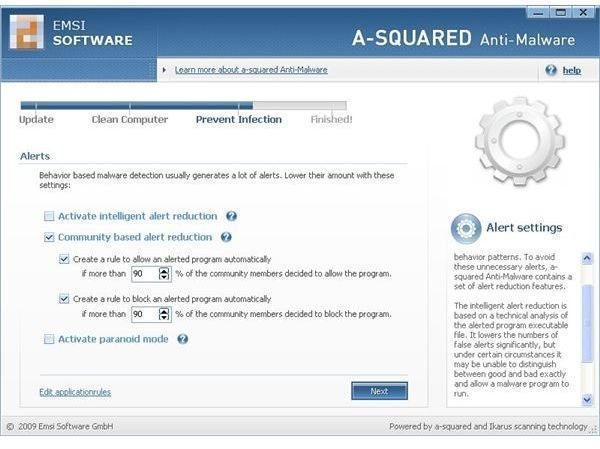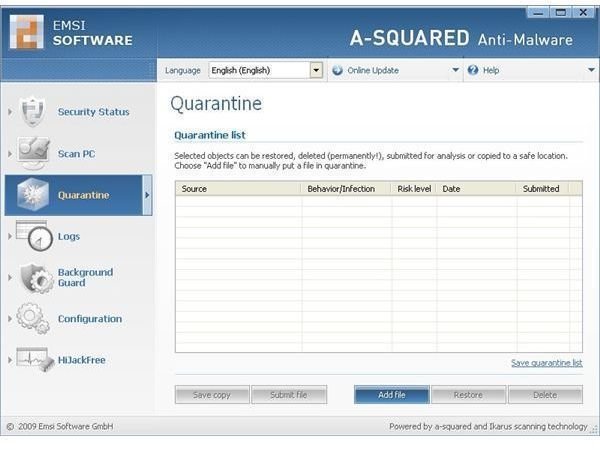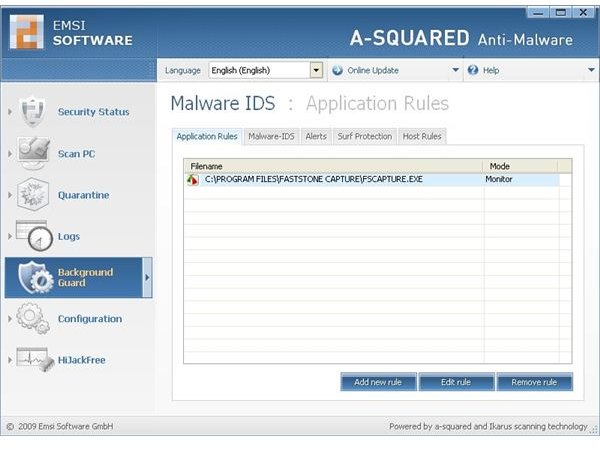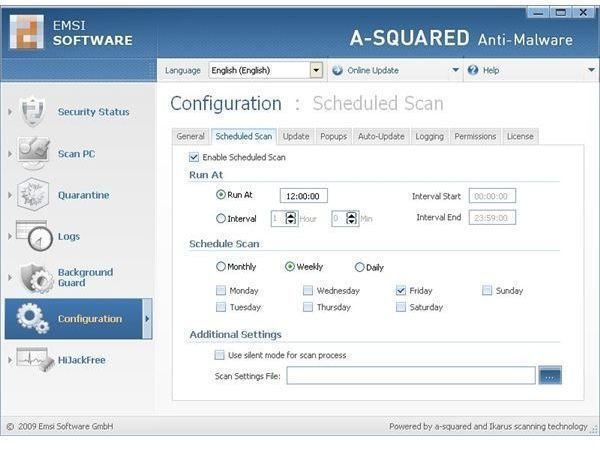 Price To Value (4 out of 5)
A one year, one PC license for a-squared costs $40, which is on par with the price of similar products (Ad-Aware Pro, for example, costs $39.95.
Performance (4 out of 5)
a-squared is light on resources and has excellent detection capabilities. In testing, it was able to block every one of the threats on the test system.
Conclusion
a-squared is an excellent, easy to use product that provides rock-solid protection from a broad range of threats. Highly recommended!
Looking for a no-cost, on-demand malware detector and remover? Then be sure to check out our review of a-squared Free!
More Reviews!
Be sure to check out out review of other leading antispyware and antimalware products including Blink, Ad-Aware, STOPzilla and Webroot AntiVirus with AntiSpyware.