Avira AntiVir: The Best Free Antivirus Software for Windows
Overview
Avira offers AntiVir Personal - a limited edition of the Best Antivirus of 2008 – Avira AntiVir Premium to home user completely free of charge. Version 9 of AntiVir was released two months ago with new features and system requirements.
System Requirements and Installation (4 out of 5)
AntiVir 9 can be installed on Windows 7, Vista, XP and 2000. Previous editions of Windows cannot take advantage of AntiVir 9. Existing users of AntiVir v8 can enjoy the upgrade without manually removing the existing program (but it's best to remove older version prior installing a new one!) because the installer of AntiVir 9 will remove the older version. A reboot is required to replace the old files.
Installing AntiVir 9 as fresh install (new program installation instead of upgrade from older version) is an easy process and does not require a reboot. The program can be use and configure as soon as you finished with the installation.
AntiVir's installer includes a simple Configuration Wizard to help you in configuring the program:
Detection Level of its AHeaD Heuristics - for best detection rate, choose the highest level
Extended Threat Categories – an option to choose which type of threats you would like AntiVir to detect. The default is detection on spyware, adware, backdoor client, dialer, double-extension files and phishing. Selecting all type of threat categories will give you protection against APPL which is protection against applications from suspicious sources, games (e-mail games or PC games that are not allowed at work), and annoying jokes for PCs, privacy risk programs and from unusual runtime compression.
AntiVir's Guard Startup Mode – there are two available modes for the on-access protection module by AntiVir: Normal or Secure Start. Normal mode is the default selection but it's best to choose the Secure Start to enjoy the early load protection by AntiVir. Quite helpful if you want to prevent and remove malware before it will become active during Windows Startup.
System Scan – like most antivirus program, AntiVir's configuration wizard will offer to perform a system scan on active processes and startup and also to critical areas in Windows. I suggest to not to use this option and manually run a system after you finished updating the detection signature of AntiVir. Running a scan using old definitions might help only to detect old malware and as you know already, old signatures do not contain fixes for false positive detections.
Features and Options (5 out of 5)
AntiVir 9 will now protect you against spyware and adware, which the older version of AntiVir does not. The new version also provides support for Netbooks and multi-processor machines. The key features of AntiVir 9 are as follows:
Real-time protection against malware, Trojans, worms, virus, dialers, rootkit, spyware and adware.
On-demand scan and Quick removal of detected malware
Early Load Protection
Quarantine and online submission of samples
Scheduled Tasks to update and scanning
Anti-Phishing
With AntiVir 9 you have the options to scan a single file, folder and drive. You can also add items in exclusion manager.
Tip: The default settings of AntiVir are good but it's best to change the default settings to scan all files. Most antivirus is configured to scan only some file extensions and files that are known to infect critical system area. To get the best protection by antivirus program, always configure the settings to the maximum protection available.
Performance and Updating (5 out of 5)
Avira is offering free detection and program updates and it's done automatically within the program or as per schedule. You have an option to manually install definitions update too in case you have more than PCs to install definitions update. Avira is considered as nagware because it will display a pop-up window when updating the program.
If you are using Windows Vista, the User Account Control (UAC) is not triggered when opening, configuring or updating AntiVir. The only time the UAC in Vista is displayed is during the installation and

(instead of using the built-in updater).
AntiVir 9 will use around 80MB (Commit Memory) on Vista which is higher if you will compare to its virtual memory usage on XP which is 58MB. When running a full system scan using the default scanner priority level, AntiVir will use more than 100MB of memory. It only took 38 minutes to finish a full scanning of the Vista system.
Quarantine Manager, Logs and Submission for Analysis (4 out of 5)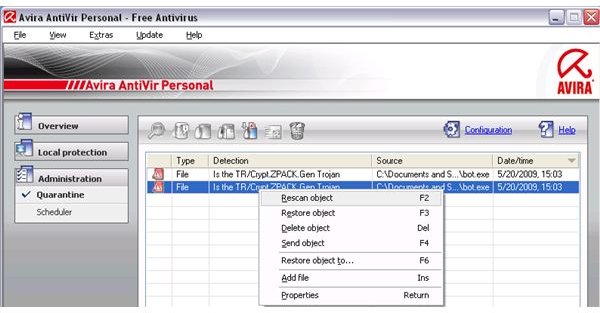 AntiVir has an option to rescan quarantined files without having to move it out from the quarantine manager. This option is useful if you have updated the definitions of AntiVir and would like to know if the item you suspect or the program have quarantine to suspicious activity is indeed malicious or the false detection have been corrected by their research team.
Uploading suspicious files for further analysis can be done using the Quarantine Manager and the limitation for uploading is 8MB and 20MB for compressed and uncompressed files, respectively. However, sending any file using the quarantine manager is not possible if the file did not receive any warning or detection alert. I find this odd because there are times a product could be adware or spyware but the antivirus does not recognize it as a suspect. The work-around is to send the file using AntiVir's online submission form.
With AntiVir, you can keep (no limit) all the logs that the program has recorded or configure the program to limit the event logs according to size or number of days.
Scheduler and On-Demand Scanner (4 out of 5)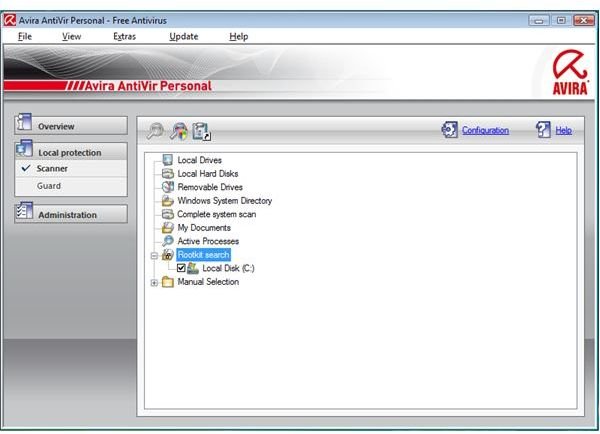 AntiVir's Scanner can be customized to scan not only the local and removable drive but you can also use it scan the active processes or look for rootkit infection only. However, this free antivirus program will not scan network drives.
The scanner can be configured to automatically repair, delete or rename and send the copy of detected file in the quarantine. You can also configure the scanner to check for system file's integrity and look for rootkits infection. Note that rootkit scanning of AntiVir is not available in 64-bit edition of Windows.
Some free antivirus program does not offer Scheduler but with AntiVir Personal Edition, you can take advantage of Scheduler to create new updating and scanning tasks. See below screenshots of the scheduler wizard.
Screenshots of Scheduler Wizard in AntiVir 9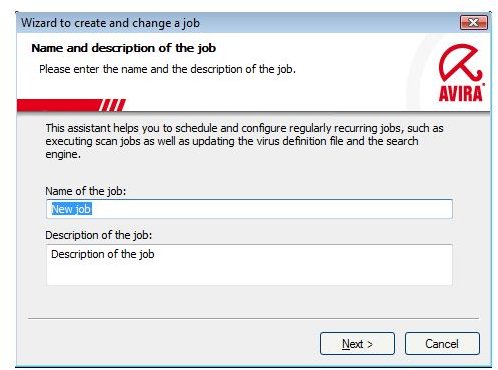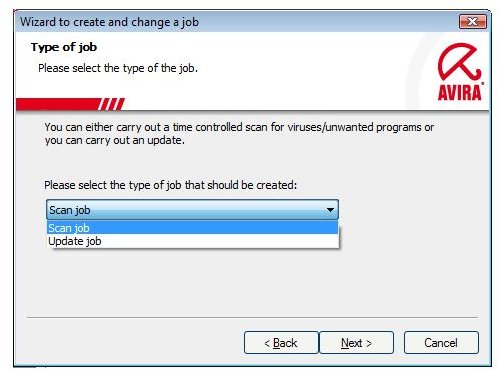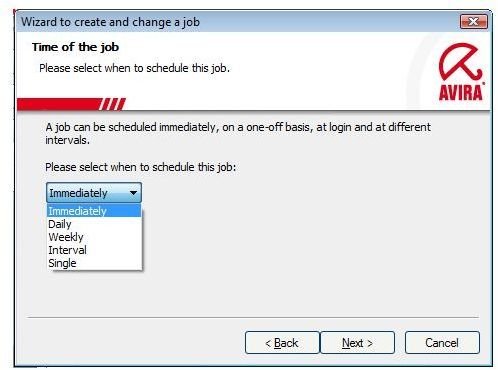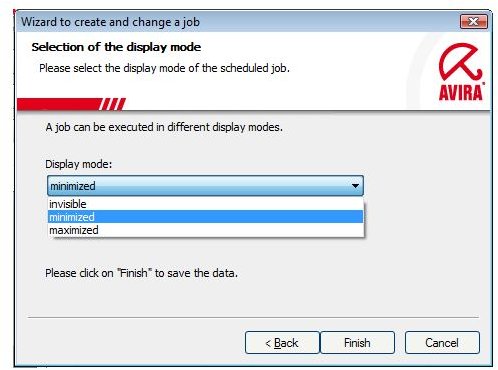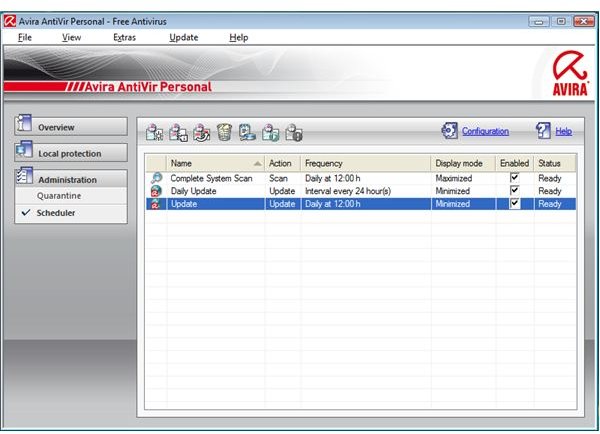 Malware Alert and Real-time Protection (5 out of 5)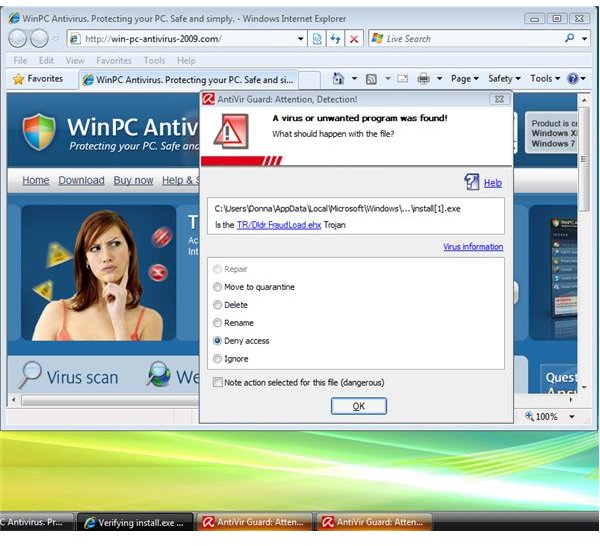 AntiVir Guard is the module in AntiVir Personal Edition that monitors the computer for any malicious activity or extended threats in real-time (on-access protection). An example of AntiVir Guard alert window is image at the left. If a malware is found, AntiVir will offer the following actions: To repair, quarantine, delete, deny access, rename or ignore. Another option to handle malware alerts in AntiVir is by allowing AntiVir to remember your selected action for such detection.
Few days ago only I tried to transfer malware samples from external drive to the system drive to test the AntiVir Guard. AntiVir's real-time protection is almost perfect!
Tip: If you often download or receive zipped files, you should enable the archive scanning. Enabling this will help protect against malicious compressed files. Otherwise, leave it disabled and allow the on-demand scanner to scan for archives (compressed) files.
Secure Start: Early Load Protection (5 out of 5)
If you configured AntiVir to use its Early Load protection (Secure Start), you will be able to take advantage of the protection it can offer during Windows startup. How it works: When the system is infected, AntiVir's early load protection will check any processes or services and startup items that will try to start during Windows Startup. The Malware Alert window is displayed so you can use the QuickRemoval feature of AntiVir.
Tip: Even if the Early Load Protection by AntiVir successfully removes a malware, it's recommended to run a full system scan. Allow your antivirus to check all the system files' integrity. Note that you will need to configure AntiVir to check the system file integrity because this is not selected by default.
Price to Value (5 out of 5)
AntiVir Personal Edition is free of charge with great detection and not complex to use program.
The Bottom Line
If you are looking for free and effective antivirus program, AntiVir 9 is the way to go. AntiVir is (almost) the perfect antivirus program. Highly recommended!
More Reviews!
Be sure to check out our reviews of other leading free antivirus solutions including Rising Antivirus, AVG, Comodo Internet Security, PC Tools Antivirus and Avast!