Verizon Internet Security Suite Reviewed
What is the Verizon Internet Security Suite?
Verizon Internet Security Suite (VISS) provides anti-virus, anti-spyware, fraud protection as well as a firewall as its core services but also has a number of useful additional features such as Internet privacy, system maintenance and computer optimization, for example. In other words, it's an all-in-one solution that will help you to both secure and maintain your computers. While the majority of VISS users are Verizon customers subscribing to High Speed Internet (HSI) or Fiber Optic (FiOS) services, the software can be used by anyone with an Internet connection.
System Requirements (5 out of 5)
VISS runs on 32-bit and 64-bit versions of Windows Vista with the exception of the starter edition, as well as on 32-bit versions of Windows XP Home, Professional and Media Center. Windows XP users of VISS Wi-Fi Security need SP2 at the least.
Minimum hardware computer requirements are 350 MB of hard disk space, 256 MB of RAM, a Pentium II 300 MHz or faster CPU as well as a display which supports a resolution of 800 x 600 at the least.
Installation (4 out of 5)
The installation of VISS couldn't be easier. The first screen lets you decide whether or not you will help making the product better by submitting information to Verizon. The setup wizard then displays the install path, which unfortunately seems to be hard coded, and the installation then proceeds. After restarting your systems, the software checks for applications known to conflict with VSS. A preliminary scan for malware concludes the setup. The entire process is speedy and extremely straightforward.
Interface (4 out of 5)
The very nice, compact GUI displays all services and their status in My Services. The on/off menu lets you easily disable or enable an item, and a click on the name opens pertinent configuration options. They can alternatively be accessed in the left pane menu bar. The interface makes navigation extremely easy and the My Services view is so good that it almost renders the menu buttons redundant.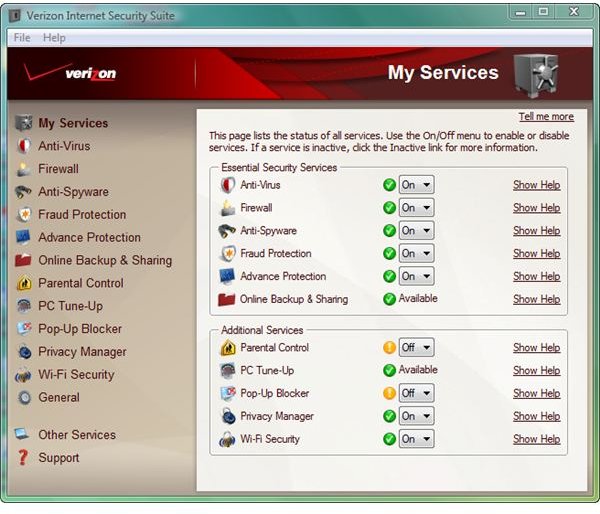 Features (5 out of 5)
Verizon Internet Security Suite has the standard configuration items you would expect but, by cutting out some options that many people would not use, the interface is kept clean and uncluttered. For example, there is no option to set an update schedule - the program simply updates itself once every 3 hours. While some people may not like this loss of control, it does keep the program easy to use. The VISS Firewall is equally streamlined: it's easy to use and to configure. A helpful taskbar notification pop ups when an application has been blocked.
What has been said for the anti-virus part is also true for the anti-spyware module of VISS with the exception that programs can be trusted if you want. Advanced Protection is a service which constantly monitors your computer for suspicious activity of malware. VISS Fraud Protection is the synonym for anti-phishing by means of checking Browser URLs with an online database of scam sites.
Wi-Fi Security monitors your wireless connections and tightens security settings in appropriate situations - for example, when you're connecting through a wireless hotspit. Ad-hoc wireless networks are automatically disconnected unless trusted. An additional service is the Parental Control feature which offers a service exceeding that of Microsoft Vista's integrated child protection and Internet safety software.
PC Tune-Up is a performance optimization service which lets you defragment your system's hard disk and clean up unused files and temporary objects.
Should you be the victim of nagging pop-ups, just enable the VISS Pop-up blocker.
Privacy Manager lets you configure cookies and automatically remove tracking information from your computer. It also helps prevent certain protected information from leaving your computer. This feature performed great during my tests, so I really recommended that it be turned on (it's disabled by default).
Online backup as well as online sharing can be enabled for an additional service charge.
Performance (4 out of 5)
As a non-Verizon subscriber I was skeptical whether VISS would be useful for me and up to expectations. After analyzing and testing the product I have come to the conclusion that Verizon Internet Security Suite version 8 can be recommend as a managed end-to-end solution for Verizon customers as well as for other any user with an Internet connection looking for a set and forget Internet Safety solution. Yet, it is recommended taking into account the updates in the articles as well as the feedback from our readers found in the comments section on the last page.
Help & Support (3 out of 5)
The help menu is perfectly integrated into the interface and context sensitive. VISS help information is well structured, readable and understandable. The online help including the knowledge base does a great job, too! Technical phone is support available but comments indicate Verizon could perhaps improve there; easy to find email contact information would be an asset, too.
Price to Value (4 out of 5)
The Verizon Internet Security Suite costs only $5.99 a month for three computers, and the first 30 days are free. That puts its pricing roughly on par with products such as Trend Micro Internet Security Pro ($69.95) and Norton Internet Security ($69.99).
The Bottom Line
Before rushing out and renewing the subscription for your current security suite, you should definitely check out VISS. It's an excellent one-stop solution to both security and system maintenance and is every bit as good as better-known products such as Norton Internet Security. In short, VISS is easy-to-use, light on resources and offers great protection against a very broad range of threats.
Update: Taking into account the comments received I would like to emphasize that I have been mainly reviewing the VISS software, not phone support, FIOS or Verizon.
References
Author's opinion
Screenshots by the writer