Net Nanny: The Best Parental Control Software for Windows
What is Net Nanny?
According to its developers,"Net Nanny is a powerful internet filtering tool that allows you to determine what Internet content enters your home. It comes with maximum protection and pre-set monitoring functions, which you can easily customize to meet your family's unique needs."
System Requirements (5 out of 5)
Net Nanny 6.0 works on 32-bit versions of Windows 2000, XP and Vista with an Internet connection, approximately 25 MB free hard disk capacity, and a monitor with screen resolution of 800x600 or higher. Users of Macintosh computers need a PowerPC or Intel CPU-based Mac running OS X 10.2.8, or later, with 40 MB free hard disk space.
Net Nanny for Mac provides similar features, but this review was completed using Net Nanny 6.0 for Windows.
Setup (5 out of 5)
The Net Nanny parental controls setup wizard lets you select the setup and display language (either English or Spanish). The next steps of the installation are acknowledging the license agreement, entering the registration number, providing your email address, choosing a password, and selecting a secret question plus answer.
Setup at that point lets you add and configure Net Nanny users - each user is assigned a user name, password and one of the following profile types: young child, child, pre-teen, young adult and adult. Each profile has preconfigured filter settings, time controls and monitoring items; yet it is recommended that you don't change Use the default settings and proceed to the next screen which completes the Nanny Monitoring software setup wizard and demands that you to restart the computer.
Interface (5 out of 5)
The Net Nanny interface can be accessed by its Task Bar notification icon. As the vendor has gone to great lengths to prevent the product from being circumvented, the Admin Tools and Disable Net Nanny option are both password protected. The admin tool is the GUI for managing user profiles, Web and Instant Messaging filtering, games, time controls as well as exceptions. In addition, the admin tools is where you will find your children's online activity reports plus their override request messages as well as alarms should IM predators or cyber bullies use chat to get in touch with your offspring.
Users will receive pop-up notifications like the one depicted below should they be trying to access in appropriate content.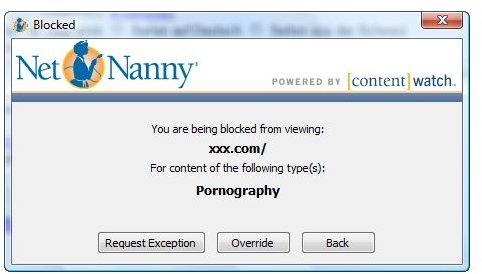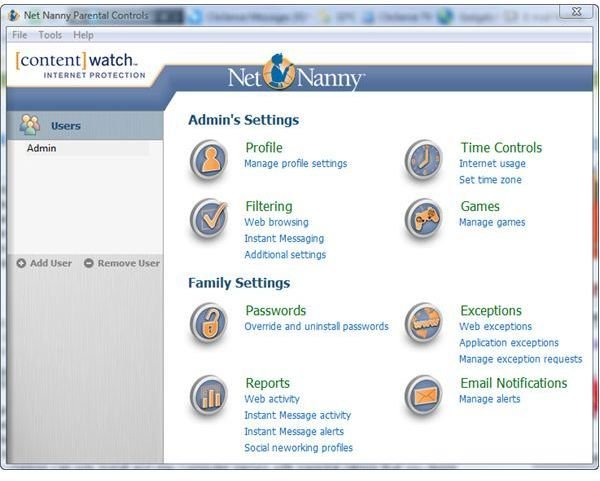 Features (5 out of 5)
Net Nanny's features include an Internet filter which integrates seamlessly with popular browsers like Firefox or Internet Explorer and search engines including Yahoo! and Google for example. Its age-based profiles also allow for game control, online or offline. The parental control software is highly customizable with whitelists and exceptions from rated content in over 30 categories.
Additionally, Net Nanny also provides child protection by Instant Messaging (IM) analysis and alerting, social network-reporting as well as chat rooms and newsgroups access management. On top of that can you set time allowance plus time limits on a user basis.
The instant override option lets adults grant access to restricted items by entering a password, and the kinds can send override request messages for later review at any time. In fact, Net Nanny even provides remote user management plus email notifications.
You can configure Net Nanny to start automatically based on the Windows Vista or XP profile at logon. This feature called Auto Windows Login is explained in the help menu. Please note that Net Nanny 6.0, by default, also blocks pornographic content for adults.
Performance (4 out of 5)
As opposed to Windows Vista integrated parental controls, Net Nanny is much more comprehensive with unmatched granular options. In my testing, Net Nanny blocked everything that should have been blocked while producing zero false alerts; it didn't affect browsing speed at all.
The only problem I experienced with Net Nanny was that it's didn't play nicely with certain antivirus solutions, causing a considerable increase in boot time. I would recommend that you make use of the free Net Nanny trial to find out how your antivirus program and the product coexist.
Help and Support (5 out of 5)
The help menu of the Net Nanny Parental Control software is fairly good. In addition there is a user straight-forward user guide available for download. On the Net Nanny web site you also find the product's knowledge base as well as Net Nanny Blogs including topics like Internet safety and children's sexuality. A subscription includes free email and telephone support.
Price to Value (5 out of 5)
The annual subscription of Net Nanny 6.0 including free updates and email support carries a $39.99 price tag. Not much for award-winning top Internet safety and monitoring software which protects what is the most valuable to you – your family.
The Bottom Line
Net Nanny is a great product. It's easy-to-use, reasonably priced and will help keep your kids safe online. Highly recommended!
References
Screenshots by the writer
Author's own experience