Protect Your Privacy with Hotspot Shield
Introduction
HotSpot Shield is an application that is designed to allow censor-free Internet usage, regardless of location. For example, VoIP software applications like Skype are banned in some areas of the world, or Hulu videos are not visible to people outside of the United States. For these particular individuals, installing HotSpot Shield is the difference in being able to access that content without the restrictions of geography.
HotSpot is able to accomplish this magnificent feat of Internet magic by encrypting all the communication to and from the requesting computer. There is a cap of a 5GB transfer limit, and one of its drawbacks is the rather large advertisements that the application displays.
More importantly however, this technology is also leveraged to protect users from snooping individuals on a public network. Essentially, HotSpot Shield creates a VPN (Virtual Private Network) within which it operates, keeping the user's IP address hidden entirely.
Test Machine
• Compaq Presario CQ50 Notebook PC
• AMD Athlon Dual-Core QL 1.90 GHz
• 2.00 GB RAM
• 160 GB Hard Disk
• Microsoft Vista Home Basic
• Google Chrome/Mozilla Firefox Browsers
Installation (2 out of 5)
The installation file for Hotspot Shield comes in a zipped file, which requires extraction to install. The installation file creates a desktop shortcut to the application, which when clicked, opens up in a web browser.
There will be a little trouble during installation if there is a firewall operational. The installation does warn the user about shutting down firewalls before continuing with the installation though. However, there was no firewall running on the test machine, and it was only by shutting down all the security software and restarting the computer did the installation finally work.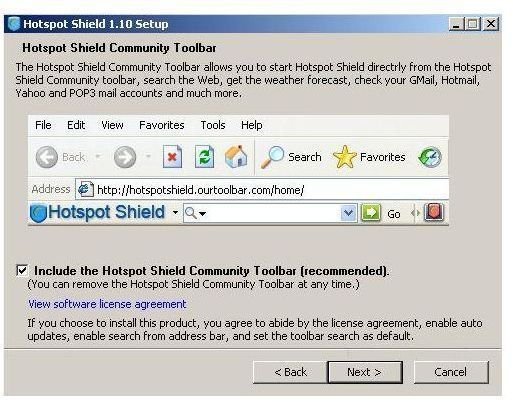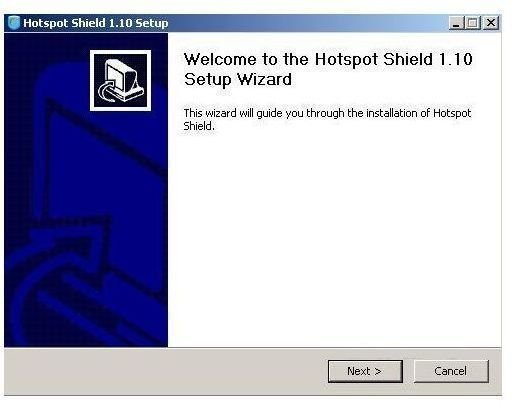 Product Features (3 out of 5)
• Creates a VPN to connect to various public networks, thus ensuring complete privacy and shielding the user's IP address and system from public view
• Ability to access geographically restricted content through the use of encryption on the connection requests to and from the machine in question.
• Application runs within an existing browser, through the use of a toolbar.
• Runs on both Mac OS and Windows operating system computers.
• Presents a secure environment in which to use public Wi-Fi networks. These networks are notorious for the very same reason that they work so well – they can be accessed by anyone.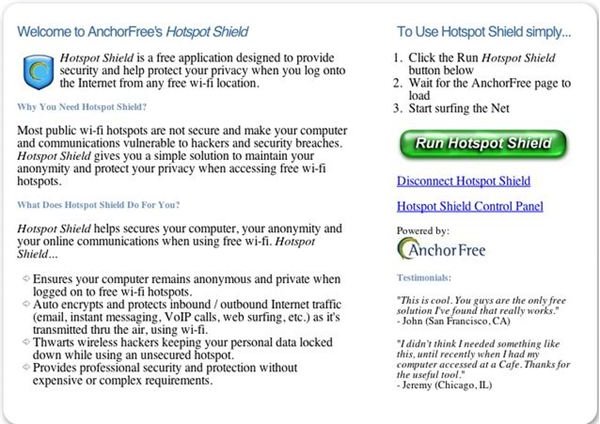 Conclusion
HotSpot Shield has a couple of drawbacks, with the large advertisements and the transfer limit of 5GB. However, it does get the job done. Also, the conflicts arising with the security software is a little worrisome, however this may not be the case on all systems. It is a little difficult to gauge its complete effectiveness on a public network like Wi-Fi though.
HotSpot is a great option for those wanting to view US content outside the country, for which the application works perfectly.
More Web Security Tips and Reviews!
For more tips about staying safe and protecting your privacy online, see our articles How To Check If a Website Is Safe, ShuURL: Safe URL Redirection, Top Two Free Hosts File Managers, How to Control Cookies in Internet Explorer, How to Block Third Party Cookies in Internet Explorer 7, Using ZonedOut to Manage Internet Explorer Security Zones, Securing Your Web Browser's Homepage and How to Browse the Web Anonymously: A Guide to Anonymous Surfing and Free Anonymous Surfing.
Be sure to check out our reviews of other products that may help you surf more safely including xB Browser, WOT, Ad-Aware, SiteAdvisor and Spybot Search & Destroy.