Rising Antivirus: Completely Free Antivirus Software for Windows
Introduction
Rising Antivirus Free Edition 2009 is a full featured antivirus application, with all the bells and whistles one would expect from a paid antivirus application.
Rising Antivirus Free Edition 2009 incorporates whatever a user is looking for in an antivirus application, with intuitive protection against all forms of malware. The Rising Antivirus engine has been awarded the VB100 award and cerified by both ICSA and West Coast Labs.
Test System
Rising Antivirus was tested on a machine with the following specifications:
· Compaq Presario CQ50 Notebook PC
· AMD Athlon Dual-Core QL 1.90 GHz
· 2.00 GB RAM
· 160 GB Hard Disk
· Microsoft Vista Home Basic
· Google Chrome/Mozilla Firefox Browsers
Installation (4 out of 5)
The installation takes an extraordinarily long time to complete; approximately 30-40 minutes on my machine. A nice touch was that the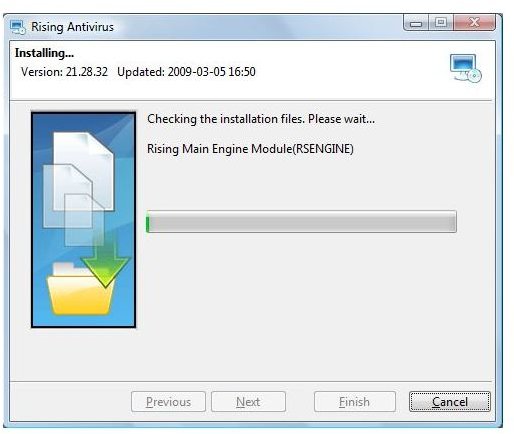 installation started with a list of software applications that it may conflict with, and the option to uninstall those before continuing with the setup.
Should appearances be important to you, you'll be pleased to learn that Rising's interface is very pleasing aesthetically, with rounded edges and a graded blue-black design.
Features (5 out of 5)
Rising Antivirus has a comprehensive set of features, including:
· Protection against all kinds of malware, including Trojans, worms and rootkits.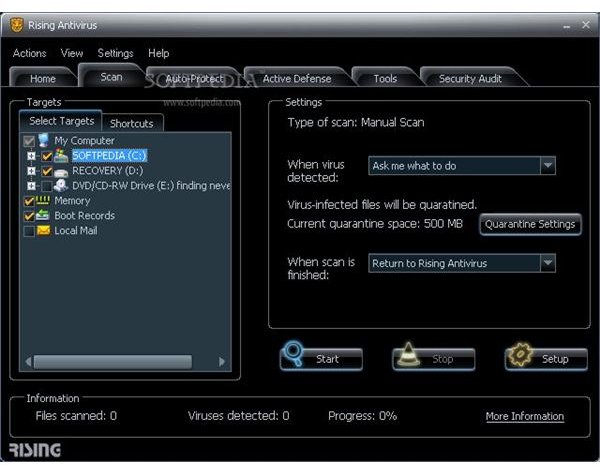 · Real-Time protection – The advantage of having real-time protection is to have the upper hand, and to be able to nip any infections in the bud and before they have any time at all to do any kind of damage.
· Detects registry changes – Registry changes are small events in the overall operation of a computer, and therefore have the most chance of slipping through the cracks undetected. However, Rising is powerful enough to detect even these small changes and bring them to the user's attention.
· Zero Day Protection – Users of Rising Antivirus form an effective network, communicating between each other to ensure the most up-to-date protection from new malware.
· Monitors – There are a number of monitors that the antivirus has including, file monitors for virus detection; email monitor to scan all mail whether inbound or outbound.
· Self-protection – often an overlooked component of any antivirus system, an antivirus needs to be able to protect itself from malicious malware that could alter its code to behave in a erratic manner.
Protection (5 out of 5)
The protection offered by Rising Antivirus is excellent. As noted above, the scanning engine has been certified by bodies including CheckPoint and has received a number of VB100 awards. In short, Rising will provide you with rock-solid protection from viruses and other forms of malware.
The Bottom Line (5 out of 5)
Rising Antivirus is simply an excellent product. It's light on resources, easy to use, offers excellent protection and, best of all, it's completely free. If you're an unhappy AVG user or are debating whether to shell out for a new subscription for your paid anitvirus product, you should definitely check out Rising before parting with any money. Highly recommended!
More Reviews!
Be sure to check out our reviews of other free antivirus solutions including PC Tools AntiVirus, AVG and Avast!