Webroot Spy Sweeper Review: RealTine Protection from Spyware and Malware
Introduction
Webroot Spy Sweeper is a great tool for blocking and removing malware. It destroys spyware before it can reach the user's computer; thereby following the adage prevention is better than cure. However, the application does have one drawback: Spy Sweeper will not remove spyware from a user's computer if the application is a trial version; which means, anyone wants to test out its capabilities before investing in the full version need not bother at all.
The shields that have been incorporated into Spy Sweeper are exceedingly sophisticated and very intuitive. The application has been built using new FlexDef technology - a heuristic technology which successfully manages to blcok remove nasty persistent spyware without the actual definitions in the database. Spy Sweeper includes the Sophos antivirus engine - a proven and well-established product - extending the level of protection that the product provides.
Test Machine
Spy Sweeper was tested on a machine with the following specifications:
· Compaq Presario CQ50 Notebook PC
· AMD Athlon Dual-Core QL 1.90 GHz
· 2.00 GB RAM
· 160 GB Hard Disk
· Microsoft Vista Home Basic
· Google Chrome/Mozilla Firefox Browsers
Installation (4 out of 5)
Like many other programs, Spy Sweeper uses a setup file for its installation - you download and run the setup file, and setup file then downlo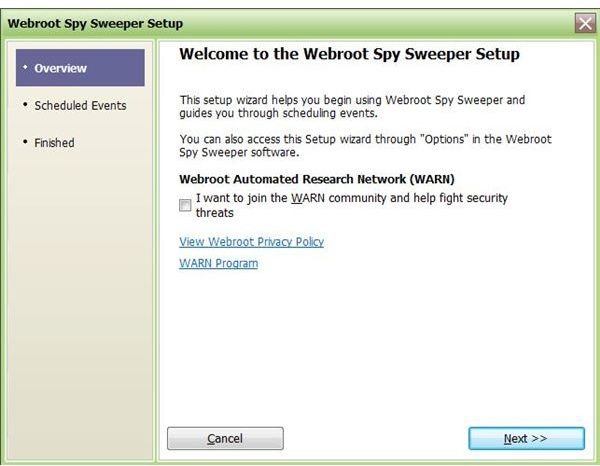 ads and installs the program files. The first screen requires the user to input the registration key, only after which the download begins.
There is very little need of user input, and once the download completes, the installation carried out automatically. The computer does require a restart, however, before the program can start up properly. The whole process is quick, easy and extremely straightforward.
Features (5 out of 5)
Spy Sweep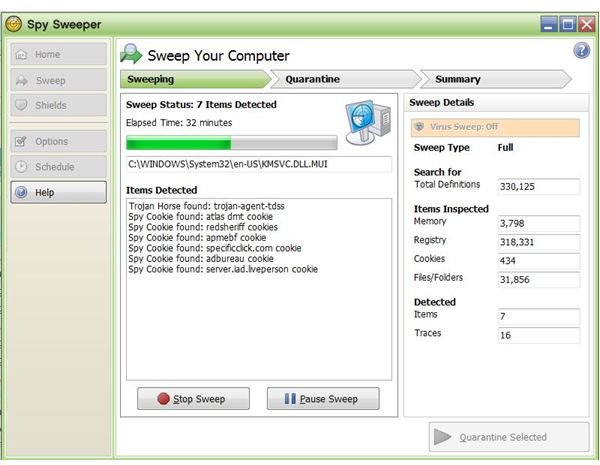 er has a comprehensive set of features, including:
· Spyware and malware blocking blocking – The application uses a staggering 16 advanced shields to protect the computer from spyware attacks. Some of these shields are the ActiveX, Toolbar, and Spy Communications, which block spyware before it has a chance to lodge itself into the system. Therefore the protection is entirely real-time.
· Identification of threats – In general, spyware threats that emerge on the Internet take ages to be documented, and invariably losses occur in that interim. Spy Sweeper pre-empts those losses, being able to remove new definitions of spyware through the use of advanced research methods of new spyware discovery.
· Comprehensive Removal Technology – The technology built into the application is known as CRT, and is an advanced and effective spyware removal engine. The upshot of using CRT is that spyware is removed in a single scan, included mutated malware like rootkits.
· Spy Sweeper is upgraded four times a year to ensure customers the best possible protection at all times.
· Gamer Mode – Postpones certain activities - such as scheduled scans - during gaming in order to ensure that you are able to play your favourite games without interruption.
Protection (5 out of 5)
Spy Sweeper offers absolutely top-notch protection against all forms of malware. The product has been received the VB100 award and been certified by both West Coast Labs and ICSA. It's detection capabilities can be summed up in a single word: excellent.
Price to Value (5 out of 5)
At $29.95, Webroot Spy Sweeper is modestly price and certainly represents excellent value for money.
The only drawback is that buying the problem requires a slight leap of faith, as the trial version is detection-only. That said, unless your machine is already infected with malware, you wouldn't be able to test its removal capabilities anyway - so this really is not too much of a problem.
The Bottom Line (5 out of 5)
Webroot Spy Sweeper is effective, easy to use and competitively priced. It's certainly one of the better products on the market and, if you're looking for a new security solution, you should certainly consider Spy Sweeper. Highly recommended!