Belarc Advisor: Free Computer Security Audits
Introduction
Computer systems today have large amounts of storage space, and a number of applications running at any given point of time. It is quite normal for a user to forget the kind of applications that are installed on the machine, and more importantly, what impact these applications have on computer security.
What Belarc Advisor does is that it scans the computer in question, and creates a detailed profile of all the relevant information it finds. This kind of information could include details of installed hardware and software, or missing Microsoft security hotfixes, among many other details.
The application then generates a detailed report of the same, and publishes it to an HTML file, which is then displayed in a browser.
Test Machine
Compaq Presario CQ50 Notebook PC AMD Athlon Dual-Core QL 1.90 GHz 2.00 GB RAM 160 GB Hard Disk Microsoft Vista Home Basic Google Chrome/Mozilla Firefox Browsers
Installation and first impressions (5 out of 5)
The installation for Belarc Advisor is very quick, and takes 2 minutes at the utmost. It creates a shortcut on the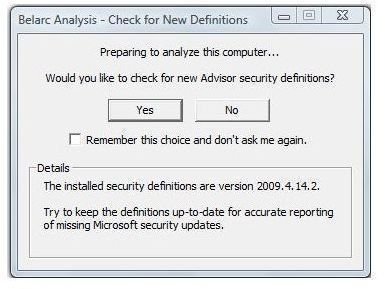 desktop and then proceeds to analyse the system.

After the analysis takes place, Belarc Advisor creates a security profile of the system in question. The profile is then displayed in a web browser, as a local website. As the profile clearly states, the information is not sent to any server, it is merely an informational document for the user to view.
Product Features (4 out of 5)

The profile that is displayed in the web browser is an incredibly detailed report of the system. It includes the smallest of details, right from the software versions to when they were installed.
An important consideration for users is that the report is not sent to anybody; it is merely for the user's knowledge and is stored locally on the machine for later viewing, if required.
Some of its features include:
Microsoft Updates – While Microsoft Update does do the job of keeping the security fixes on the system up to date, it does not specify exactly which hotfixes are missing from the system, and how that will affect the system in question. Belarc produces a list of, not only the missing fixes, but also the ones that are installed already.
Security status – As per the benchmarking standards of computer security, Belarc can compare the system under review to an ideal security state, and actually evaluate the system based on the comparison. However, this feature is only available on certain versions of Windows; Vista not being one of them.
Conclusion
Belarc Advisor is entirely free for personal home use on single computers, although businesses and networks need to purchase a license to run the application. It gives a very detailed and thorough analysis of the system in question, and therefore is a good tool to use occasionally. It's an excellent tool that can help you identify problems and keep your PC up-to-date with the patches for the latest security threats. It's a small download, easy to use and extremely useful. Recommended!
More Reviews!
Would you like to read more reviews? Look around Bright Hub and you'll find detailed reviews of numerous other anti-virus and security products including GeSWall, PC Tools Internet Security, Ad-Aware Pro, a-squared, AVG Free, Avast! Free, Blink Professional and ZoneAlarm Internet Security Suite.