Review of Panda Cloud Antivirus
What is Panda Cloud Antivirus?
Update 30 January 2010: The review below has been written when Panda Cloud Antivirus was in Beta stage. The final, stable release has considerably been improved! More about the final Panda Cloud Antivirus can be found in Bright Hub's article Cloud-based Anti-Virus Comparison: ThreatFire AntiVirus vs. Panda Cloud Antivirus.
Panda Cloud Antivirus, currently in beta stage, is the first anti-virus software which implements cloud computing: during scans of your computer the software connects to Panda's powerful servers holding the anti-virus logic on the Internet, or cloud. Panda's computing platform, dubbed Collective Intelligence, gathers information from the community of users who are willing to share information regarding their computer's health. Advantages include that the Panda Antivirus cloud knows which computer infections are in the wild so that the software can be helpful to indentify and fight 0-days attacks. Users of Panda Cloud Antivirus on the other hand - according to the vendor - don't need to worry about the latest anti-virus signature file as the cloud is always up to date. It remains to be seen though how well Panda Cloud Antivirus protects your computer in real-time when accessing objects, particularly when your Internet is not available.
System Requirements (3 out of 5)
Panda Cloud Antivirus runs on 32-bit versions of Windows Vista and Windows XP with SP2 or higher; Internet Explorer 6 or later also has to be present on your computer. Further minimum requirements for the installation are 100 MB of free hard disk space and 64 MB RAM. On the test computer running Windows Vista Panda Cloud Antivirus used approximately 56 MB disk capacity after the install, and the software was able to conduct a full system scan using less than 20 MB on average.
Installation and Setup (2 out of 5)
The 18.1 MB CloudAntivirus.exe first extracts itself into temporary file locations and then prompts you for the product language (English, German and Spanish). The next screen contains a link to the EULA, and lets you choose the installation path. However, before you click Accept and Install on the same page note the ticked check-box under Automatic management of possible viruses: "I want to enable automatic management of possible viruses for my computer to automatically and anonymously send the information necessary to Panda Security".
Should Panda Cloud Antivirus detect an incompatible program in the course of the install, it will try to remove it. Panda detected AVG 8.5 as being incompatible, but its attempt at removal failed. The Panda setup window then disappeared from my screen. After removing AVG manually through Control Panel and re-initiating the install, setup of Panda Cloud Antivirus completed quickly.
However, I could not find the Panda bear icon to view or configure Panda Cloud Antivirus in the Quick Launch bar until I restarted the Windows Visa test system. Worse, when trying to uninstall Panda Cloud Antivirus from the test system running Windows XP the interface stalled at "Deleting services. Service: NanoServiceMain". I killed the process using Task Manager and restarted the system; yet Panda Cloud Antivirus was still there, running. Only the next uninstall attempt making use the Panda's taskbar icon context menu entry Stop antivirus was successful.
Panda Cloud Antivirus Images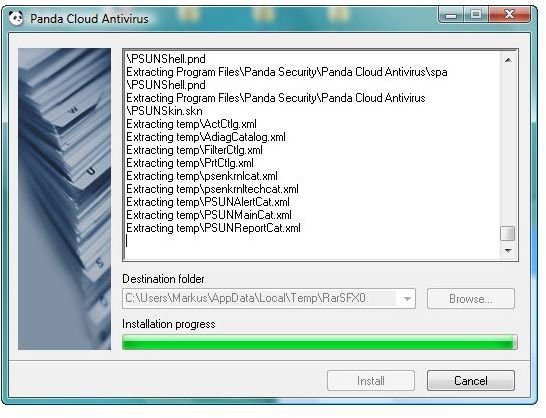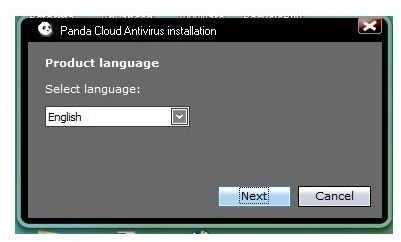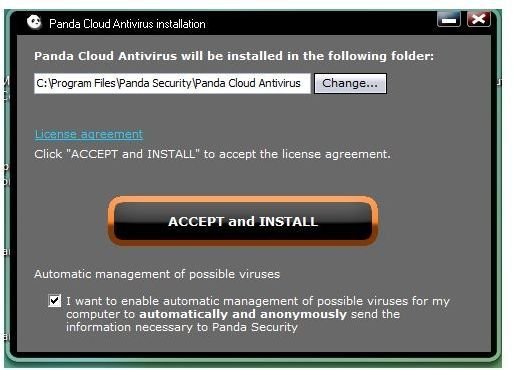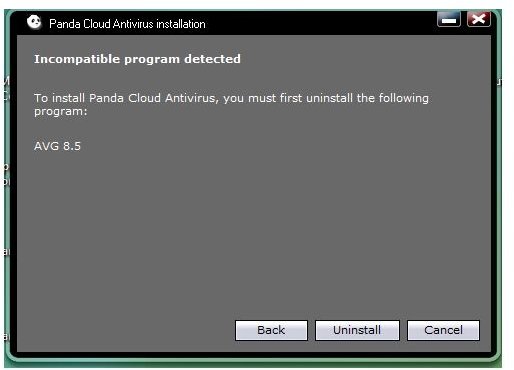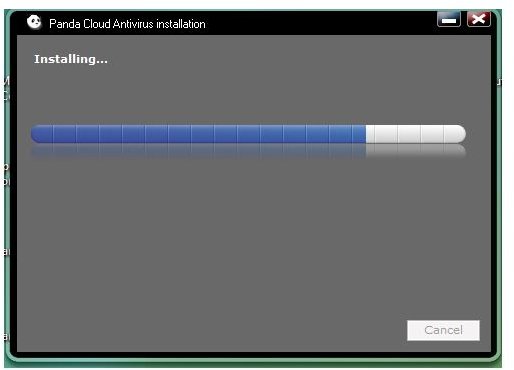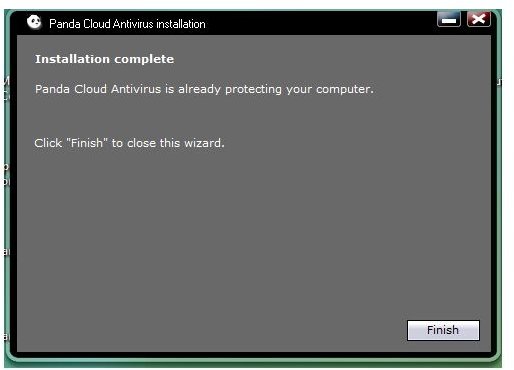 User Interface (4 out of 5)
The Panda Cloud Antivirus interface is light, straightforward and cool! Its main screen has icons for settings, scan and report along with a general status indicator displaying a tick on green background for correct system state, an exclamation mark on yellow surroundings to call for your attention, and a cross on red background if your computer is in danger. On the right bottom corner of the interface you see an arrow. Click it and the interface flips! Yet, flipping is the only way to access the Panda Cloud Antivirus Recycle bin explained in the section features.
Please note the glassy look and feel of Panda Cloud Antivirus in the images below:
Interface Images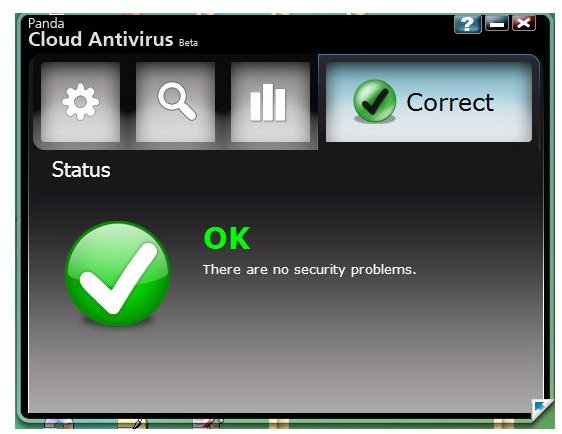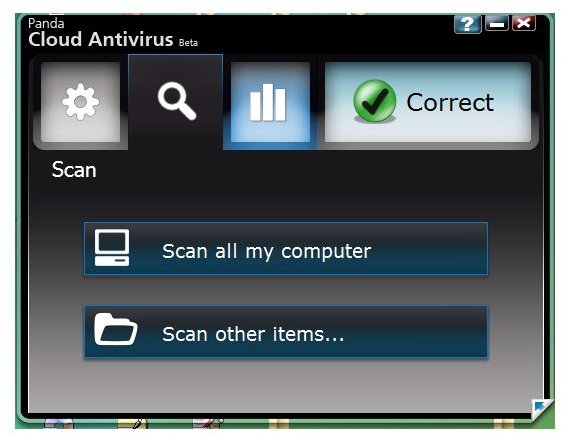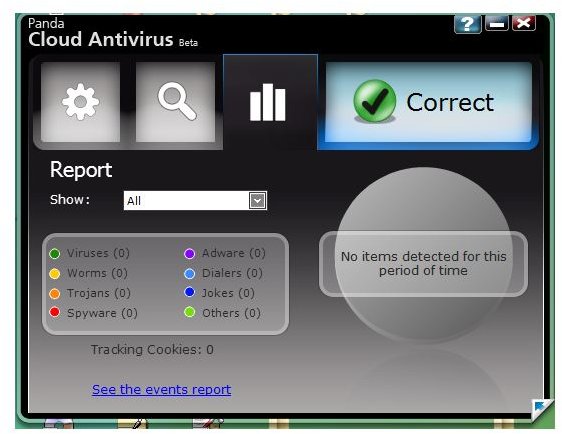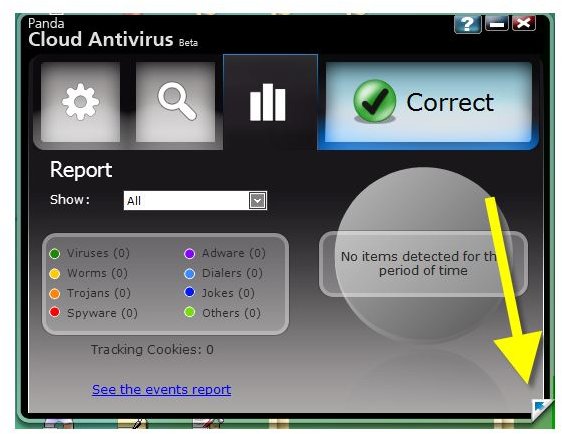 Features and Performance (3 out of 5)
The vendor of Panda Cloud Antivirus claims that "the Panda servers have a database of millions of viruses allowing Panda Cloud Antivirus to detect the multitude of threats that appear every day [1]" and that their software "can detect viruses, Trojans, worms, spyware, dialers, hacking tools, jokes and security risks [2]". Thus, it comes as no surprise that the Panda Security CEO Juan Santana in a recent article in USA TODAY referred to Panda Cloud Antivirus as "silver bullet that will slay computer viruses like Conficker and Koobface before they take root on your PC [3]."
Fact is that the full system scan on the test system with 110 GB programs and data took about an hour to complete on a powerful Windows Vista-based computer, and there are no options to configure the speed of the scan whatsoever. The scan result of Panda Cloud Antivirus summarized that the antivirus software detected and deleted a number of tracking cookies, has identified a number of program files including a Registry scanner as suspicious files, and that it deleted an executable indentified because of malware of some kind. However, Panda Cloud Antivirus was not able to delete the very same threat as a compressed RAR-archive! See the section What should I do with threats that are not neutralized? in Panda Cloud Antivirus' online help for more information about this. In short, Panda's detection and removal capabilities appear to be somewhat lacking at this point in time.
The Panda Cloud Antivirus Recycle Bin lets you unblock suspicious files but Panda Cloud Antivirus automatic management apparently means almost hardly anything to configure in general. Particularly, how and when the product updates the basic local computer anti-virus software remain in the dark. On the positive side: Panda Cloud Antivirus, through event reports on the Report screen, opens a browser window to its online virus encyclopedia upon clicking details of a specific treat, and the anti-virus scan can be initiated from the context menu in Windows Explorer.
Help and Support (5 out of 5)
Online help only, however, it does an excellent job.
Price to Value
Bright Hub usually rates reviewed pieces of software based on their price to value. In this case of Panda Cloud Antivirus, however, it is unclear what the software will cost after the beta period. Moreover, the online help states in What happens when the Beta phase is finished? "Once the Beta period has finished, the detection capacity of the antivirus will reduce considerably as it will no longer have access to our Collective Intelligence servers. From then on, you can get the free version and benefit from special conditions when you buy the full service.[4]", whereas USA Today in the aforementioned article titled "Panda Cloud Antivirus hits Internet for free [3]." So, while it may be free at the moment, it's rather unclear as to what the future holds.
The Bottom Line
Hands off! This product has a long way to go before it's ready for prime time. Panda Cloud Antivirus is lacking and certainly shouldn't be relied on as your first or only line of defence. That said, remember that the product is still in beta and the final version may be considerably better - it certainly needs to be!
References
Author's own experience
Screenshots by the writer
[1] https://www.cloudantivirus.com/help/01/en/06.htm
[2] https://www.cloudantivirus.com/help/01/en/120.htm
[3] https://www.usatoday.com/money/industries/technology/2009-04-29-panda-security-cloud-antivirus_N.htm