RoboForm Review: The Best Password Manager for Windows
Introduction
RoboForm Pro is the ultimate form-filling tool for the chronically forgetful; it is also great for creating elaborate and complex passwords without the chore of remembering them. A user merely has to remember a single master password, and all their login headaches disappear.
RoboForm creates identities for a user, allowing them to set up detailed profiles. These profiles then provide the information for lengthy online forms, filling them up with the standard information that is usually required. An obvious advantage is the time saved in filling these tedious and, more often than not, repetitive forms, however the main benefit is having forms filled out with consistent information thereby reducing the margin of error significantly.
Test Machine
• Compaq Presario CQ50 Notebook PC
AMD Athlon Dual-Core QL 1.90 GHz
2.00 GB RAM
160 GB Hard Disk
Microsoft Vista Home Basic
Google Chrome/Mozilla Firefox Browsers
Version reviewed: RobForm Pro 6.9.94
Installation (5 out of 5)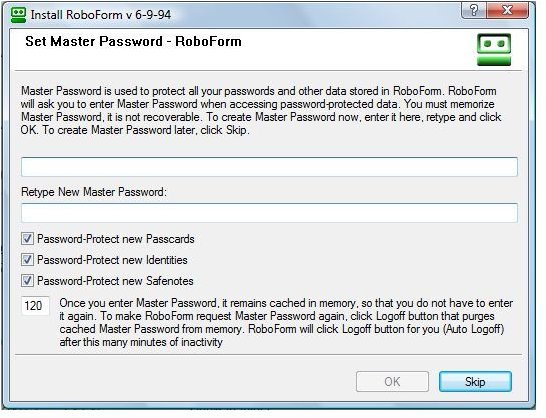 The RoboForm installation file is surprisingly small at 2.87 megabytes. The installation took less than five minutes, with RoboForm up and running even without the usually obligatory system restart.
During the installation, RoboForm will ask for a Master Password. While it is possible to skip this step and set the password later on, it is much easier to set it there and then.
The program installs as a bar in the web browser; the user can access RoboForm from there itself or from the Start Menu. There is a system tray icon as well, which looks like a small green robot wearing sunglasses. There are a number of features which can be set up as and when required.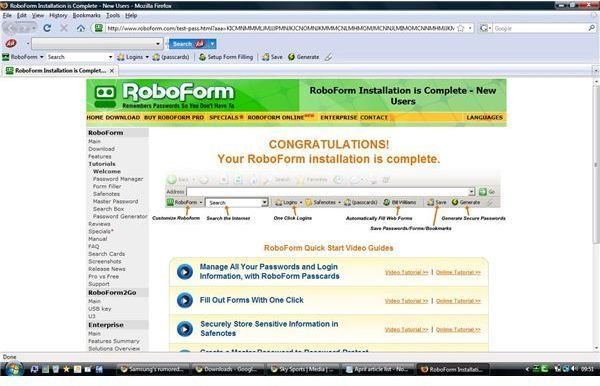 The entire installation process takes approximately 3-5 minutes.
The Pro version of the software can be done through the website. The user needs to buy the license, and they will receive an order number. The customer name and the order number is all that is required to activate the program.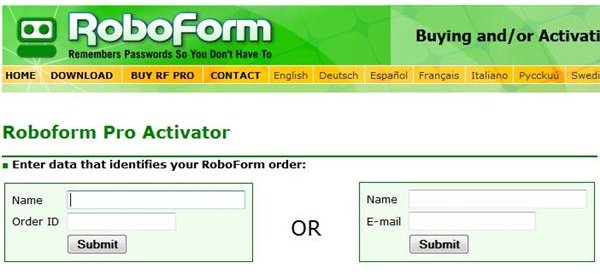 Compatibility (4 out of 5)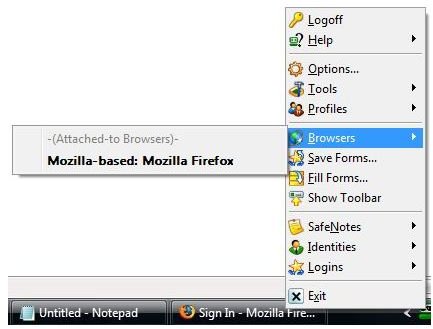 At this time, RoboForm is only compatible with Internet Explorer, Netscape and Firefox. There is talk of extending the program to work with Google Chrome, but that is a rumour as of now. There is speculation that it will not be possible to use RoboForm with Chrome, as Chrome is built using a certain application framework.
RoboForm is also strictly a Windows operating system software application, and does not run at all on Unix or Linux platforms, or on Apple Macintosh.
On mobiles, RoboForm is supported by Symbian and the Palm mobile operating systems, along with Pocket PC.
Product Features (5 out of 5)
RoboForm comes with a bewildering array of functions, all designed to make short work of forms and logins.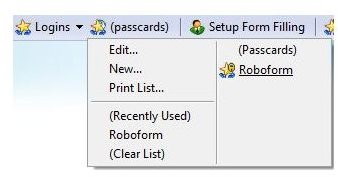 1. Managing passwords – RoboForm creates one passcard for every login and password combination. The user only needs to visit the site where they need to login, and type in the login information in the textboxes. RoboForm automatically generates a small dialog box, indicating that a passcard can be created on the spot. The user then has the option to modify the name of the passcard, for easy identification, or reject the passcard entirely.
2. Safenotes – The Safenotes feature allows the user to create a set of notes with sensitive information that is not necessarily restricted to online logins and forms. This sort of information covers a wide gamut of possibilities, right from ATM pin codes to software activation codes. Safenotes is also protected by the single Master Password, to minimise the number of security checks the user needs to keep in mind.
3. Form-filling – Most online forms have similar fields, therefore filling in forms becomes a repetitive and boring task. RoboForm allows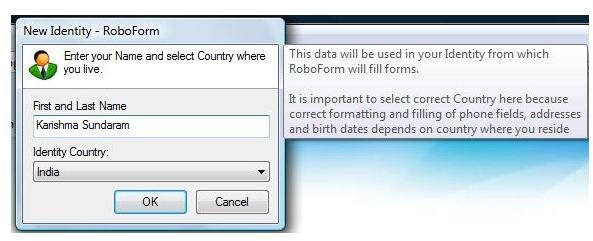 a user to create identities through which the process of form-filling becomes entirely automated. The system is very intuitive, as the user can fill up forms partly through RoboForm and partly through manual entry. A user can create multiple identities, depending on the information they wish to disseminate to the website in question.
4. Contacts – RoboForm can also double up as an address book, with a complex tree structure for optimum indexing.
5.Password encryption – Passwords can be encrypted to keep them from prying eyes, adding an extra layer of security to the Master Password.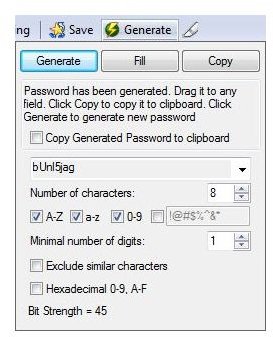 6. Generation of complex passwords – Human beings invariably choose passwords that they can remember by association. While this is a good idea to remember passwords, it becomes a weaker defence when under attack. Generating random passwords makes guessing the passwords exceedingly difficult, decreasing the chances of cracking it significantly.
7. Outsmart malware – Keylogger software applications are defeated entirely, as the keyboard is not used to enter passwords at all. Keyloggers keep a track of all the keystrokes, and tend to very effective means for discovering passwords. Phishing sites are also defeated as the login information is only passed on to websites that match the stringent security protocols of RoboForm, and are the exact websites that they claim to be.
Additional features (5 out of 5)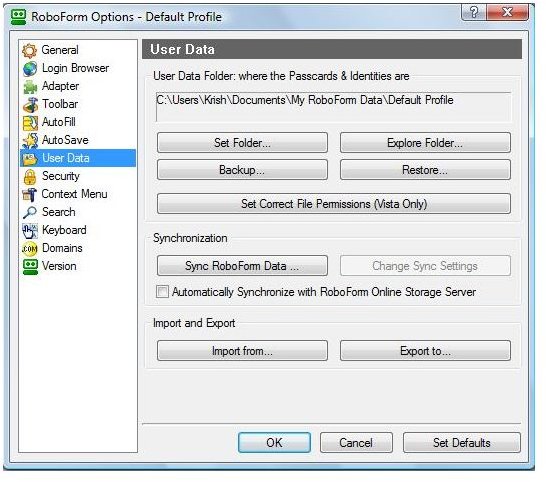 In the event of a computer crash, mostly all information is lost. If this were to happen to the RoboForm passwords, a great deal of vital login information would be lost, with no chances for retrieval. Therefore it is possible to backup all the information that RoboForm stores on separate media, in case there an untoward incident.
RoboForm can also be used from a removable USB drive, allowing a user to carry their login information across computers. This is especially important in case the user uses public computers for logging in. Public computers can be security hazards because of their convenient access, and therefore it is best to use the automated form fillers instead of the keyboard.
Price to Value (5 out of 5)
RoboForm is available in a condensed form for free, however, it is limited (RoboForm Pro versus RoboForm Free). The full version stands at $29.95 for a single machine. Each additional license costs only $9.95 extra. The value of the product far exceeds it's price, as it keeps all password information extremely well protected.
With the Pro version, it is possible to create unlimited identities and passcards. This is a significant advantage to have, as one user may choose to have fake identities for certain sites, full true identities for others and so on. Having multiple identities is the user's prerogative, and is therefore a very attractive feature.
Conclusion
RoboForm is definitely an excellent tool to have, and not merely because of the convenience it provides. Any user who utilises the Internet will have multiple login ids and passwords, which can be cumbersome to keep track of. With RoboForm, your login information remains safe and secure, making this tool truly invaluable. To put it simply, RoboForm is the best online password manager for Windows. Highly recommended!
More Reviews!
Would you like to read more reviews? Look around Bright Hub and you'll find reviews of numerous other leading security solutions including Atek Secure Password Organizer, McAfee Total Protection, GFI LANguard, Norton Internet Security, Kaspersky Internet Security, ESET Smart Security, Norman Internet Security Suite and Undelete.