XeroBank Torpark Browser: Browse the Web Anonymously with xB Browser
XeroBank
XeroBank offers services that help protect your privacy and to protect your identity. Unlike Internet Explorer and other web browsers, the XeroBank (xB) Browser - which was formerly known as Torpark - does not use a cache or store cookies, meaning that you do not need to run a cleaner to cover your tracks.
Installation (4 out of 5)
The XeroBank webbrowser offers setup options that are fairly easy to understand. With options similar to any setup, there are slight changes and customizations that must be selected. XeroBank offers a client setup for users wishing to pay a subscription to XeroBank or a Tor option for the free version.
The installation process offers a proxy server setup option if your computer is traveling through a proxy server to get to the internet. This option is available while setting up the application or this option can be configured after the installation with the xB Config Option.
Introduction to the Tor and XeroBank Anonymous Proxy Servers
XeroBank can use the Tor network or connect through XeroBank for extra protection. What is the Tor network? The Tor network provides internet privacy among computers on the internet. How does Tor work? Tor allows users to navigate the web by using a circuitous route by using 1000s of servers that are geographically located all over the globe. Because of this distributed networking, your packets travel 'mixed up', taking different routes to get to their destination. Tor keeps your privacy by distributing these packets across these servers thus obscuring where you are going and what you are doing on the internet.
Installation Images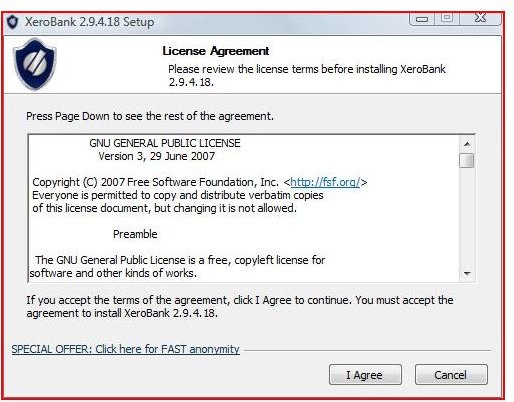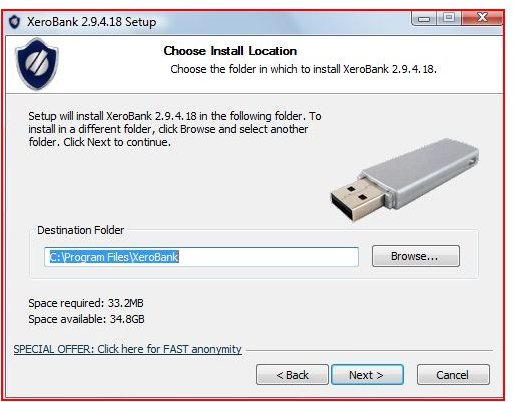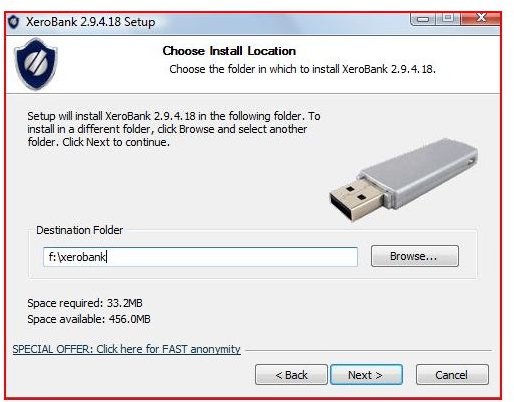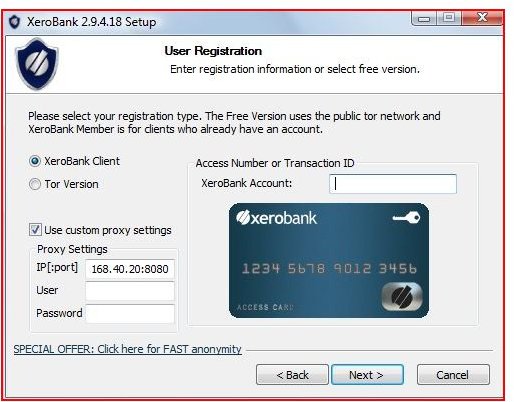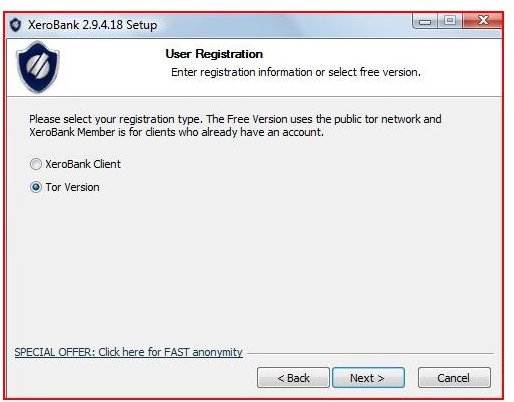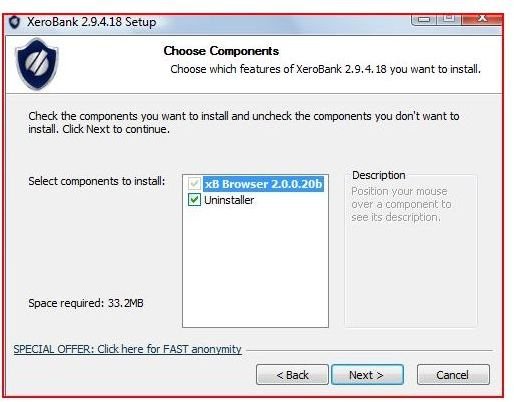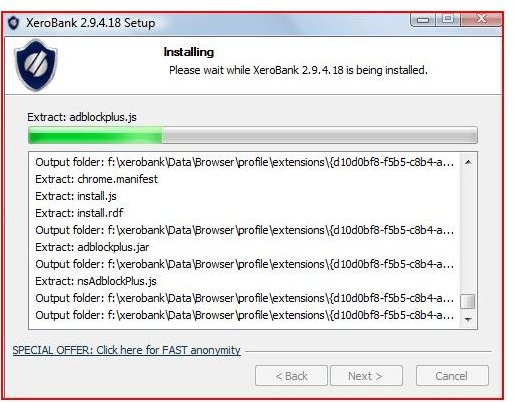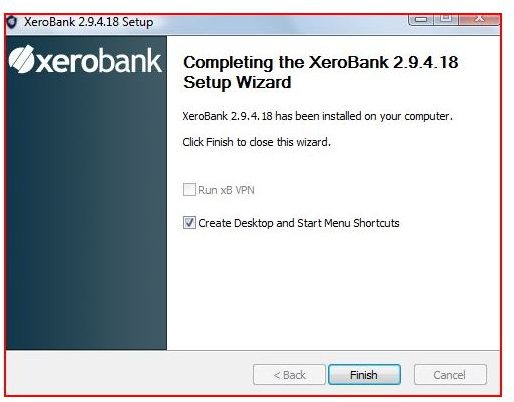 Features and Performance (5 out of 5)
Although the xB browser looks and feels to be just like any other web browser, several behind the scenes processes are taking place. XeroBank offers anonymous proxy servers that are encrypted and distributed worldwide. XeroBank's browser uses a hopping technique that pushes your internet request across multiple servers keeping your surfing invisible to malicious people. XeroBank's connection creates a 2048-bit authentication method and 256-bit AES encryption.
When you surf the internet, your computer gathers various information (pictures and files) and cookies which can be used to track your surfing history. Cookies and information left behind on your hard drive leave tracks behind on your computer thus compromising your privacy. With xB Browser, there are advanced features that check blacklist and certificate vulnerability detection for SSL, MD5, RSA certificate information (See pictures below), With SSL information being vital to online shopping and banking transactions, it is of the utmost importance that you are protected at all times. While the free version of XeroBank connects you to the Tor network, XeroBank offers an option that will greatly increase the performance and speed for a small fee. The Tor network is considered one of the most secure ways to surf the internet today. The XeroBank options provide the 2048-bit authentication and 256-bit AES encryption as stated in the first paragraph of this section. By connecting to XeroBank's servers, these servers insure the highest protection available.
Feature Images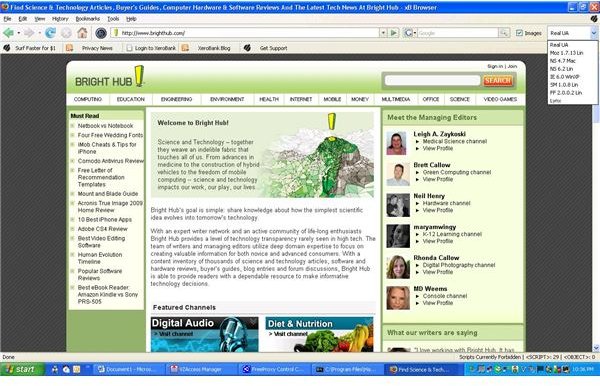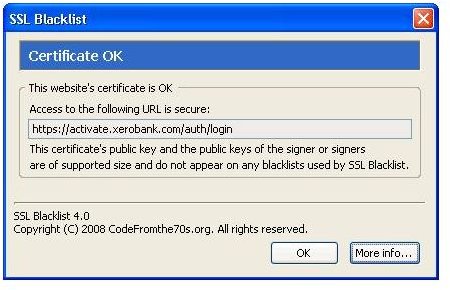 Value and Price (4 out of 5)
There are hundreds of ways to intercept packets of data that go from point A to point B. With a distributed network such as Tor or with dedicated servers, interception becomes next to impossible. Xerobank offers many more products to protect you personally or to protect your business including email. While the xB browser is free and can be used with the Tor Anonymity Network at no cost, you'll have to pay if you want to use it with the XeroBank Anonymity Network. At $35.00 monthly and the first month's fee of only $1.00, you have to weigh how much your identity and privacy is worth. The price may seem a little high but the benefits outweigh the risks today. Anyone using the internet will have to begin looking at this type of protection as they would car or home owner's insurance. In today's world, you simply cannot afford to go unprotected.
More Web Security Tips and Reviews
For more tips about staying safe online, see our articles How To Check If a Website Is Safe, ShuURL: Safe URL Redirection, Top Two Free Hosts File Managers, How to Control Cookies in Internet Explorer, How to Block Third Party Cookies in Internet Explorer 7, Using ZonedOut to Manage Internet Explorer Security Zones, Securing Your Web Browser's Homepage and How to Browse the Web Anonymously: A Guide to Anonymous Surfing and Free Anonymous Surfing.
Be sure to check out our reviews of other products that may help you surf more safely including WOT, Ad-Aware, SiteAdvisor and Spybot Search & Destroy.