CCleaner: The Best Free Optimizer and Security Tool Bar None!
Overview
Cleaning a hard-drive should be done on regular basis to claim back the space used by unnecessary temporary files or removed programs. It's not an easy task to run a clean-up if a user have many programs to maintain because every application are accessing the drive and adding temporary files that will use small amount of space but will take a lot of space overtime. Another reason to clean the drive or system on regular basis is to protect our sensitive data for being retrieved or locate by spysites, spyware or other users. It is also to secure our private information against hackers, hijackers and other type of snoopers or spysites. The widely-use and recommended program to do the entire optimization and cleaning task on a system is the freeware utility called CCleaner (CrapCleaner) by Piriform.
Installation and System Requirements (5 out of 5)
The installation of CCleaner is straight forward and it requires no restart to start using the program. There is no additional requirement to install CCleaner e.g. Microsoft .NET Framework, Sun Java Runtime Environment and it can be installed on Vista, XP and older editions of Windows. You can run CCLeaner in any one of 35 different languages.
Users have the option to install it using the CCleaner's standard or slim installer. There's no difference with the said installer other than the standard installer bundles
third party software, Yahoo! Toolbar - and that's why CCleaner is listed in the Calendar of Updates' Installers Hall of Shame. Many users do not want to have unnecessary component on the system and it's odd to see a system cleaner to bundle with such. Good thing is Piriform continue to provide the CCleaner Slim installer so I will continue to rate this section as excellent for they understand that there are users who do not like any unnecessary programs in installers.
When I let EULAlyzer to analyze the End-user License Agreement (EULA) of both installers, the analysis result show there were no interesting words and phrases in the slim installer of CCleaner while the analysis for the standard installer is there were many detected interesting words and phrases. Why different analysis by EULAlyzer? Simply because there's third party EULA that is not in any way related to CCleaner and this third party EULA should be reviewed carefully by any user before allowing the installation.
CCleaner program updates require no removal of older version so that the program settings will remain. Also, users have the option download a portable edition of CCleaner or make the already installed CCleaner as portable (please see the section below under recommended settings for details in making CCleaner portable without having to download the portable edition).
Features, Performance and Recommended Settings (5 out of 5)
The main feature of CCleaner is to clean and optimize the system by removing unused and temporary files in Windows including the Registry in Windows.
One of the neat features of CCleaner is the ability to create and restore a backup prior optimizing the Windows Registry but users should take caution before using any Registry Cleaners because Windows Registry is the heart of Windows. Any wrong deletion of registry entries can cause system instability or program issues. CCleaner can also clean-up temporary and unneeded files by third party applications. However, if a user would like to keep the generated log files by particular applications, the said files will be removed unless an exemption is added in the Exclusion function in CCleaner.
The most important feature in CCleaner is the option to securely delete the files using different method and one of the welcome additions in CCleaner's features was provided earlier this year is the ability to wipe the free disk space in the hard-drive. Such feature is often found in commercial tools only! I noticed there is Comodo System Cleaner but when I check the latest version of Comodo System Cleaner, it does not have ability to wipe the free disk space.
When I clean-up the test system that has not been clean for one week, CCleaner left some other temporary files because the default settings is to leave new temporary files. This is why I would like to recommend to users to configure CCleaner using the following settings:
In CCleaner Settings, change the Secure Deletion settings from "Normal File Deletion (faster)" to "Secure File Deletion (slower)" and then choose "NSA (7 passes)"
In Advanced settings of CCleaner, uncheck the boxes before "Only delete files in Windows Temp folders older than 48 hours". You might also want to consider choosing the "Save all settings to INI file" so that the settings is stored as ccleaner.ini in the program directory which you can copy to another PC or if you plan to have a backup copy of the CCleaner settings. Note that if "Save all settings to INI file" is not selected, the setting of CCleaner is still stored via Windows Registry (instead of a file in its directory). Also note that choosing to save the settings to INI file means CCleaner is now portable. If you have pen or any removable drive, you can copy the entire directory of CCleaner in the USB or pen drive and enjoy a portable version of CCleaner whenever you are on the go or helping a family or friend to clean-up their system drive.
When you first install CCleaner, the program automatically configure to wipe the free disk space of the system drive (Drive C). If you have more than one hard-drive or partition, you should allow CCleaner to wipe also the free disk space of the non-system drives.
More from CCleaner (5 out of 5)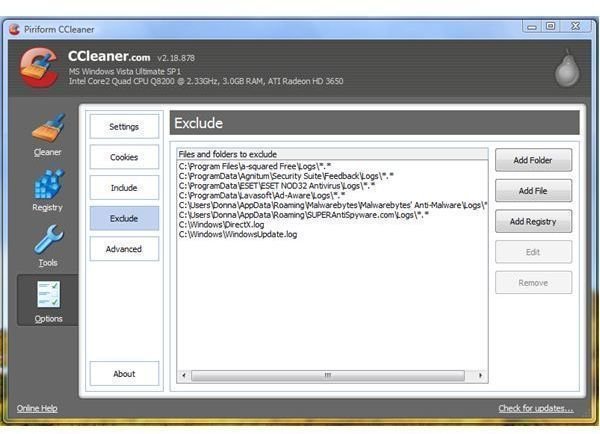 If a user would like to keep some log information for reference, the Exclude function in CCleaner should be use (see screenshot at the right). If any files or folder in the system or another partition and hard-drive requires cleaning, you can use the Include function of CCleaner.
CCleaner also have Startup and Uninstaller tools which is handy if you want to manage the startup items in Windows and the list of installed programs. There is also an option to save the list of installed programs as text file.
Screenshots of CCleaner (Default settings)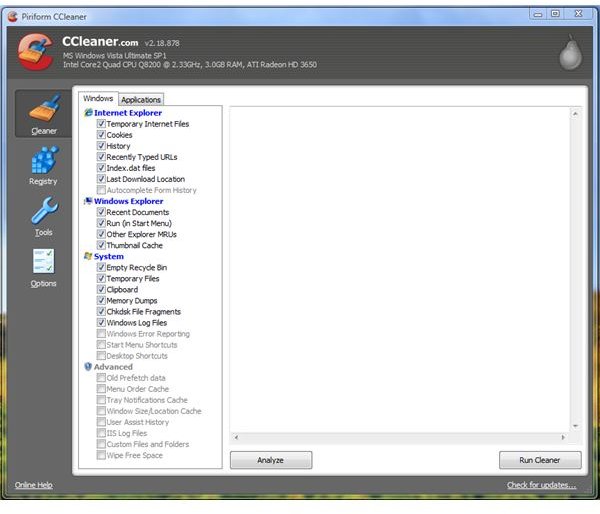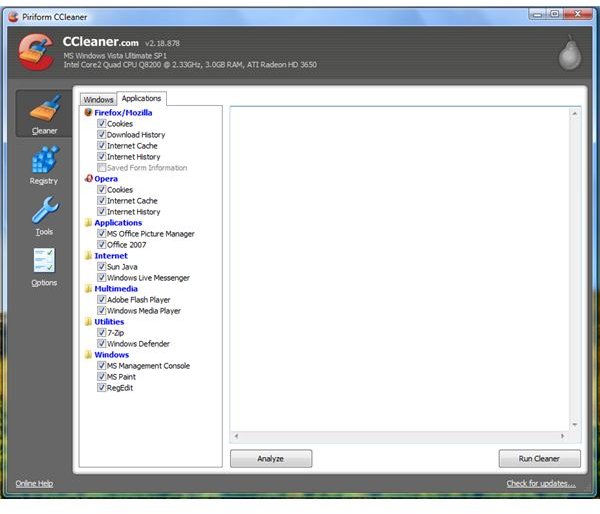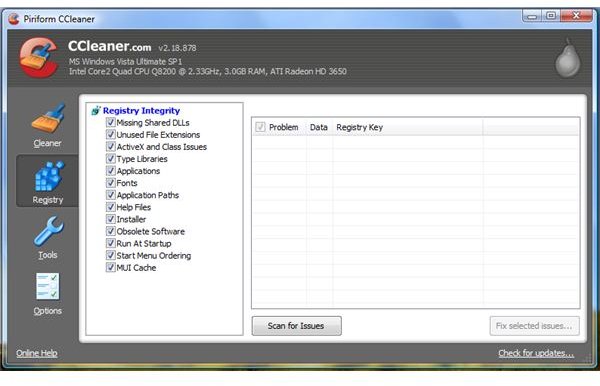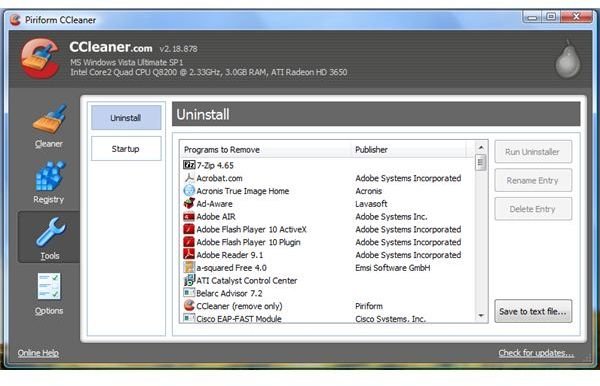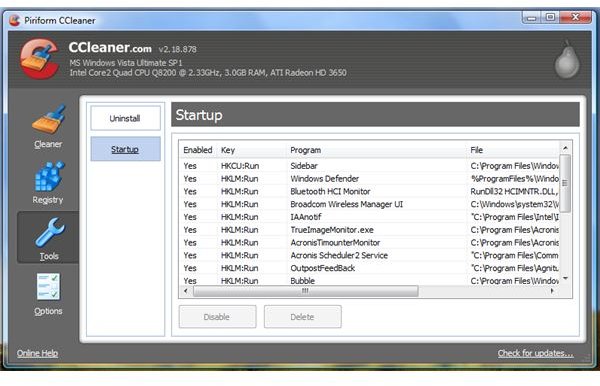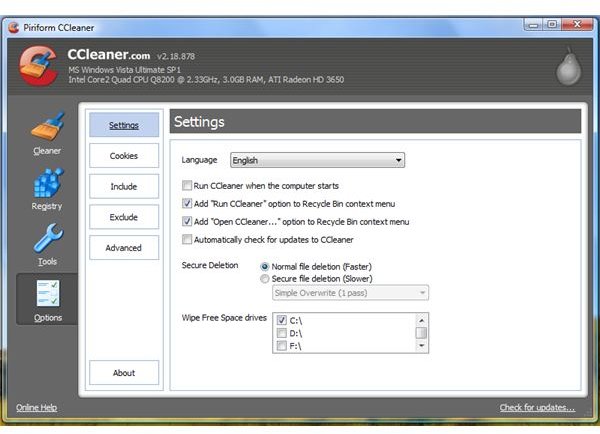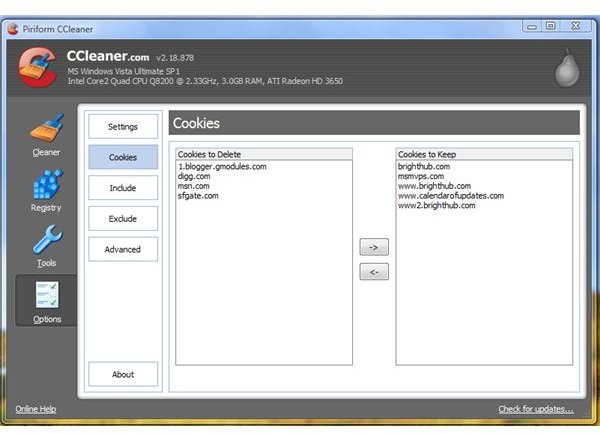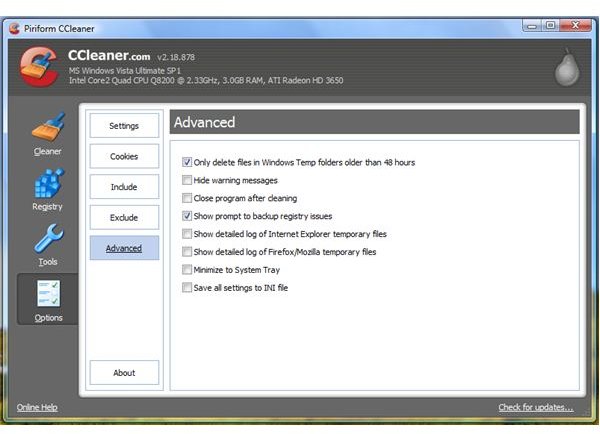 Price and Updates (5 out of 5)
A valuable tool that cost $0. CCleaner is often updated and the developers of CCleaner is fast in providing support for new version of support applications that it can clean-up.
Conclusion
If you are looking for free and effective solution to keep your hard-drive free from unneeded files, CCleaner is the way to go. It's probably the best PC optimizer on the market. Best of all, unlike most other solutions, CCleaner doesn't simply delete your data - it securely deletes it so that it cannot be recovered! CCleaner is (almost) the perfect optimizer. Highly recommended!
More Reviews!
Would you like to read more reviews? Look around Bright Hub and you'll find detailed reviews of numerous other anti-virus solutions including Comodo System Cleaner, jv16 PowerTools, Ad-Aware Pro, a-squared, AVG Free, Avast! Free, Norton Internet Security, Kaspersky Internet Security, ESET Smart Security, McAfee Total Protection, Blink Professional and ZoneAlarm Internet Security Suite.