Comodo Internet Security: The Best Free Security Suite
Introduction
Comodo is a Network Product Work Hot Companies Awards 2009 finalist and their latest product, Comodo Internet Security, is a no-cost full security package, incorporating an antivirus program with a firewall, and a strong customizable defence system called Defense+.
The truly outstanding feature of Comodo Internet Security is the ease of installation and setup. There is limited amount of jargon, and changing the settings of the application does not involve a detailed trek through each of the menu options. The application is distinctly user-friendly.
Comodo Internet Security is available in Free and Pro versions.The Free version will probably meet most people's needs, but see this page for an explanation of the differences.
Test Machine
• Compaq Presario CQ50 Notebook PC
• AMD Athlon Dual-Core QL 1.90 GHz
• 2.00 GB RAM
• 160 GB Hard Disk
• Microsoft Vista Home Basic
• Google Chrome/Mozilla Firefox Browsers
Installation (5 out of 5)
Installing Comodo Internet Security was a series of simple steps. The installation file is a self-extracting one, and there are no surprises during the initial stages.
After accepting the license agreement and choosing the destination folder for the installation, the user is then presented with the choice of installing the Antivirus and the Firewall components of the Comodo suite. By default, both boxes are checked and recommended.
As a word of caution, the installer recommends that any other antivirus programs that are currently installed should be removed. Two antivirus programs do not mean greater security, as one would be forgiven for thinking. It tends to be counterproductive, therefore the best course of action is to have just one operating at any given point of time, with the latest updates and program features. Usually this check is performed towards the end of the installation, which means a user ends up wasting their time with an incomplete installation before having to uninstall the older software first. Comodo's timely word of caution does end up saving some time, even though the installation itself doesn't take very long.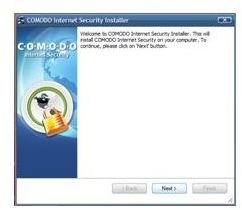 After selecting the products that need to be installed, there is a screen prompting the user to join the Threatcast community. Again, by default the option has been selected. Threatcast will be discussed a little later in the article.
The user has a choice to subscribe to email newsletters from Comodo, which will contain news updates among other information.
The installation will then complete with a malware scan that Comodo will perform. The scan time will vary significantly from computer to computer, however the overall installation excluding the scan takes about 3-4 minutes only.
Product Features (5 out of 5)
Comodo Internet Security is a unique combination of a firewall and an antivirus program, all bundled into one neat package. This essentially means that a user can control both these functions from a single control panel, instead of managing multiple applications.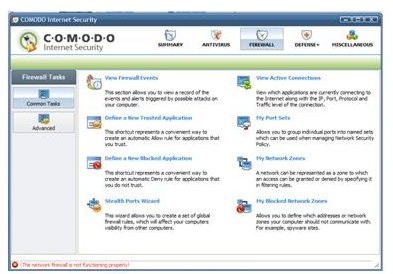 Features:
• Firewall – A firewall is the first line of defence on a system. It prevents hackers from accessing data stored on a user's machine and prevents data escaping from the machine without the users' knowledge. A firewall is more necessary now than ever, considering that mostly every computer and laptop is networked in some way or another. The Comodo firewall can be custom configured by the user, and without much jargon, it manages to be quite in-depth. A user can configure ports, allow certain applications to pass through and even create stealth ports, so unauthorized port listening becomes useless. These are all fairly advanced firewall features, which usually are not available with free products. Comodo's offering certainly meets the two most important criteria for a firewall: it's exceptionally easy to use and it's extremely effective (see Lee Clemmer's article What You Need To Know About Firewall Leak Tests for some details about how the Comodo Firewall stands up to leak tests).
• Antivirus – The antivirus control panel has all the expected features, like scheduled scans and quarantined items. A nice sub-feature is the ability to create multiple scan profiles, specifying which areas of the computer need to be scanned.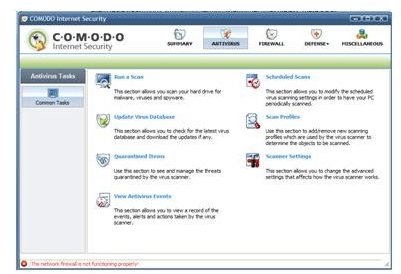 • Defense+ - Defense+ is an excellent feature, one not encountered in many antivirus programs. There is an additional line of security erected in front of certain user-specified files and folders which disallows access and modification entirely. A user can specify which software vendors are completely trustworthy, protect certain registry keys from modification and additionally view the current active processes on the computer. This rather phenomenal feature is merely the basic version of Defense+; the advanced user can manipulate even more settings and can therefore leverage maximum control over the computer's security.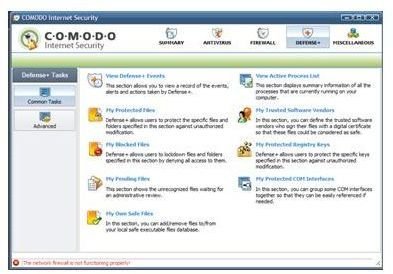 Although Comodo Internet Security is free, there is of course the extended Pro version with more power-packed security features. For instance:
• TrustConnect – TrustConnect offers protection from Internet threats regardless of where the computer is being used or how the computer is connected.
• Hands-on Support – Apart from the usual 24x7 product support, there are other services like remote virus removal, remote installation and PC tune-ups for a sluggish machine.
The ThreatCast Community (3 out of 5)
As a ThreatCast community member, a user will be able to see statistics related to a particular pop-up. The statistics give the user a useful insight into how other users have reacted to the same pop-up, and therefore contributes analytical data for that decision. Additionally, the user's reaction to the pop-up will also be anonymously added to the statistics, in effect providing the same service to other users at a later time.
However, recently there have been quite a few issues concerning ThreatCast. The service has not been operating well, with quite a few users complaining that it doesn't work at all.
Price to Value (5 out of 5)
For a free antivirus and firewall software application, Comodo has some really brilliant features.
At $39.99 per year, Comodo Internet Security Pro doesn't break the bank. However, the Pro features are not a significant improvement on the free version, so it seems fairly pointless to spend that money in any case. Of course the Pro version, unlike the Free Version, does come with support, but whether or not that merits the expense is something you'll have to make your own mind up about. There is a free 30-day trial version of Pro, in case the user wants to give it a whirl before actually buying the product.
Conclusion
Comodo Internet Security is a strong contender because of its excellent firewall. The antivirus catches malware that slips through other antivirus programs, however sometimes manages to miss the ones that the others catch. That said, it's almost certainly good enough to stop any malware that you're likely to encounter in the wild - and that's what really counts. Additionally, while Defense+ is brilliant in theory, in execution it tends to be overly sensitive and actually hinders the user experience on the computer. It can be programmed to be more lenient, however it is doesn't have the capability to learn behaviours, making it irritating and cumbersome.
Whether you're looking for protection for a new PC or an unhappy AVG user looking for an alternative, you should definitely check out Comodo Internet Security. Despite some minor shortcomings, it's certainly a great choice for people looking for easy-to-use, no-cost protection for their PCs.
Be sure to read our reviews of other Comodo products, including Comodo System Cleaner and Comodo BOClean.
More Reviews!
Be sure to check out our reviews of other antivirus and security solutions including the ioSafe Solo, Norman Antivirus and Antispyware, PC Tools AntiVirus, AVG, Avast! and Rising Antivirus.