Pretty Good Privacy
PGP Desktop 9.9 secures email by way of encrypting and signing messages with keypairs so that no one but the intended recipient can read the email. In addition to that can PGP Desktop 9.9 be used to protect sensitive information stored on local disks and removable storage, including, for instance, external hard drives and USB flash disks, with the result that only legitimate users can access the data. Furthermore can PGP Desktop 9.9 be utilized for storage and management of protected files on shared space such as a file server for example. On top of that does PGP Desktop 9.9 include encrypted and self-decrypting archives, and a shredder capable of permanently deleting files so that they are unrecoverable by any means.
PGP Desktop 9.9 ships in various editions and the flagship corporate bundle comprises central management plus the features explained below:
· Secure Messaging
· Whole Disk Encryption
· Virtual Disk volumes
· NetShare
· PGP Zip
· Self-Decrypting Archives
· PGP Shredder
System Requirements (5 out of 5)
PGP Desktop 9.9 has little RAM and free hard disk space requirements. It runs on Microsoft Windows 2000 as well as on all 32-bit and 64-bit versions XP and Vista computers with Service Packs installed. An overview of which PGP Desktop editions are available for MAC OS X is given in table number two towards the end of this article.
Ease of Installation and Setup (4 out of 5)
The installation is straightforward: you can only choose to install PGP Desktop 9.9 in English, German or Japanese and accept the EULA. Then, upon restart you are prompted to insert license information as PGP Desktop is the successor of Pretty Good Privacy legacy freeware. Users new to PGP Desktop 9.9 continue with the creation of their keypairs for which an Internet connection is required, then the setup concludes with the configuration of PGP Messaging, a term used synonymously with secure email, email encryption and PGP Desktop Email.
Below you can see a picture of the PGP Desktop 9.9
PGP Desktop 9.9 Interface - Click to Enlarge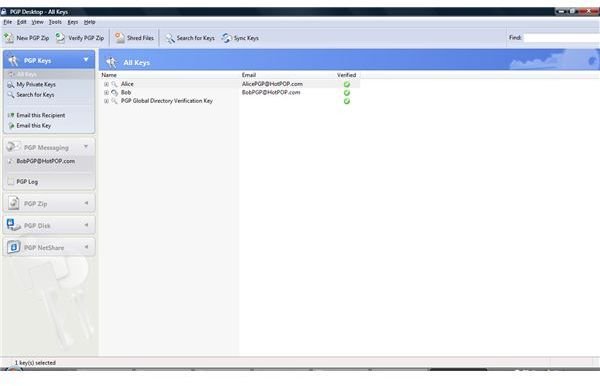 Secure Email Messaging
PGP Desktop Email automatically encrypts, signs, decrypts, and verifies emails sent and received. This achieved through PGP's email proxy functionality, services, default configurations known as policies and the use of public/private keypairs. It works a treat!
PGP Desktop Email, sometimes referred to as PGP Secure Messaging because it also protects some instant messaging apllications, is explained in detail in my article 'How to encrypt emails with PGP Desktop Email' which you can find by following this link along keypairs put in a nutshell.
Whole Disk Encryption
PGP Whole Disk Encryption (PGP WDE) encrypts entire hard disks or partitions on notebook and desktop computers no matter whether they are local or attached by means of USB for example. PGP WDE Encryption/Decryption is a background process which does not interfere with user experience; however it may take a while depending on disk size and CPU power. Once this usually one-time task has been done there is hardly any processing overhead, and files and folders look and feel as usual. Dual-boot systems are supported whereas RAID is not.
PGP WDE authentication can be configured to passphrase upon computer boot with or without snapping into Windows (Single Sign-on) as well as to token or smart card authentication. Additionally, a USB token or trusted platform module can be used together with the passphrase. This is called two-factor authentication: something you know and something you have. What's more, removable disks can be secured by public/private key pairs ideal for non-secure means of transport.
Virtual Disk volumes
Virtual disks in PGP refer to portions of a hard drive set aside for securing data by means of encryption regardless whether the disk is on-board or locally attached. As opposed to Whole Disk Encryption secures PGP Virtual Disk only what's stored inside or installed into the special file space. Like a safe in a house can PGP Virtual disks be locked and unlocked on the fly without interfering with other parts of the computer or user experience. PGP Virtual disks works on FAT, FAT32 and NTFS formatted disks and partitions.
Read on on the next page. There is much more you want to know!
NetShare
PGP Netshare does not replace or substitute access control but uses file-level encryption to secure shared objects on removable hard disks, USB sticks and on network folders for example. Users not authorized though the PGP Netshare role model will still be able to see the files with their usual icons; however given that file content is encrypted they are prevented from reading and writing to it.
Authorized users on the other hand see container and its files with a padlock attached but can work as usually with any PGP Netshare protected files. For confidentiality the use of passphrases is not permitted in PGP Netshare, rather PGP keys must be used, and new files placed into the protected folder are automatically signed with the user's private key.
PGP Zip
PGP Zip secures and signs data by cryptographic means and compresses it for efficient transport and storage. What differentiates PGP Zip form competing products like WinRar and WinZip is its use of public key encryption: objects can be encrypted with the public key of the recipient so that they can only be decrypted by the recipient's private key. In case not all recipients' public keys are available but all have PGP Desktop installed then the compressed archive can be secured by a passphrase only which is slightly less secure. If confidentiality and integrity are accomplished by other means such as PGP Desktop Email, or, in contrast to authenticity don't matter, PGP Zip files can be of the type "signed-only" (without encryption) to prove the sender's identity.
Self-Decrypting Archives
Self-Decrypting Archives (SDA) are used in case the recipient's computer does not have PGP installed. SDAs are Self-Decrypting PGP Zip files secured by passphrase only. Thus, SDA's provide no means of sender verification.
PGP Shredder
In contrast to Windows Recycle Bin objects being emptied can PGP Shredder delete files and folders in such a way that they cannot be recovered by any means: PGP Shredder overwrites objects a number of times in so called passes and frees up their space used by permanently deleting any pertinent file or folder information.
Performance and Help (5 out of 5)
PGP Desktop 9.9 works great and encryption or decryption processes add only little overhead to user operations or the processing of email traffic for example. However, it may take a bit of time and reading until a novice user can make full use of PGP Desktop features.
PGP Desktop 9.9's help menu does a great job. Besides that is the software accompanied by the PGP Desktop Quick Start Guide as well as the PGP Desktop User's Guide with over 300 pages in addition to a lengthy Introduction to Cryptography.
Price to Value (3 out of 5)
PGP Desktop 9.9 price range is from $ 119 for the PGP Desktop Home to $ 329 for PGP Desktop Corporate bundle edition with central management. In the first table depicted below you can see all features of PGP Desktop 9.9 editions including their bundles as well as standalone NetShare and PGP Whole Disk Encryption tools. In the second table then you will find the price tags for all versions running on Windows client operating systems or Mac OS X.
The prices do not include the mandatory annual maintenance fee between 18% and 25% due after the first year. What you pay when you purchase PGP Desktop Version 9.9 plus its perpetual license model brings a superb product down to an average price to value ratio.
Tables - Click to Enlarge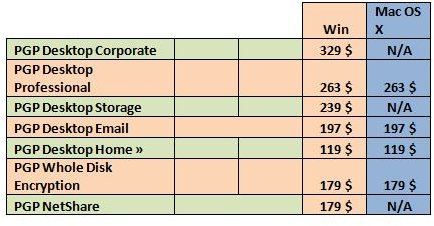 The Bottom Line
PGP Desktop 9.9 editions are great software suites to comprehensively secure desktop and laptop computers and their user's emails as well as files in shared space if demanded by legislation, or for professional and personal needs. Particularly people who take their portable computers along on business trips or vacations should be thinking of PGP Desktop as their computers and data might get searched or stolen, whereas PGP Desktop Email encryption is safe in any circumstances.
References
Vendor's official product page
Writer's own experience
Screenhots by the writer