Spybot: A Free Spyware Killer for Windows
About Spybot - Search & Destroy
Many home PCs are using Spybot – S&D to scan and remove spyware and adware. The product is so popular because of the immunization feature for the widely-use browser, Internet Explorer. The program has been fixing infected computers for years and it's always the talk in many security forums and software downloads website. On this review, I looked into the new version of Spybot – S&D and have run some detection test.
Features and Protection by Spybot – S&D (5 out of 5)
The key feature of Spybot – Search & Destroy is to scan the system for spyware and adware. It will also offer removal for detected items. The scanner of Spybot – S&D can also detect for tracking cookies and potential unwanted software (aka PUPs).
If Windows Security Center is disabled by malware, Spybot – S&D's scanner can detect it also and will offer a fix to re-enable it.
Other features of Spybot – S&D is available using Advanced Mode and only recommended to use by advanced users. The new version of Spybot – S&D allows user to scan a single file in a right-click.
Similar to other anti-malware programs, Spybot – S&D is also offering free real-time protection:
---
![Immunization%20Feature%20of%20Spybot-S%26D](https://img.bhs4.com/E5/0/E500D3995EEFC2FE9211FED387702728D68C91D9_large.jpg)

. Although I want to see the option "Inform me again" because once the user mistakenly chooses that option, the malicious installer will succeed in doing what it has to do.**

Installation and Updater of Spybot – S&D (5 out of 5)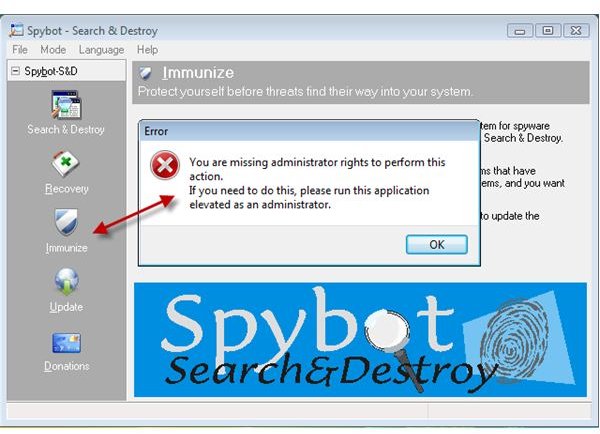 Installing Spybot – Search & Destroy is straight forward but Vista users will need to run the program as admin by right-clicking Spybot – S&D before you can run the immunization feature. If you are not immunizing using Spybot-S&D, you do not to run Spybot – S&D as admin.
No reboot is required after the installation and there's an option for users immediately update the program during installation.
There is a separate updater application for Spybot – S&D. If you are on Vista, expect UAC prompt before you can run the updater. There are huge number of servers to choose to enjoy updating the definitions and the program. The installer can be customized to integrate itself to

but not in Windows XP.
Performance, Scanning and Detections by Spybot – S&D (1 out of 5)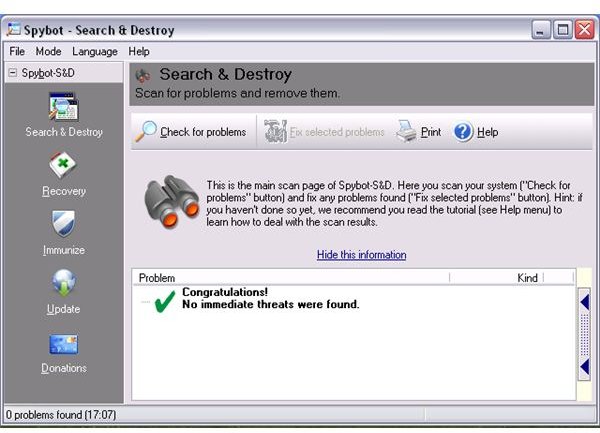 Scanning using Spybot – S&D took about 17 minutes on my machine. It is one of the great improvements with the program since its last version. Previously, it took around 45 minutes to finish the scanning process. However, I find Spybot – S&D is lacking detection capability as it failed to detect some known rogue and malicious software downloaders during my test. I think they need to release a daily update instead of weekly to hopefully catch more.
If you decide to use the TeaTimer - which provides real-time protection - expect a high usage of memory. During this test, TeaTimer on XP was using more than 20,000KB of memory. I find that too much from antispyware program only.
Price & Support (5 out of 5)
Spybot – Search & Destroy is free for personal use. The product has helped many users and continues to provide free scan and removal. They also offer support via forums for items that the program could not remove.
Conclusion
The improvement I've seen in the new version of TeaTimer and the scanning performance of Spybot – S&D is a big welcome! However, the detection is so poor that I cannot recommend Spybot as the best option when dealing with an infected PC. I will only recommend using Spybot S&D if a user wants to know whether another malware scanner missed anything. That said, Spybot is nonetheless an excellent spyware killer - so do use it, but not as your first or only line of defence.
Need Help Getting Started?
You can find a selection of tips and tricks that will help you get started with Spybot in our article How to Use Spybot – Search & Destroy.
More Reviews!
Would you like to read more reviews? Look around Bright Hub and you'll find reviews of numerous other leading security solutions including Norton Internet Security, Kaspersky Internet Security, ESET Smart Security, McAfee Total Protection, Blink Professional and ZoneAlarm Internet Security Suite.