WinPatrol 2009: A Malware-Monitor for Windows
Installation and Performance of WinPatrol 2009 (5 out of 5)
One more thing that is unique with WinPatrol is the installer's file size is so small – 866KB and yet, offering powerful approach to prevent malware infection and unwanted changes on areas where malware or unwanted program often add itself.
WinPatrol never slow down the system and does not conflict with other anti-malware program. It is also easy to install. Reboot is not required because you can use the program immediately. It will install and run onWindows 95/98/ME/2000/XP/Vista and the upcoming Windows 7.
Existing users of WinPatrol do not need to remove the program before you can upgrade to newer version. Simply exit the program and install the new version. WinPatrol is available not only in English version of Windowsbut in other language.
WinPatrol Plus (5 out of 5)
WinPatrol Plus is the paid edition of WinPatrol. You get all of the above features mentioned in the Part 1 of this review, plus the following:
24/7 access to WinPatrol Knowledgebase - The knowledgebase of WinPatrol will describe the file or program in question and helpful information on whether the file or program is safe to use or it's a badware or malware. Example of an item on its knowledgebase is here.
WinPatrolToGo Plus
WinPatrolToGo (5 out of 5)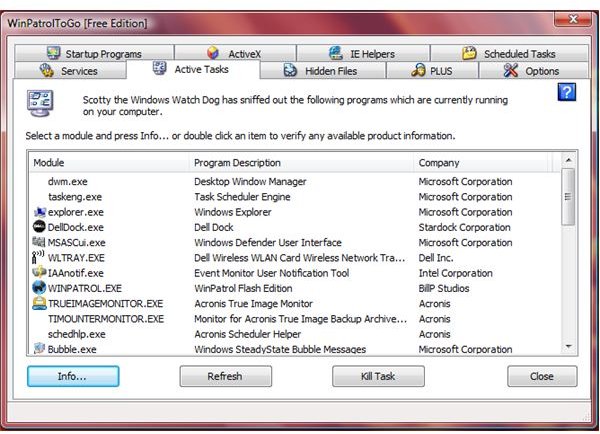 WinPatrolToGo (formerly called WinPatrol Flash Edition) is the portable version of WinPatrol that can be stored in a pen drive or any portable device. WinPatrolToGo requires no installation to start managing any target system.
What WinPatrolToGo can do?
WinPatrolToGo allows you in managing another computer that do not have WinPatrol or a system that requires immediate help by managing critical areas in Windows. There are times our family or friend's computer need help and most of us who want to help our friends have a handy toolbox in a portable drive so we can provide immediate assistance. If a computer is infected with malware and the access to important System Utilities in Windows (System Configuration Utility (MSCONFIG), Task Manager, Windows Services Console, Internet Options and Task Scheduler) are disabled by the malicious application, WinPatrolToGo is the solution in stopping or deleting the offending malicious file. You can also use WinPatrolToGo to modify the changes done by the malicious software or another program that is buggy. WinPatrolToGo is free with the following features:
Manage or Add Auto-Startup Programs (including Hidden Registry Startup)
Review and Remove unwanted Scheduled Tasks, ActiveX components, Hidden Files and IE Helpers (BHO and Toolbars)
Manage and Control Active Tasks - most malware runs in the background and do not allow access to Task Manager in Windows so this feature is quite useful also.
Manage Window Services and HOST File
Create and View System Report for analysis or record
WinPatrolToGo do not offer real-time protection because it is a handy tool only to manage a system while you're on the go! If you want a real-time protection, you will need to install the WinPatrol on your computer.
Existing users of WinPatrol Plus do not need to spend money to receive WinPatrolToGo Plus. Our friend, Microsoft MVP Bill Pytlovany is so kind to allow us to use our existing activation code of WinPatrol Plus in WinPatrolToGo so it will be converted to WinPatrolToGo Plus edition with no extra charge.
Price to Value (5 out of 5)
WinPatrol and WinPatrolToGo is free is fully functional with no limitation of use. WinPatrol Plus is $29.95 (one time fee!) with important real-time protection, search the extensive knowledgebase, the activation code of WinPatrol Plus can be use also in WinPatrolToGo (to make it a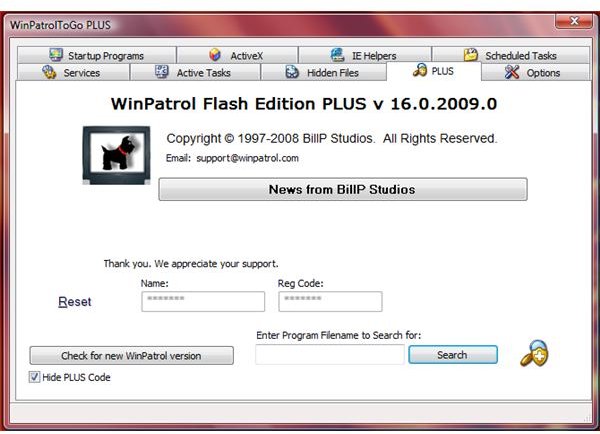 too!) and fast support.
The Verdict
With WinPatrol, users are in control of the system. WinPatrol is a must-have program for every Windows user because it's a malware monitor provides a unique method for preventing malware and unwanted modification in Windows!
This post is part of the series: WinPatrol 2009 Reviews
On this review, I will provide information about WinPatrol, WinPatrol Plus and WinPatrolToGo. WinPatrol is a malware monitor program that never conflict with other anti-malware application because it monitors what others do not.