ZoneAlarm Firewall Review: Part 1
Introduction
Connecting to the Internet without a firewall is like going to the battle unarmed. It is not possible to save yourself from the online threats without a firewall, there are way too much threats. One of the most frightening ones is the cross-site scripting attack, where you visit a very well known, safe site and a link redirects you to the malicious website in the background, where this website takes advantage of a vulnerability of a program you use daily (such as Flash Player or QuickTime Player) and injects code/places a malware in your system. Thus, it will not be wise to assume that you will be safe by visiting only the safe sites.
Microsoft introduced a native firewall application with Windows XP Service Pack 2. This was welcome at a first glance, but it turned out to be to watch only the incoming traffic. It does not take care of the outbound traffic. What this means is, your computer is not able to "see" if a malware, such as a keylogger or Trojan is sending data out somewhere. So, if you happened to be infected and someone is watching your every move, then you are helpless.
That's why it is important to have a firewall installed on your system watching the inbound and outbound traffic. Overall security suites have their own firewalls, but if you are using free tools like Avira Anti-virus, Spybot Search & Destroy, you definitely have to add Firewall in addition to your existing malware protection. In this article, we will look into ZoneAlarm Pro, a long-existing and a successful firewall program in detail.
Installation (4 out of 5)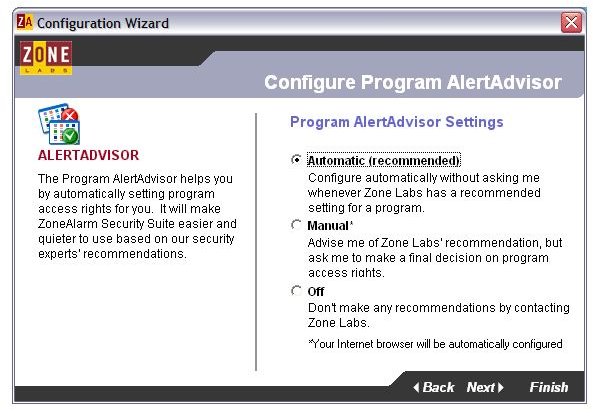 The installation of the program is fairly easy with the Next-Next-Finish steps and with a reboot. During the installation, I suggest you to read each screen carefully and make your choices informingly. For example, the installation will ask you if you want to install the Firewall version only or the Security Suite, you have to go with the former, because otherwise the program will ask you to purchase the product after 15 days.
In the Alert Advisor Settings, there are the Automatic, Manual and Off choices. If you are a do-it-yourself type of person, go with the Manual option. If you want Zone Alarm to take care of everything, go with Automatic. Do not go with the Off option since you will not know what is going on.
When the program completes installation your web browsers will be automatically configured.
Configuration (5 out of 5)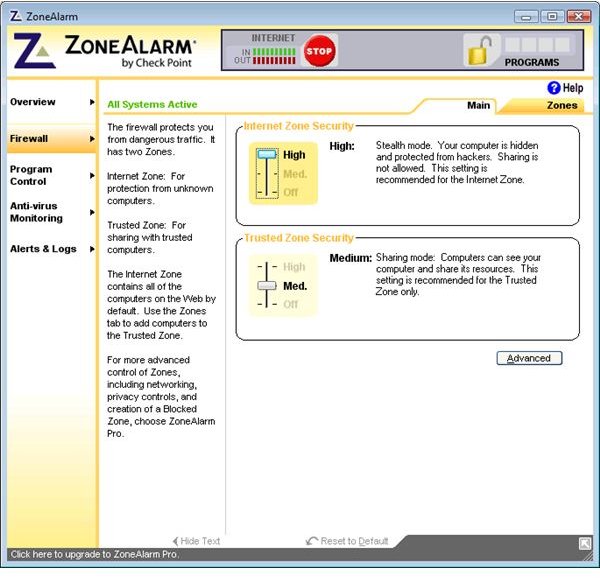 Firewall programs' configuration is different from the other programs, but something similar to anti-spam programs. The software needs to understand which programs can access the Internet and then blocks the others based on what you tell it. I, as a do-it-yourself type, go on with the Manual configuration that I told you above. I want to see every program that tries to access the Internet and then decide what to do. When you begin to use the program from zero, you will see a lot of alerts, so much to lose your sanity. But I suggest you to be patient and decide on which program the firewall asks you to allow or deny access.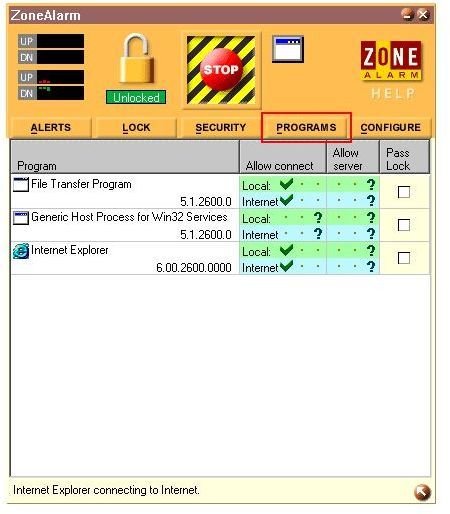 The software identifies the programs with their hash codes and stores in its database. If any change happens to a particular program, then the hash code will not match the one that ZoneAlarm has in its database and it asks for your decision, whether to allow access or deny it. There is a catch here: if you have updated any of your programs, say Firefox from 3.0.1 to 3.0.5, then the hash code will change and ZoneAlarm will ask your permission to grant access. Do not think that ZoneAlarm is stupid to ask you about the same program once in a while, it is a good and sure thing to do.
You will see your configured programs in ZoneAlarm's configuration. The programs are allowed as Local/Internet and Allow Connect/Allow Server matrix. That means, you can allow a program to "allow connect" to the local area network, but "deny access" to the Internet. Please also note that some programs, like P2P file sharing and Torrent programs need to be configured with "allow server" option to function properly. Otherwise, for a torrent program, you will not be able to seed and leech at the same time, because ZoneAlarm will block the seeding feature.
Help and Support (4 out of 5)
Help is available both inside the program and the website. The website is easy to use and easy to navigate. You need to click on "Support" in the top menu and then go to Customer Support or Technical Support. There is already a knowledge base and –the best thing- a forum.
Price to Performance (5 out of 5)
Since the price is unbeatable (free), the price/performance can not be easily matched. However, do not make the mistake of thinking that the product's free status means that it does not perform as well as pay-for products: ZoneAlarm actually works better than many of the paid programs and it always tops the download lists in download sites.
Overall (5 out of 5)
If your malware protection suite/software does not have a firewall, and you think you are stuck, there is no better option than ZoneAlarm. The free version does its job very good and with your careful configuration it is very unlikely that you will want to replace it.
Firewall Tests
If you'd like to test how well your current firewall is performing, be sure to read our article What You Need To Know About Firewall Leak Tests.
More Reviews!
Would you like to read more reviews? Look around Bright Hub and you'll find reviews of some of the best internet security and antivirus solutions on the market including Norton Internet Security, Kaspersky Internet Security, ESET Smart Security, McAfee Total Protection, Blink Professional and ZoneAlarm Internet Security Suite.