Web Of Trust (WOT) Review
Introduction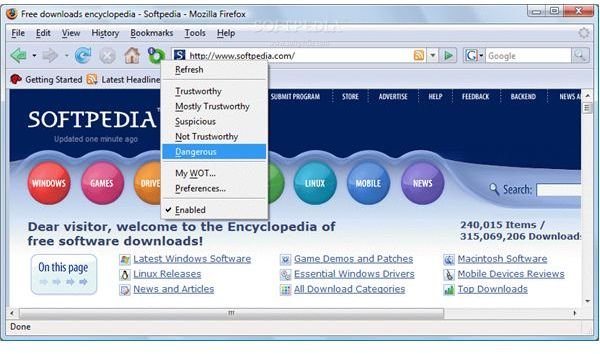 Here we are with a different security application: WOT, an abbreviation of My Web of Trust. The application is installed as a plug-in for your web browser (Internet Explorer and Firefox are supported.) It is a cross-platform application for Firefox users: it can run on Windows, MacOS X and Linux.
WOT will not save you from all online threats. In this age, where users have to undertake layered security defenses with an antivirus, firewall and anti-spyware, WOT sits as a different layer. What it does is basically is to check the links you see on your web browser and check their trustworthiness, vendor liability, privacy and child safety. With the sum of all these, WOT assigns a rating which changes from green (trustworthy) and red (warning). When you open a website, you will see a small window that says "Trust" or "Warning", which gives you an idea of the website in terms of security.
WOT uses both the users' ratings and the trusted lists, such as phishing website links to do its job (and it does its job good.)
The web has become a common attack vector and consequently the kind of protection offered by WOT has become a necessity if you want to be able to surf safely and avoid internet security risks (see our article The Top 5 Reasons Hackers Use the Web for Attacks for information about why the web has become so popular with hackers and cybercriminals).
Ease of Installation (5 out of 5)
WOT is available from its download site here. When you open up the address, the displayed download link is automatically selected as Internet Explorer or Firefox, depending on the browser that you use to visit the website. You then select the language and click "Free Download". That's it: no messing and no tweaking. Clean and simple.
However, before downloading, I suggest you to register. That way, you can customize the security level, block access to suspicious sites to protect your children, post your questions/comments on the forum and blog and write your comments on the scorecard. The most important thing is, if you use more than one computer and if you register, you can get the same ratings on the different computers you use, such as your home and office computers. And if you're interested, you get your own profile page which shows your Web of Trust activity.
Website Detection (5 out of 5)
I am personally satisfied with the performance of WOT. The detection range is very high and the number of sites being indexed is growing everyday. Since this is application is about the "Web of Trust", more people reporting a site as "warning", the better the application's detection in the future. Another nice part is that you participate in the action. You review a website and/or rate it and you help someone avoid it.
This immediately brings up the manipulation question: what if the Web of Trust site ratings can be manipulated by tons of spam messages? This was thought and taken care of in the beginning; there is a complex rating algorithm working in the background. Plus, Web if Trust also looks for possible spam ratings and eliminates them.
For a tool like Web of Trust, I can safely say that the website detection is excellent.
Help and Support (4 out of 5)
Help is available from inside WOT as well as the website. The website has put very nice support pages and without needing to go into page after page, you can search what you are looking for at a glance. If you are not able to find an answer to your question -which I dont think is likely to happen- the forum is available.
Conclusion
I definitely recommend this add-on for your Internet Explorer, Firefox or Chrome browser. While your anti-virus, anti-malware and firewall will take care of what you are not aware of in your computer WOT adds another layer before you are visiting a malicious website. Plus, the number of indexed websites is increasing, making WOT present more accurate results in the future.
If your antivirus and/or anti-malware programs offer link checking like WOT, then you may consider the software unnecessary. However, I believe in this world of online threats, any additional layer of security is not a redundant thing (except using different programs for the same job, i.e. two virus scanners.)
ShuURL
ShuURL is a URL shortening service that uses WOT to alert people that a link may lead to a dangerous website before they click it. To find out more about how it works, read our article ShuURL: Safe URL Redirection using Web of Trust.
More Reviews!
Would you like to read more reviews? Look around Bright Hub and you'll find reviews of numerous other leading security solutions including SpamTitan, GFI MailEssentials, Atek Secure Password Organizer, GFI LANguard, Norton Internet Security, Kaspersky Internet Security, ESET Smart Security, McAfee Site Advisor, Norman Internet Security Suite and Undelete.