Avoid Dangerous Websites with McAfee SiteAdvisor
About

There are many different available websites on the internet today. Some of them are useful, where some of them can potentially harm your computer. SiteAdvisor indicates the validity of a website depending on the colour of its icon. It attaches itself either on the bottom of your browser window, or near the address bar depending on which web browser you're using.
Installation (4 out of 5)
Since it's an add-on, the file size of the installer is not terribly big, nor does it take a long time to install. Within minutes, or seconds depending on your internet connection speed, the product will have successfully installed on your computer.
Interface & User Friendliness (3 out of 5)
As mentioned before, the add-on attaches itself to your browsing window. Whenever you want to review information about a website, or search results, simply click on the icon to be taken to a different web page. You'll see a summary of what most people say about the site, any potential risks, amongst other components that a web page might attempt in order for you to download some unwanted information.
If you're a webmaster, or a regular web user, you can register so you can leave comments about a website. You can comment why you like it or don't like it.
Effectiveness (3 out of 5)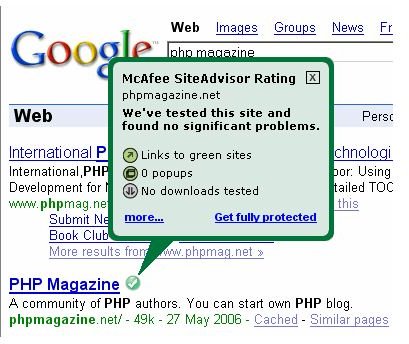 While SiteAdvisor is efficient at noting which websites and search results have been fully tested or not, this may have a tendency of leaning some users into a false sense of security, or worse, a false sense of panic. SiteAdvisor's results come from user reviews, and some users are inclined to write some reviews because they either had a bad personal experience at the website, or just couldn't quite figure it out. In that case, they write reviews on why they don't like that particular website which could be completely irrelevant to a website's credibility. So at this point, the only obvious safes versus unsafe websites can be noticed, whereas suspicious websites can still remain up in the air – all without help of the SiteAdvisor add-on. Nonetheless, if you're a curious web surfer who is interested in what other people have to say about some of your websites, you can find some useful (or useless) reviews.
Some websites may even be able to trick SiteAdvisor's scanners, making them seem like a legitimate website. In which case, the add-on isn't effective in the least, as common sense would have to be your main ally when surfing or downloading from a certain site.
Overall (3 out of 5)
It's difficult to complain too much about SiteAdvisor, as it is a free add-on to your web browser. Those who have the McAfee Antivirus Suite will even have this add-on as part of that package. So while it does still leave some scepticism in regards to its accuracy, it can still be used as a tool to help you decide which websites to visit and which to avoid. Because of the ways some websites can trick the scanner, it doesn't mean that with this add-on you'll have complete peace of mind. This doesn't necessarily mean that the add-on doesn't help at all. You can read user reviews of a website; if you're a webmaster, you can leave some comments about your own site, not to mention reviewing other websites. So while this add-on doesn't fully shield you from the evils of the internet, it can still help you decide where to go.
More Reviews!
Would you like to read more reviews? Look around Bright Hub and you'll find reviews of numerous other leading security solutions including McAfee Total Protection, SpamTitan, GFI MailEssentials, Atek Secure Password Organizer, GFI LANguard, Norton Internet Security, Kaspersky Internet Security, ESET Smart Security, Norman Internet Security Suite and Undelete.