Review of Malwarebytes Anti-Malware: Excellent Free Security Software for Windows
Introduction
Malwarebytes has created a simple, user-friendly application that will help you in the war against viruses, worms, trojans, rootkits, dialers, spyware, and malware. Malwarebytes is compatible with all Anti-Virus and anti-malware applications that I have tested in the past, but note that it is not a replacement for Anti-Virus protection and will run on 64bit systems but at the present time there is no support for this yet, and real-time protection will not load because of driver issues . Real-time protection is only available on Pro version.
Key Features
• Support for Windows 2000, XP, and Vista (32-bit only).
• Light speed quick scanning.
• Ability to perform full scans for all drives.
• Malwarebytes' Anti-Malware Protection Module. (requires registration)
• Database updates released daily.
• Quarantine to hold threats and restore them at your convenience.
• Ignore list for both the scanner and Protection Module.
• Settings to enhance your Malwarebytes' Anti-Malware performance.
• A small list of extra utilities to help remove malware manually.
• Multi-lingual support.
• Works together with other anti-malware utilities.
• Command line support for quick scanning.
• Context menu integration to scan files on demand.
Installation and Set-up (5 out of 5)
MalwareBytes installs in about thirty seconds and has a small download file size of 2.61 MB. After setup completes you will be prompted to Update and get latest definition files and MBAM will launch afterwards. Wow that's fast installation.
User Interface (5 out of 5)
The user interface is very simple in design and makes it easy for any novice user to understand. I will post pictures of the interface below so you can see MalwareBytes' simple design. Once setup has completed you will have two choices on how to scan. Perform quick scan and full scan in the Scanner tab. Quick scan is the option that is set as default. Quick scan is the preferred method of scanning when using MalwareBytes. Malwarebytes designed Quick scan to scan all places that targeted malware can hide. This method has been proven very accurate and the developers have kept a close eye on this. If any malware has placed itself in another location, then the developers of Malwarebytes will add that location to the quick scan, so there is really no need to do a full scan. The Protection tab allows you to purchase Pro Version. All definition updates with the free version will have to be manually done on the Update tab. In the Quarantine tab you have the option to delete or restore items. Be sure that you don't delete anything without advice from an expert. The Logs tab keeps a list of all scans that are made. These logs can be vital when it comes to removing malware from your system. You will be asked to post the log file if you have been infected with malware. The Ignore tab gives you a list of items that you have chosen to ignore from any further scans. You can also find a copy of that file at C:\ProgramData\Malwarebytes\Malwarebytes' Anti-Malware "ignore.dat". The Setting tab gives you a list of the way Malwarebytes scans your system. These are the default settings. You can also check Terminate Internet Explorer during removal, if you wish. The More Tools tab allows you to report bugs and connects directly to Malwarebytes forum for support. Some malware files are locked and are stubborn to remove and FileASSASIN will delete those files for you. I wasn't able to run FileASSASIN because I didn't have any locked files that I needed to remove. The About tab has a help file button that opens with help on getting started.
Performance (5 out of 5)
I have tested many systems with quick scan and most scan at blazing speeds, anywhere from two minutes to eight minutes long depending on CPU and Memory amounts within the said system. Example: I have a laptop Dual T-9440 CPU 2.53 Ghz with 4GBs of ram. Quick scan will run in two minutes. The desktop is P4 CPU 3.00 GHz with 2GBs of ram scans on an average two and a half minutes. When performing full scans, say for instance you want to scan the flash drive. The scan will scan the memory cache of the C:\ drive first, then it will scan the flash drive. It's also blazing fast too and will scan in less than two minutes. All other full scans will vary depending on how many drives you scan and how much information is on each drive. Normally you are looking at about one hour and twenty minutes on a typical drive. When a scan has finished you will get a text log file popup with a detailed list and it will be saved in the Log tab once you have closed it. Database definition updates for Malwarebytes are updated often and the application has been known to update hourly in certain circumstances. On a good malware hunting day you can expect to see Malwarebytes updated four to eight times a day.
Malware Detection (4 out of 5)
While testing malware detection I only tested one rogue application. The rogue was System Security. Malwarebytes did stop this rogue application from running but missed two files listed in ProgramData and two in HKLM registry. Also I did have Windows Defender running while I tested. This rogue is known to change its coding very often and that's why it missed the two files listed in the picture I have. There can be improvement on heuristic scanning technology. One thing that I did like was the threats center which allows you to keep up with the latest malware threats. After scanning is finished you can check out Vender information about the rogue application. I highly recommend that if you have been infected with any malware that it's a good idea to use other scanner tools too, such as HiJackThis. Malwarebytes supports the free version at their forum and there are many experts that are qualified and willing to help you.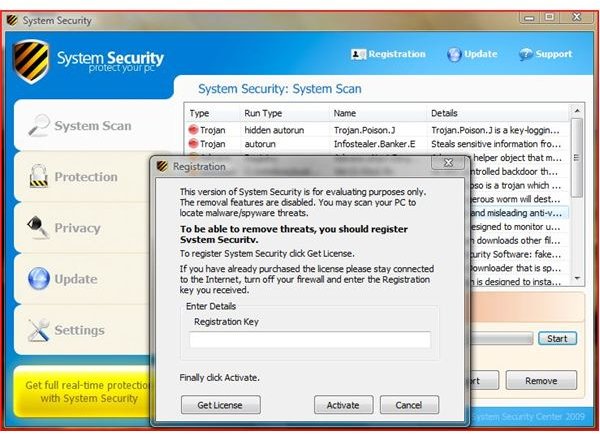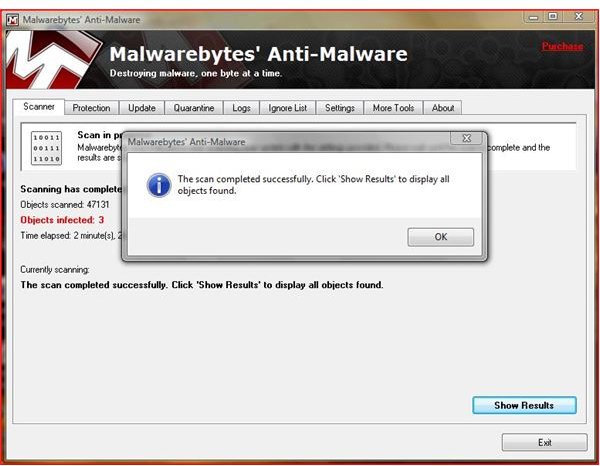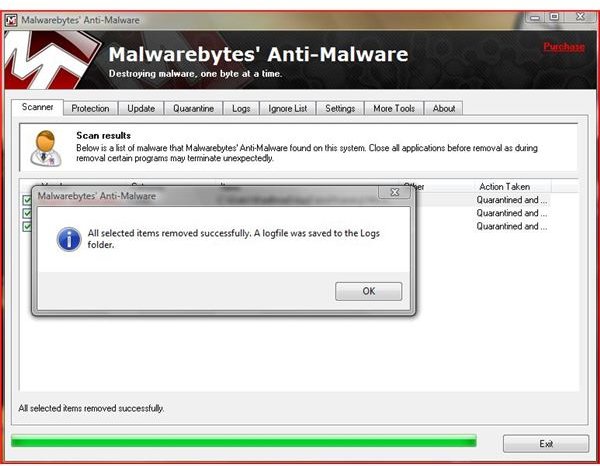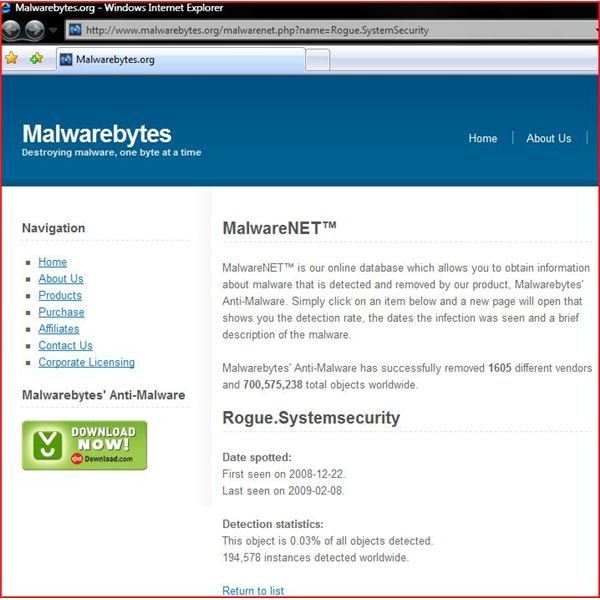 Price to Value (5 out of 5)
Free
Malwarebytes Screenshots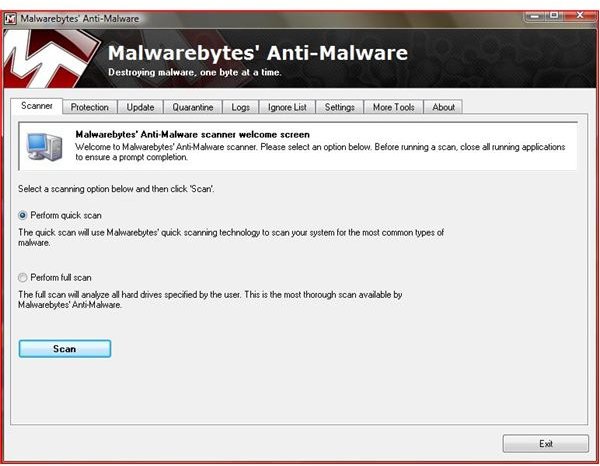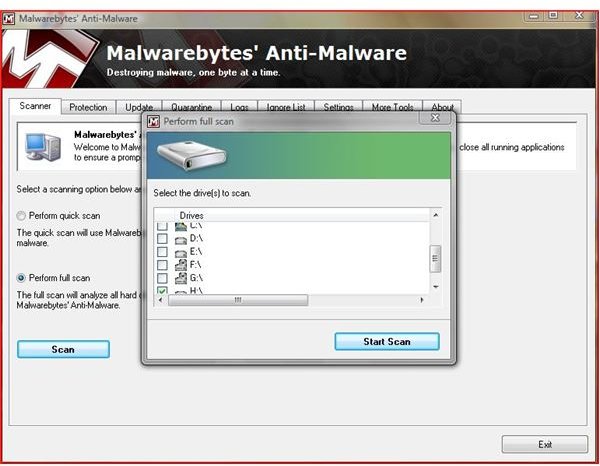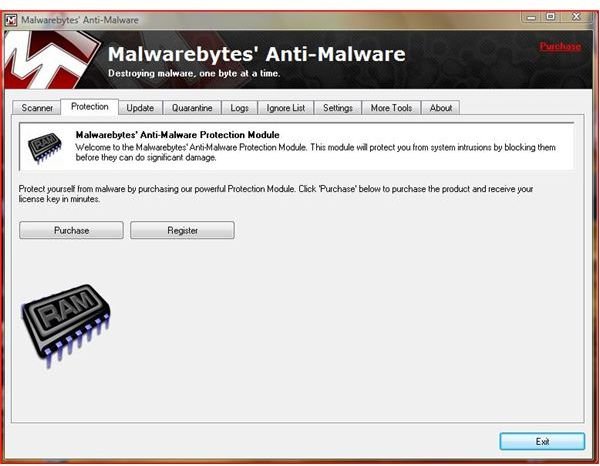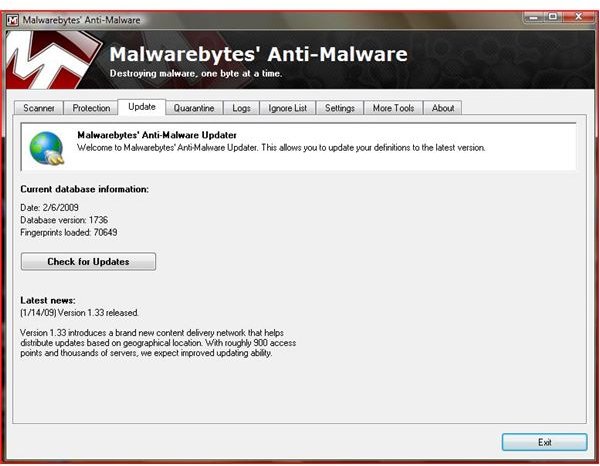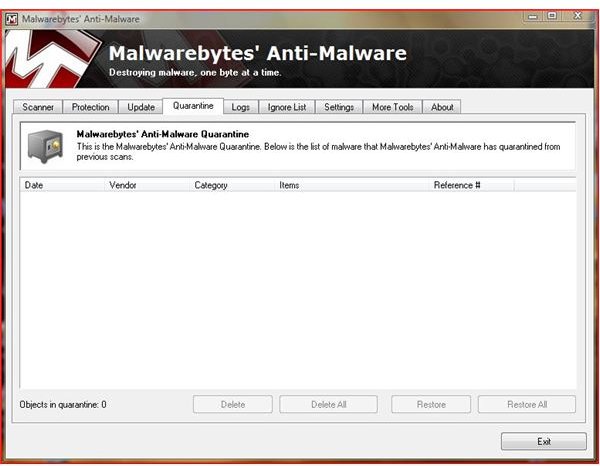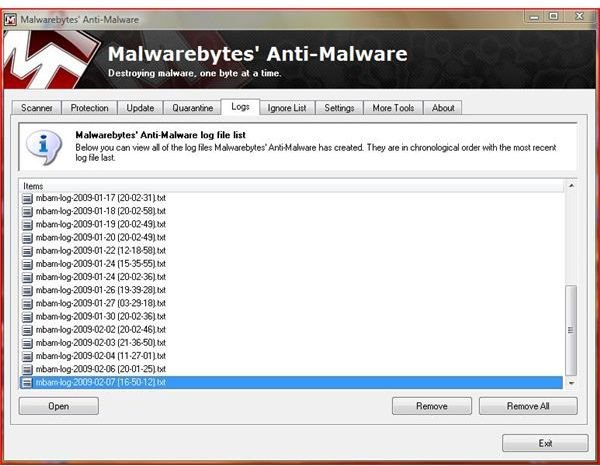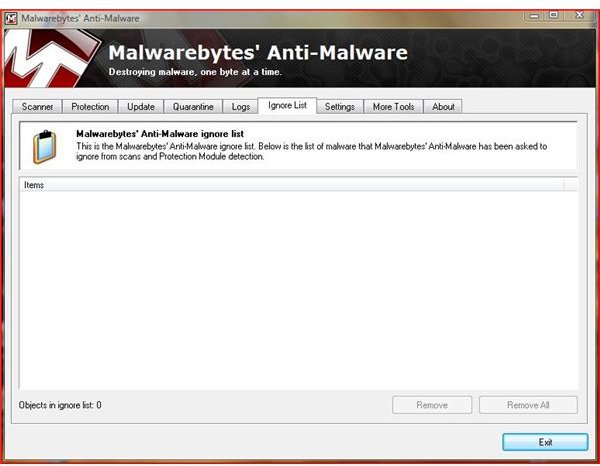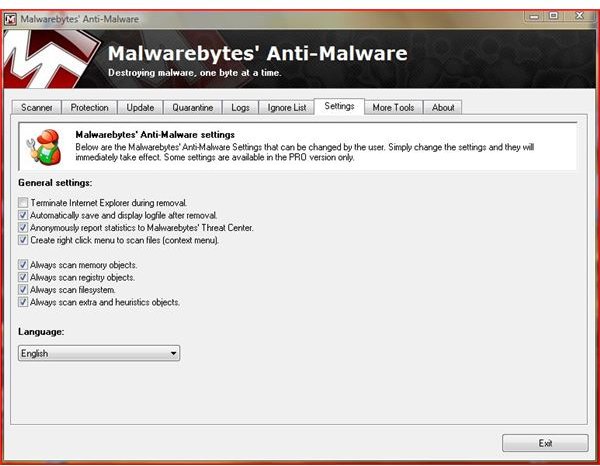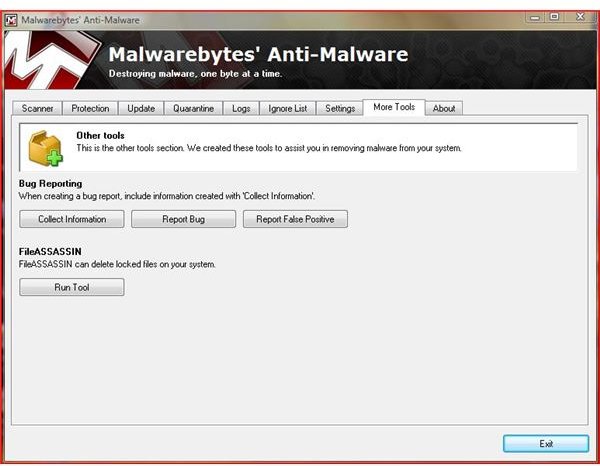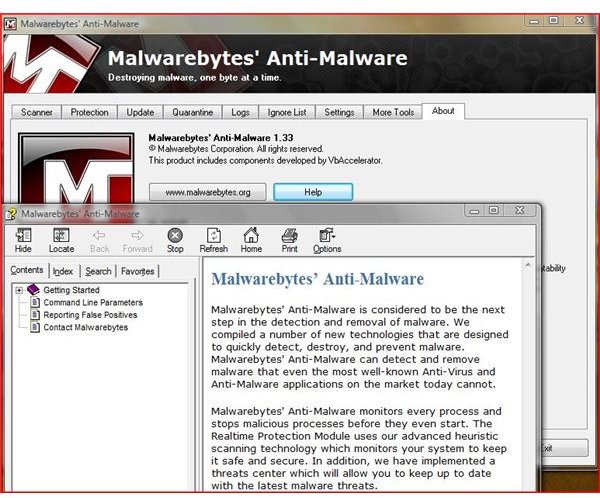 Conclusion
Malwarebytes is definitely on track with the new and upcoming malware that is popping up faster everyday but still can improve with its heuristic scanning technology. While it's an excellent application, I would nonetheless like to see Malwarebytes improve detection of malicious programs that can block installatiion of their product. This has been a big issue with all known good anti-malware applications.
If you like MalwareBytes Anti-Malware, be sure to check out the developers other prodct:a free startup manager called StartUpLite.
More Reviews!
Would you like to read more reviews? Look around Bright Hub and you'll find reviews of numerous other leading security solutions including Norton Internet Security, Kaspersky Internet Security, ESET Smart Security, McAfee Total Protection, Blink Professional and ZoneAlarm Internet Security Suite.