StartUpLite - Free Software Review
Why StartUpLite?
If you have a new computer, you will notice many applications is loading when you first boot your Windows and you are not sure which one to allow in loading or if it is necessary to load during Windows start-up. Most users will search the internet to check whether the application is safe use, safe to allow or safe to remove. With many information on the internet that can mislead a user in visiting rogue websites instead of finding the right place. To prevent users in becoming a victim of false information and rogue websites, I am suggesting using this neat program, StartUpLite.
StartUpLite does not require installation. It is a lightweight application that will help you in detecting unwanted or unnecessary applications on your Windows startup. You do not need to search the internet for a particular start-up item! Just download StartUpLite from the vendor's website and place it anywhere in your hard-drive or store in your USB flash drive so you can have it anywhere and anytime.
Usage & Features (5 out of 5)
StartUpLite's Usage:
StartUpLite will check your start-up files for applications that are not necessary to load during Windows Start-up. It will try to detect the applications that will help your system to load faster.
Feature of StartUpLite:
StartUpLite is a very simply application that do not have much features other than the one you need to manage your startup applications. To disable, remove or ignore the detected and unnecessary startups.
In below screenshot, you will see that StartUpLite detected start-up applications on a computer that have NVIDIA Graphics card's software and Sigmatel SoundBlaster software. StartUpLite will give you the options to remove, disable or no action on detected items: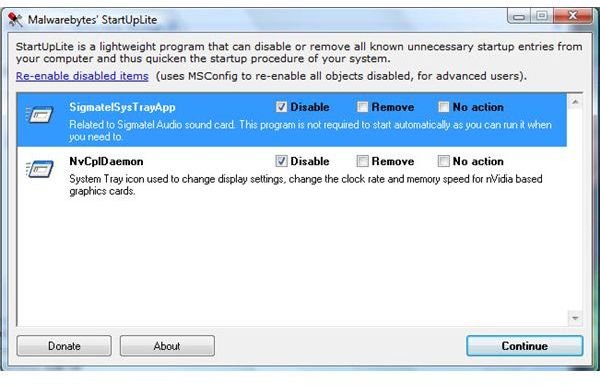 If you let StartUpLite disable the unnecessary applications during Windows start-up, you will need to restart for the changes to take effect. You should notice already an improvement in your system boot-up and the next time you open StartUpLite, it will not find unnecessary programs that cause slowdown or not important to load during Windows startup: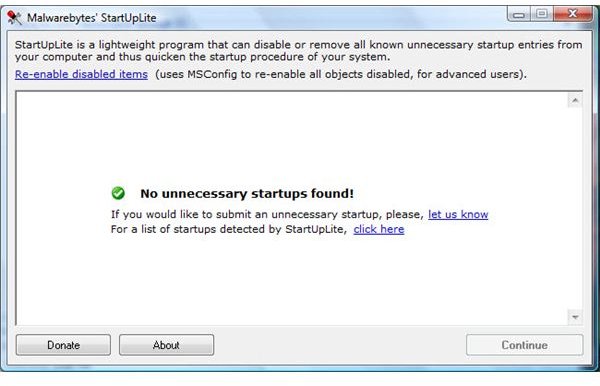 Have you installed a new application or did you recently update or upgrade the existing programs in your computer? If so, then the updated program must have added its startup files again in your computer! StartUpLite will again find it by detecting unwanted applications during startup. An example below is I updated Sun Java RE to its latest build and when I run StartUpLite it detected the startup files added by the program: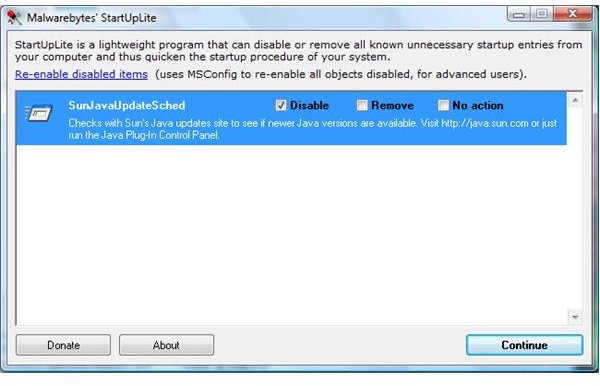 StartUpLite is a program that many of us will not only keep because it is handy and easy to use to manage the unnecessary applications during Windows start-up but it is always correct in detecting what is not need to be loading or running in Windows.
Price-To-Value (5 out of 5)
StartupLite is an incredibly useful program that also happens to be completely free. What more can I say?
Conclusion
StartUpLite is an easy-to-use program that's completely free. The one and only minor issue that I noticed is it is not UAC aware yet. Vista users who enabled User Account Control (UAC) in Windows Vista needs to run StartUpLite as administrator by right-clicking StartUpLite then choose "run as administrator". But, as I said, this a minor issue.
StartUpLite's detections is being maintained and updated by its author, Malwarebytes.org. Malwarebytes is the maker of one the best home and office security programs, Malwarebytes' Anti-Malware so there is no doubt that StartUpLite is another program that you should not miss.
More Reviews!
Would you like to read more reviews? Look around Bright Hub and you'll find reviews of numerous other leading security solutions including Norton Internet Security, Kaspersky Internet Security, ESET Smart Security, McAfee Total Protection, Blink Professional and ZoneAlarm Internet Security Suite.