Review of Panda Security for Business
INTRODUCTION
Panda Security's offering for the small business environment is a software collection that integrates seamlessly for a very comprehensive security solution. The management tool is called AdminSecure and is used as a centralized all-in-one console to manage workstations and servers.
The client-side protection is called Panda Security for Desktops. This can be managed using AdminSecure and signature updates are available for off-network, remote users that can't be managed with AdminSecure.
TEST MACHINE
The following specs are for the test machine I used for this review:
Dell XPS 410
Intel Core2 6600 (2.40GHz)
2.00GB RAM
250GB Hard Drive
Microsoft Windows XP Media Center Edition (SP3)
Browser: Mozilla Firefox v. 3.0.5
Email: Google Gmail
INSTALLATION (5 out of 5)
Installation was straightforward and required little user input. As stated in the introduction, there are two main pieces to the Panda Security for Business suite of tools. The first being AdminSecure, the all-in-one console that is used to manage client (and even server) security software. This client-side software is called Panda Security for Desktops. The installation of both packages took less than a total of 15 minutes.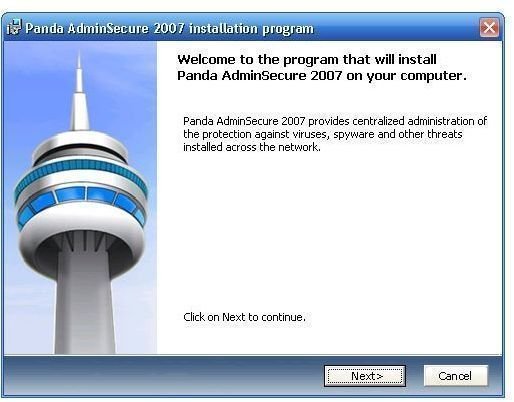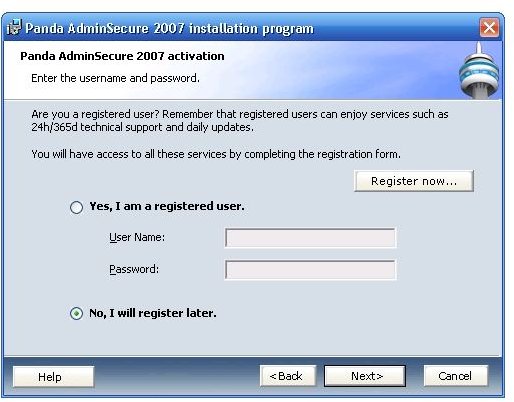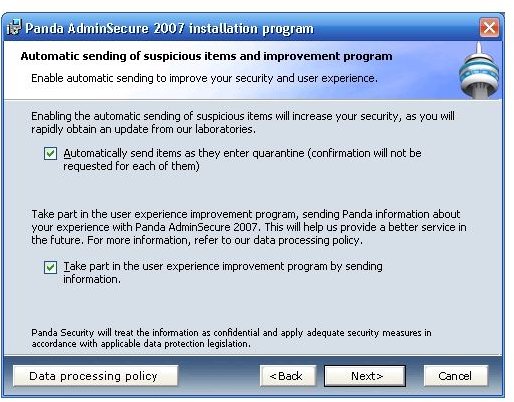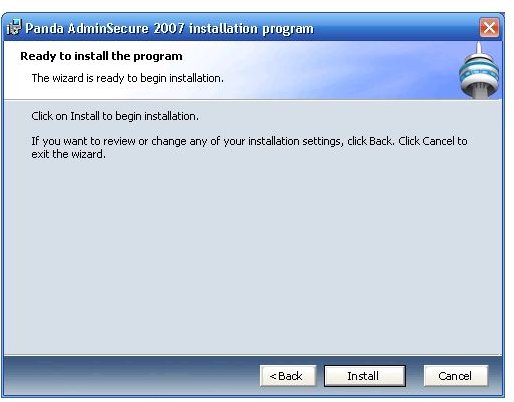 USER INTERFACE (4 out of 5)
AdminSecure
The AdminSecure user interface is nicely laid out. Novice users may need to read up on some of the nomenclature used in the AdminSecure Console's Control Panel in order to understand how the monitors work. However, if you're somewhat familiar with administrative network software you shouldn't have a problem understanding or finding the tools you need to start deploying protection to your client systems.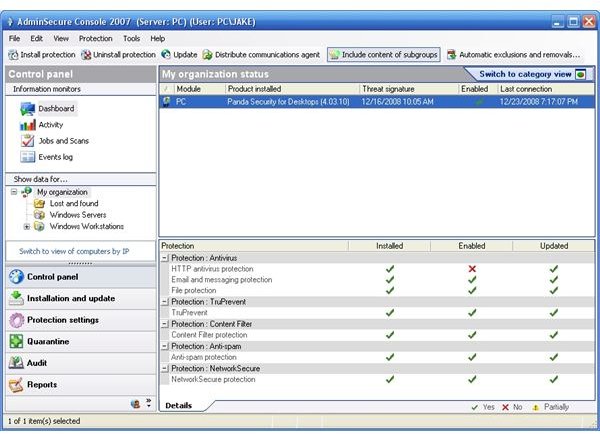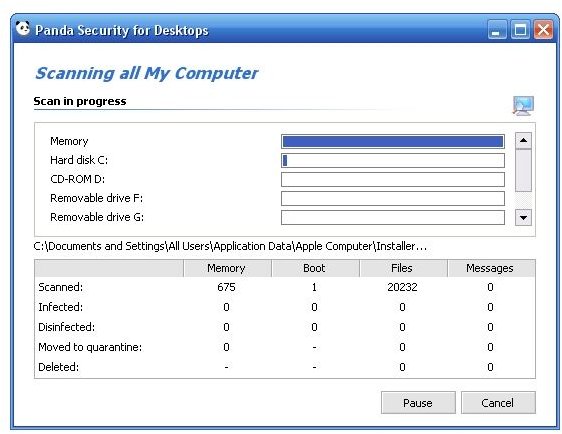 The Dashboard view (one of the Information Monitors listed) gives a nice overview of the systems on your network that are currently protected, the Panda product they are protected by (in this case Panda Security for Desktops), the date and time of the last threat signature update, and the state status (Enabled or Disabled). This is a great tool to use for audit purposes when you need to perform a quick, "once-over" and make sure all systems on the network are up-to-date and protected.
Panda Security for Desktops
Panda Security for Desktops is the client-side application that is installed on the local client hard drive. This is a barebones antivirus program but its high performance and low resource consumption make it an efficient tool. During my testing, I hardly noticed it was there. The standard features like manually scans and performance reports are available simply by right-clicking the system tray icon. A full hard drive scan took very little time and I was able to surf the web and watch streaming video without any noticeable slowdown on system performance while this full system scan took place.
PRODUCT FEATURES (4 out of 5)
Panda is known for taking a very proactive approach to virus research and protection. Alerts, blogs, and frequent bulletins keep you in the loop on what viruses are gaining momentum and timely updates help protect you from these threats. One of the most useful key features in Panda Security for Business is the all-in-one console approach. This makes client maintenance extremely simple for the small business environment and doesn't require someone with advanced IT experience to monitor the client systems.
Panda's RDP (Recurrent Pattern Detection) technology employs a service by a third party vendor that monitors internet traffic in real time. When an outbreak of malware (such as spam) is detected, the engine driving the RDP feature is immediately updated and emails fitting the format/description of the malware in question are immediately quarantined. This technology is compatible with Microsoft's Exchange making it a good fit for many businesses that use Exchange as their email server.
The client-side application, Panda Security for Desktops, includes Instant Messaging protection, rootkit protection, collective intelligence (a malware detection library shared in real-time), and mobile user support.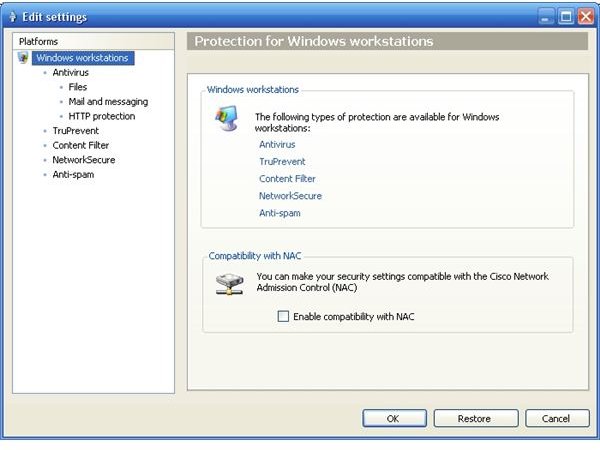 PRICE TO VALUE (4 out of 5)
A minimum of 5 licenses can be purchased in increments of 1, 2, or 3 years. Below is a screenshot of the pricing as of January 1st, 2009. The pricing pictured breaks down as follows:
$89.30 per license for 1 year
$66.98 per license for 2 years
$59.53 per license for 3 years
The 2 or 3 year licenses would be your best value. For me $89.30 for a 1 year license seems a little steep but that's just one man's opinion. Some may argue that you can't put a price on information security and I would probably have to agree with that as well. Make no mistake, Panda Security makes a quality product that is user intuitive and their support is one of THE BEST in the business (I'm speaking from first hand experience).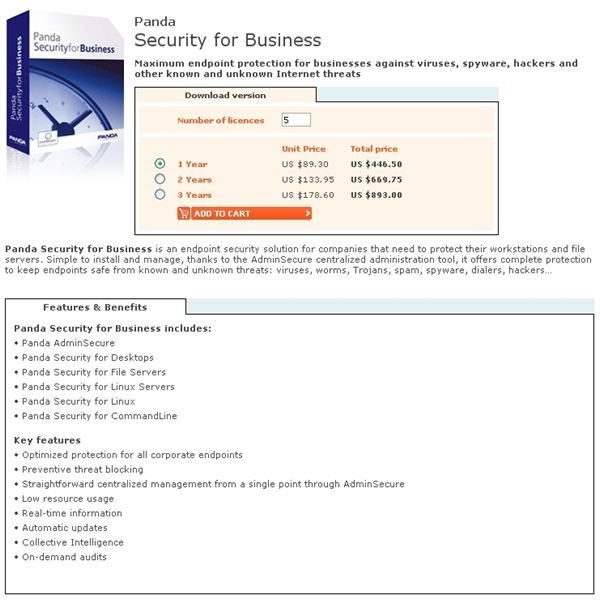 CONCLUSION
If you're looking for a security solution that can help you manage your client systems and file servers using a comprehensive all-in-one console, check out Panda Security for Business and click on the TRY button to download an evaluation copy. Also take a moment to browse through the Security Info section and check out the Infection Map. Pretty cool stuff.