McAfee Total Protection Service Review: Software That Does What It Says
Overview Of McAfee Total Protection Service
In the past, it was considered "wishing on a star" to have only one product that provided all of your security needs. McAfee's Total Protection Service (ToPS) is the software formerly known as McAfee Total Protection for Small Business. It is designed to make your computer system as secure as possible from threats such as Viruses, Spyware, or Hacking.
The unique feature about McAfee Total Protection is its capacity to make changes from an Internet user menu called the McAfee SecurityCenter, which is an integrative Web-based control. The software will often confirm that it has the latest updates from the SecurityCenter while surveying intruders to the network.
It updates effortlessly while it runs in the background. This is particularly useful when installed on a network with client computers. Therefore, McAfee has designed a product that defends all areas of your computer quickly and in "real-time."
Installation (4 out of 5)
The majority of McAfee's software products are used "out of the box," and the Total Protection Service is no exception. Installation is an easy process, with a simple "point and click' method to install. There was a time delay to install each component of the software and update the database. The recommended system and server requirements are located below.
The software requirements for McAfee Total Protection Service are:
An Intel Pentium processor
Internet Explorer 5.5 (at least Service Pack 2)
64 MB RAM (256 MB recommended)
Mouse and 256-color VGA Monitor
The following is needed for the Spyware and Virus components of the Total Protection Service to be installed on client computers:
Microsoft Windows Professional with Service Pack 3 or later
Microsoft Windows XP (32- and 64-bit)
Microsoft Vista (32-bit)
Servers should be running at least Microsoft Windows 2000 Server or Windows 2003 Standard Server.
After installation, the Updating Agent will run to download updates for the Virus and Spyware database.
Screenshots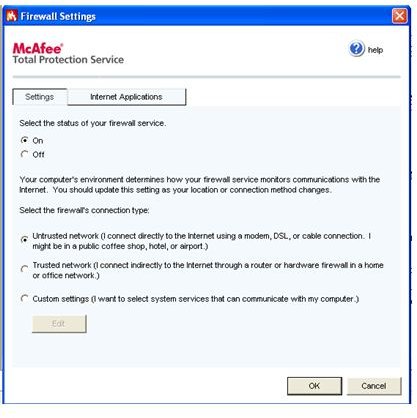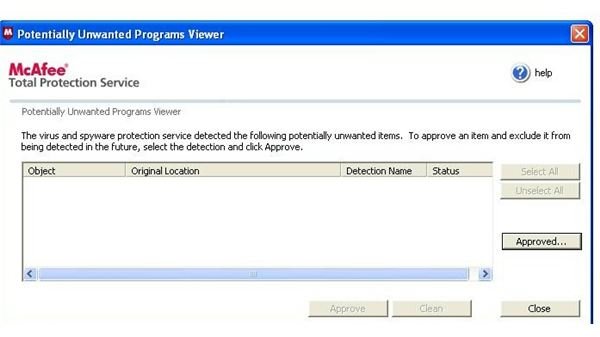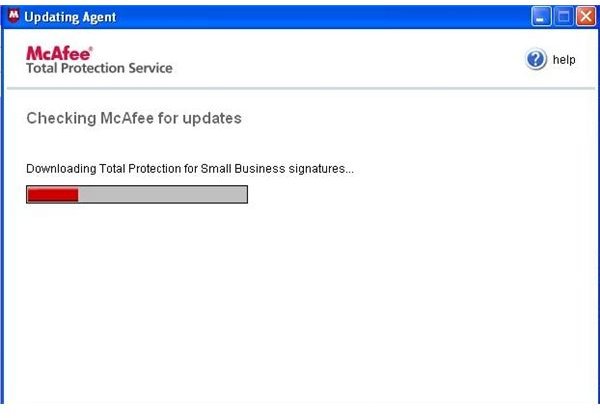 How It Protects (5 out of 5)
McAfee Total Protection Service is a complete solution, especially for small business needs. It protects from a variety of harmful applications or situations such as Phishing, Spam, and Viruses. It is fully automated software that searches for updates daily.
McAfee Total Protection Service is able carry out Virus and Spyware protection by monitoring a computer network for any infections that are known, and also from infections yet to be named.
As files are accessed, the software will scan them automatically before being used. The Total Protection Service also allows the user to complete a manual scan by clicking the ToPS icon in the taskbar. Therefore, email and applications can be scanned either "on-access" or "on-demand," depending on user preferences.
Another feature is its capacity to scan and block harmful files or emails. It has a Firewall installed with the software, which can prevent intrusions depending on the Internet connection type; an untrusted or trusted network, or choosing custom settings.
McAfee SiteAdvisor (5 out of 5)
Safety while browsing the Internet is enhanced with a feature in Total Protection Service called McAfee SiteAdvisor. This feature of the software will monitor, and notify about the safety rating of each site. This balloon will report on the safety of any Web site, even while using a search engine.
This feature sets it apart from other software of this type, because it was common to wait until the user has opened the Web site before they are informed of the Web site's security issues. However, SiteAdvisor™ gives a user the liberty to feel safe about the Web sites they visit.
The McAfee SecurityCenter is hassle-free in managing components of the Total Protection Service. It can be used to track how the effectiveness of security controls, or policies such as the Anti-virus or Firewall components. Therefore, if someone is using the network at a completely different location, it is still possible to use ToPS.
Value For Money (5 out of 5)
Overall, it is a good buy and indeed worth it. Many security applications are available to detect Spyware and Viruses, but this service has added Firewall protection along with Internet-based reporting on the system's security.
It is a great value for money, because it saves the user a considerable amount compared to buying each software component separately. There is less software purchased, and less software to install.
McAfee Total Protection Service is available with a one-year to three-year license. Buying up to 25 one-year licenses will cost around $34.98 per license, while up to 25 three-year licenses sell for around $61.22 per license.
Businesses will also be able to save while using the Internet-based McAfee SecurityCenter, as it fully replaces any necessary IT staff or technical support for security needs. Plus frequent automatic updates can ensure the latest security protection is available.
Overall Recommendation
I am often skeptical about the claims that software developers and companies make about what their software can do; then download to find that it does not perform as intended.
However, this was not the case with McAfee Total Protection. It is software that does what it says! After installation the computer was moving along like a well-oiled machine, as if no changes were made to it.
Some security software can cause a system to become sluggish, but during and after installation of McAfee Total Protection, no "hiccup" to the normal process was observed.
The way the latest version of this software integrated onto the system was quite impressive, and anyone familiar with software of this type will be truly amazed at its capabilities!
For additional information, visit the vendor's website.
More Reviews!
Would you like to read more reviews? Look around Bright Hub and you'll find reviews of numerous other anti-virus solutions including Norton Internet Security, Kaspersky Internet Security, ESET Smart Security, Blink Professional and ZoneAlarm Internet Security Suite.