Using Norton Safe Web Lite for Internet Explorer, Firefox and Facebook
Unsafe Links are Everywhere
You are mistaken if you think spam only appears in e-mail messages, blog comments or discussion forums. Spammers also attacks search engines and other online services that allow publishing or posting contents. A search engine that displays unwanted search results is a victim of blackhat search engine poisoning.
Web spammers also attack social networking services, such as Twitter, Facebook and MySpace. They can create fake accounts using a reputable name so people will connect with or follow them. Some social networking accounts are hacked. Others, tricked by phishers, enter their login credentials for Facebook, Twitter, etc. on spoofed websites, thereby giving them access to legitimate accounts.
Search and web spam are particularly annoying, because you end up visiting a webpage that is not relevant at all to what you are looking for. You may even end up visiting malicious websites or a webpage that does nothing but offer fake scanning software.
Security software vendors have begun to offer free browser plug-ins that will help protect people from visiting dangerous links in searches and on Facebook. Symantec is one of these vendors. Read on to learn about Norton Safe Web Lite, the free plugin for Internet Explorer, Firefox and Facebook.
System Requirements and Installation (3 out of 5)
Norton Safe Web Lite runs on 32-bit and 64-bit editions of Windows 7 and Vista. You can also install it on 32-bit editions of XP as long as you have Service Pack 2 installed. The free browser plugin by Symantec only supports Internet Explorer 6.0 or higher and Firefox 3.0 or higher. Users of Google Chrome can take advantage of Norton Safe Web if they use the 2012 editions of Norton products such as Norton Antivirus, Norton Internet Security and Norton 360 v5.
Installing Safe Web for IE and Firefox is straightforward. You don't have to spend a lot of time installing it because it will finish in no time –less than one minute. You will notice the following add-ons for Firefox and IE after installing the plug-in:
For IE users: Norton Safe Web Lite toolbar and a browser helper object (BHO) with CoIEPlg.dll as the filename.
For Firefox users: Norton Safe Web Lite toolbar v1.2.0
The toolbar includes Norton Safe Search, a search toolbar that is powered by Ask Search. Unfortunately, users of Norton Safe Web Lite don't have an option to disable this search toolbar. The browser's built-in search bar will have Norton Safe Search as one of the search providers.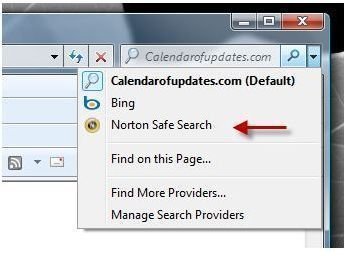 I find this search provider name misleading because Symantec or Norton is not a search provider at all. Since they are using Ask.com, they should name the search provider Norton Search Powered by Ask or something similar.
Features and Options (4 out of 5)
Norton Safe Web Lite includes the following features and options:
Rating or reputation information for visited websites.
Rating or reputation information for Internet searches using Google, Bing, Yahoo!, Ask and more.
Full reports on rating information of a website.
Option to rate and send feedback about a website by joining the Community Buzz.
Norton Safe Search - a search bar powered by Ask.com.
Search annotations for major search engines using the built-in search bar of any browser e.g. search bar in Firefox, Opera and Internet Explorer.
Symantec's Norton Safe Web for Facebook offers the following services:
Scan for dangerous links posted in your Facebook wall.
Auto-Scans news feeds and notifies you if unsafe links are found.
Warnings of potential "Likejacking" links.
The safe ratings by Norton Safe Web lite are as follows:
Norton Secure icon – this means the site is safe and secured by VeriSign SSL from Norton.
An OK or green check mark icons - the site is safe to visit.
A red X icon – warns against visiting the link.
An icon with exclamation mark – be extremely cautious in clicking or visiting the URL.
An icon with question mark – the link is not yet tested or checked by Norton.
Performance (1 out of 5)
This review is not complete without finding the effectiveness of Norton Safe Web. It should be able to detect dangerous links such as phishing websites, malicious downloads and other URLs containing security risks. I visited a website that is quite dangerous because it uses drive-by exploits to trick end-users into installing malicious plug-ins and unsafe files. The free browser plug-in by Symantec failed to give a warning: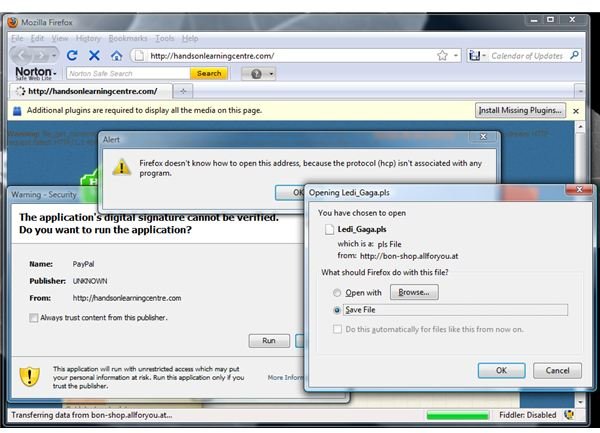 I tried again by visiting another site that uses the same malicious technique, but Safe Web failed again to give a warning: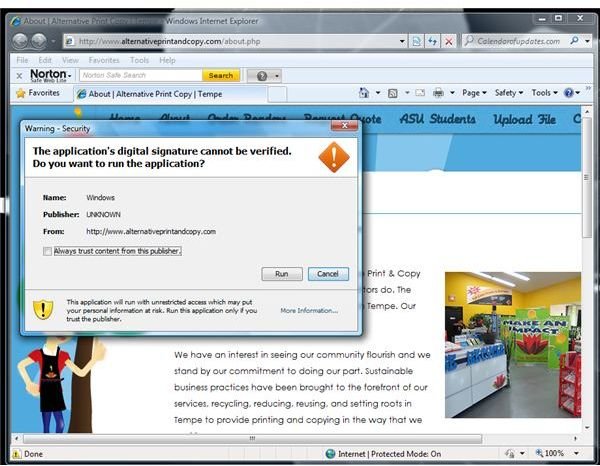 I decided to download a fake antivirus program which is a malicious download. Norton Safe Web failed once again to warn on unsafe link: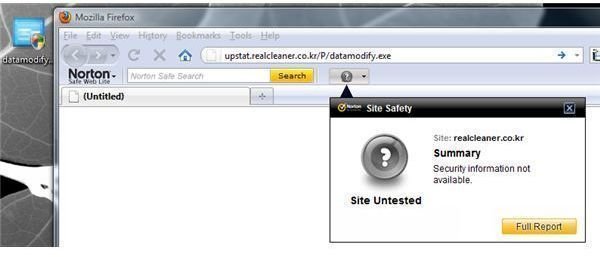 I gave the plugin another chance to warn against malicious downloads, but it failed as well. Norton failed to warn against websites that can infect a computer with Trojan Sinowal, also known as Mebroot, a rootkit infection.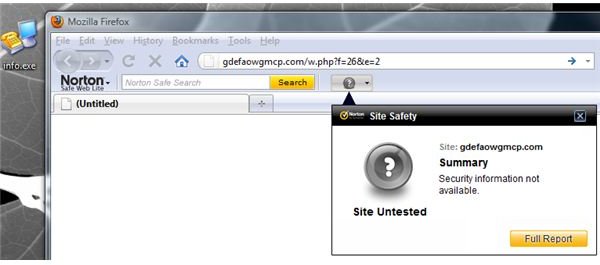 The free browser plugin by Symantec should warn users of dangerous links for Internet searches so I decided to look up for the keyword "ccleaner". Before doing so, I decided to install the Web of Trust (WOT) browser plugin that also displays ratings of search results using major search engines. The screenshot below shows Norton Safe Web gave an OK rating for two dangerous links that WOT rated as dangerous and untested. Note that both encircled URLs in the image are not safe to visit, because the first link will redirect the browser to a rogue registry cleaner website. The second link is affiliated to a software vendors that tries to trick users into using the free scanner before downloading the CCleaner program.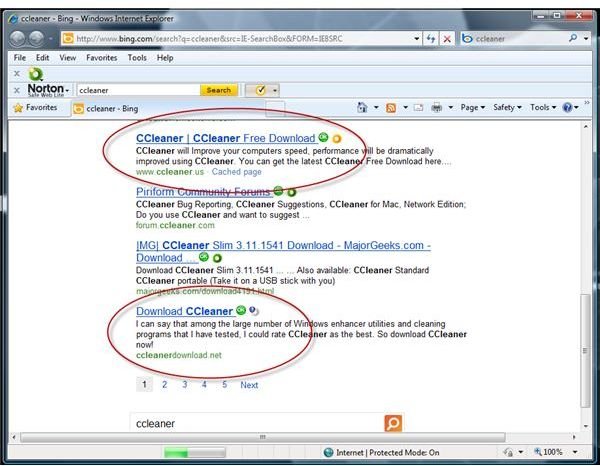 Next, I searched the Internet using the keywords "free spyware scan", but Norton marked two search links as OK and a secured by Norton icon is visible. Obviously, WOT gave a good rating because both encircled URLs in the image below are rogue software.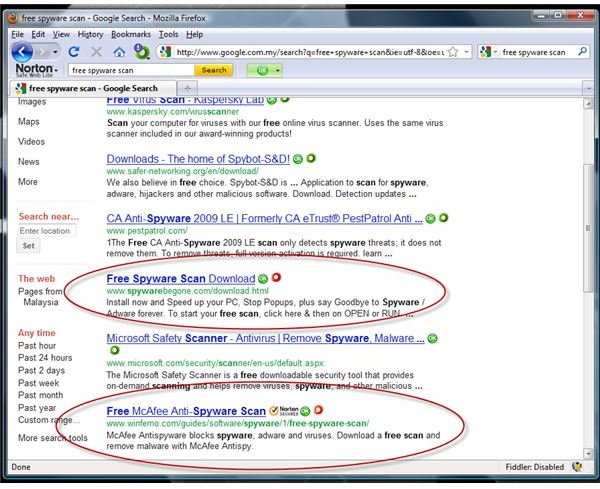 The memory usage of Norton Safe Web Lite is around 4 MB, whether you are using the browser or not. The ccSvHst.exe processes by Norton is always running in the background even if your browsers are closed.
Price to Value (3 out of 5)
It is free to use, which is great, but not all freeware is good and safe to use especially if the program includes unnecessary features to function.
Conclusion
I don't recommend using Norton Safe Search because its performance in preventing malicious downloads and dangerous links is not effective. Shop for other security solutions for your browser or better yet, use the Web of Trust plugin for Opera, Internet Explorer and Firefox browsers.
References