Review of Panda Cloud Antivirus v1.5
Cloud Virus Protection
November 2009 was the initial release date of Panda Cloud antivirus and we've seen lots of improvement since that first public release. Panda Cloud AV v1.5 is now what you should be using because it includes not only new features, but several bug fixes from version 1.4. Continue reading to find out the new program features and fixes in this cloud virus protection by Panda Security.
Installation and System Requirements (3 out of 5)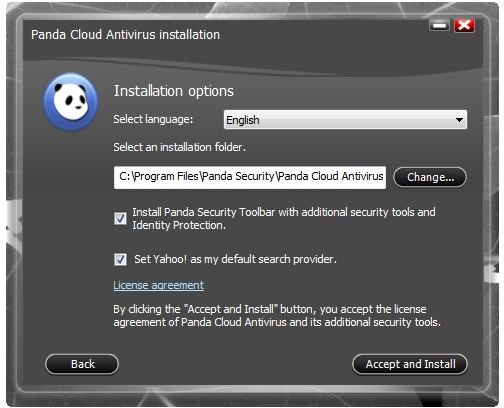 It's really cool to see an antivirus program that installs without having to reboot the computer before you can use the virus protection. Panda Cloud's installation process is really fast, but people who are using dial-up or on a slow Internet connection will be annoyed. It's because the installer of Panda uses a bootstrapping technique to chain together the installations of the antivirus and toolbar programs. What it means is that people with slow connections will have to wait longer before they can proceed with the install process.
The Panda Cloud AV runs on Windows XP, Vista and Windows 7 computers, but users need not worry what file to download. Whether you require a 32-bit or 64-bit installer, or don't even know, there's only one setup file to download from the Panda Security servers.
During installation, you can choose to use the program as the free or Pro edition. There's also an option to join the Panda antivirus community and all you need is an e-mail address and a password. It's not required to join this community, but it is useful if you want to interact with other Panda users and if you need help from the Panda team.
The program will use up to 119 MB of hard disk space because it will not only install the antivirus program, but will also install three other programs like the Panda Security toolbar, URL filtering and a toolbar cleaner. The toolbar program is an optional software during installation. If you don't need a toolbar for Firefox and Internet Explorer, you need to uncheck these options before allowing it to setup itself in Windows. You will save 4 MB of disk space if you opt out of the security toolbar installation.
Features, Options and User Interface (4 out of 5)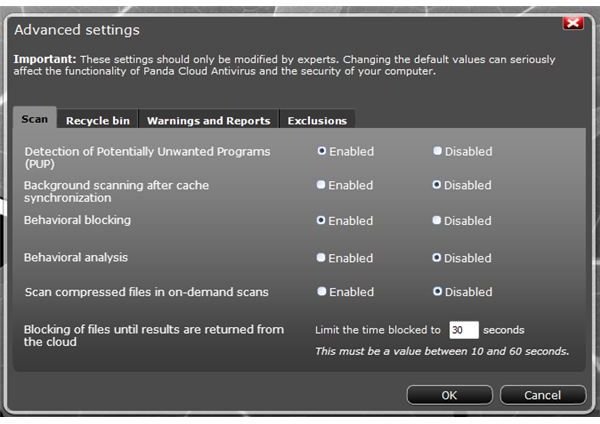 Panda Cloud antivirus provides the following options and features:
Real-time protection from malware and viruses using cloud-based and behavioral-based detection technologies.
URL and web filtering of malicious, drive-by exploits and phishing websites.
On-demand scanner.
Full, fast, customized and background scanning.
Recovery of quarantined files.
Prevention of viruses that exploit the autoplay or autorun feature in Windows.
Vaccination of USB drives (this feature is only available in Pro edition).
Detection of Potentially Unwanted Programs (PUPs).
Compressed files scanner using its on-demand scanner.
Exclusion manager.
Behavioral analysis (this protection is only available in Pro edition).
Below are the new features and fixes in Panda Cloud AV since v1.4:
Improvement to scanning speed and CPU consumption.
New graphical installer.
New option for the exclusion manager by allowing exclusion of files by extension.
Ability to close the banner.
Activity monitor will now display the last malware detected and number of scanned files.
Fixed the registration of the program to Windows Security Center and the Blue Screen of Death problem after upgrading or installing v1.5.
Compatibility fix of the toolbar and URL Filtering software for Firefox v5.
Fixes for problems in disinfecting certain compressed malware and Google Chrome cookies.
Free users of Panda Cloud AV have the option to upgrade to the Pro edition without the need to re-install the program or download another setup file. The option to upgrade is available within the program's tray icon and also in the user interface.
The user interface (UI) of Panda Cloud AV is quite neat and simple. You don't have to deal with many configurations and it's UAC-aware. This means you will not see the User Account Control (UAC) prompt whenever you will open the program or change the settings. The only minor issue that I am seeing in its UI is the addition of advertisements for free users. It's odd that the developer has to include ads in the UI, especially if they are already earning from the inclusion and installation of a third-party toolbar.
Performance (5 out of 5)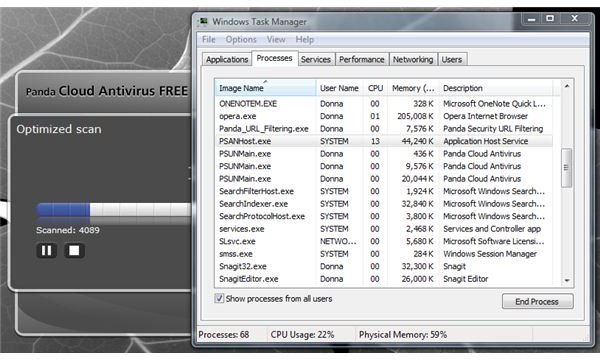 The program will only use up to 18 MB of memory while protecting the computer from malware. It does not slow the computer while you browse the Internet. Also, I am glad to see that the new version of Panda Cloud AV is no longer blocking the Shadow Defender application (note that this problem exists in v1.4 of Panda Cloud antivirus reviewed only last May 2011) and I have not seen any issues in using other applications while the antivirus is running or scanning the computer.
The scanner of Panda Cloud antivirus will take advantage of 44 MB or more memory, but it does not slow down the computer during the scan. An optimized scanning of 22,204 files finished on our test machine in only 8 minutes.
Price to Value (5 out of 5)
It's free for personal use - what else can I say? However, you won't be able to take advantage of behavioral analysis and the USB vaccination feature unless you spend $29.99. The Pro edition is worth upgrading to because you will be able to get a free firewall program by Panda Security that is integrated in the next version of Panda Cloud antivirus.
Conclusion
The Panda Cloud antivirus reviews here at Bright Hub have received positive and negative ratings, but it has been two years since it was first released so check out the new version yourselves to see the improvements. It's a good antivirus program, but only if you will trust protecting your computer using behavioral and cloud-based virus protections instead of using traditional antivirus software. Note that some antivirus vendors will provide all of these detection technologies, such as Kaspersky, Norton, etc.
Are you having trouble using Panda Cloud antivirus? Do you think the free edition of Panda Cloud AV is enough to protect and secure your computer from malware? Let us know by posting your comments below.
References