Fight Spam With Spam Terrier Free Antispam Software..
Tested On:
Windows XP SP3 with:
Outlook Express 6 SP1
Outlook 2003
Outlook 2007
Version reviewed: Version: 2.0 (build 164)
What Is Spam?
When you have a publicly known e-mail address featured on a corporate website, then sooner or later will start receiving spam. You can compare spam to the ads you receive in the analog mail, it looks like a letter and when you open it up it's advertising for some company. Spam is just that it looks like an e-mail from somebody and when you open it up it's an ad for Viagra or Ciales. A spam filter does for e-mail what I can not get done with analog mail, there is no spam bin in the analog email box where those envelopes can disappear into. This will filter out all or almost all spam from my e-mail boxes.
Installation (5 out of 5)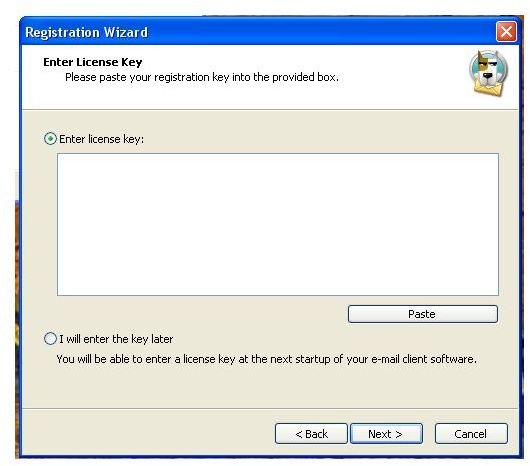 The installation is simple only a few windows to click through. One of which is a window to register for your license key. The other to input your license key. The license key is sent to you quickly.
Ease Of Use And Configuration (4 out of 5)
Any spam filter has to be trained, Spam Terrier is no different. If you have an inbox that is clean of spam and you kept the spam in a separate folder, then you can use the training wizard to train Spam Terrier. There still is some manual training involved. It usually takes at least a hundred e-mails to train any spam filter well. Spam Terrier works with two folders: Probable Spam (detected by Spam Terrier) and Spam (detected by Spam Terrier). It's really easy to go into those folders and mark the non spam mail.
How Does It Compare To The Junk Filter?

Outlook Express does not have much of a filter: just a block sender list, so there is no comparison ther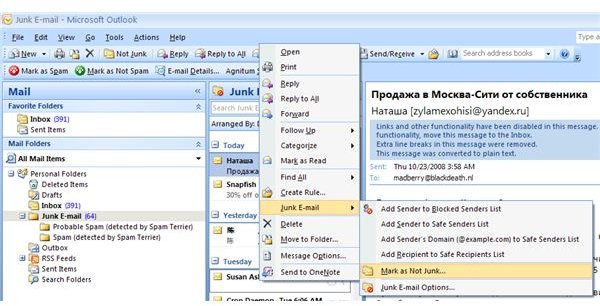 e. Outlook 2003 and 2007 have the junk mail filter. For this filter you have to mark it as "Not Spam" then you have to dive into the right click menu. (see image on the left) Spam Terrier adds a tool bar so you can just select a message and mark as spam or not. Spam Terrier uses the Bayesian filtering method. This means it doesn't only look at the header, but it also ranks the words in the body of the message. After teaching Spam Terrier what to look for it starts to filter out all news letters and potential advertising as spam. Now you just have to mark the news letters you actually want as not spam to receive them in the inbox.
Price To Value (5 out of 5)
Spam Terrier is a free spam blocker. How can you go wrong with that? Free however doesn't mean you get a cheap poorly designed product. Spam Terrier does exactly what it claims.
Conclusion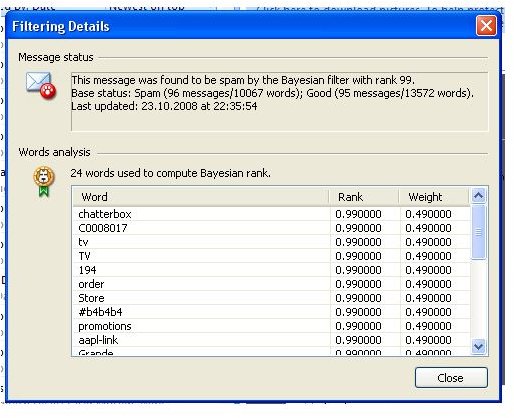 Overall Spam Terrier is a very strong piece of free antispam software.. It does need some training, but as you keep training it you will notice that it's accuracy improves and soon you will only have to check for messages that slipped through the cracks. Fast setup, very easy to use and configure even without knowledge of protocols or any computer skills. A minor gripe of mine is that you can't see the statistics. I like being able to see a list of e-mails and the rank and weight of the email. They let you do that per e-mail but an overview would have been nice. As I said, that's a minor issue and it pertains to personal preference.
Vendor's website: https://www.agnitum.com/products/spam-terrier/index.php
Screen Shot Of Outlook with Spam Terrier Installed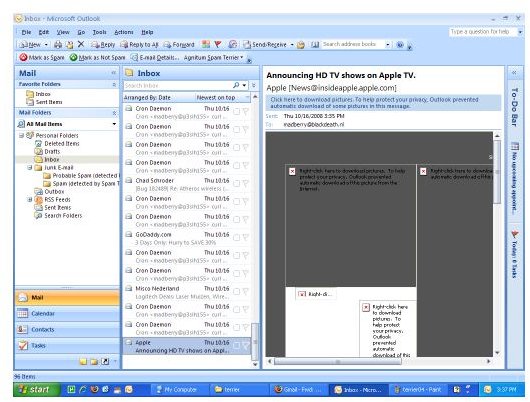 More Reviews!
Would you like to read more reviews? Look around Bright Hub and you'll find detailed reviews of numerous other anti-virus solutions including Ad-Aware Pro, a-squared, AVG Free, Avast! Free, Norton Internet Security, Kaspersky Internet Security, ESET Smart Security, McAfee Total Protection, Blink Professional and ZoneAlarm Internet Security Suite.