Review of Spyware Doctor With Antivirus 6
An Overview of Spyware Doctor With Antivirus 6
Spyware Doctor With Antivirus 6 is a PC Tools product that protects and detects a wide range of malware including viruses, spyware, rootkits and dialers. It uses a series of Guard components bundled together as IntelliGuard. The program is able to not only effectively scan and monitor all areas of the hard drive, e-mail attachments, and browser settings. It able to quickly remove any major infections, which might not be detected by other Anti-Spyware programs.
Installation (4 out of 5)
As an Anti-Spyware program, the installation of Spyware Doctor with Antivirus 6 was trouble-free. It can be easily installed on a computer, even if the user is "technology-challenged."
After the software is downloaded, go through the usual basic steps to select the folder destination for installing Spyware Doctor. The program does need at least 50 MB of hard disk space to install.
When Spyware Doctor has gone through the initial installation and it is registered, the software will prompt the user to use Smart Update to download the necessary virus database. However, this can take a few minutes depending on the speed of your computer and Internet connection.
Screenshots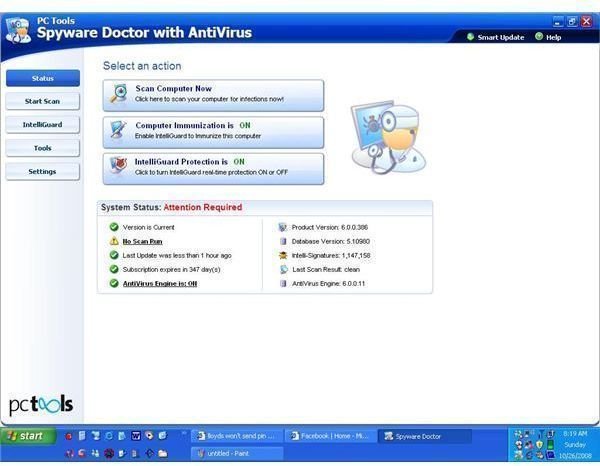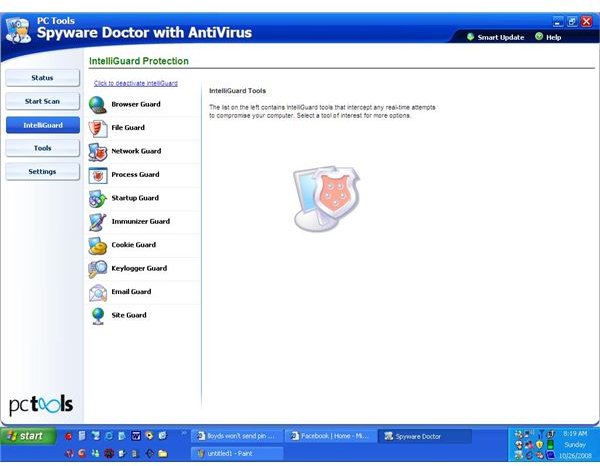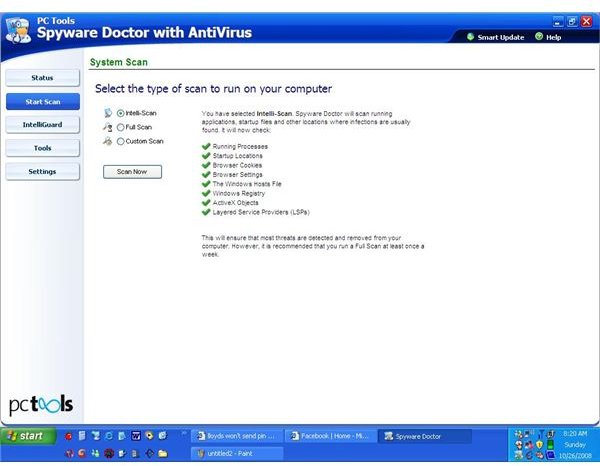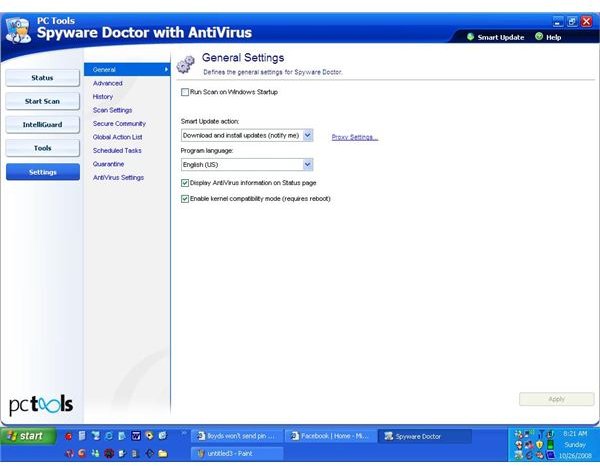 Value For Money (5 out of 5)
For most software, the value the user receives for the money paid is sometimes the deciding factor. Spyware Doctor has a price tag starting at $29.95, which is indeed a price that is considered acceptable based on the many features installed. There is a choice of either downloading it immediately after purchase, or have a CD sent in the mail.
The $29.95 software price includes a one-year license that allows the buyer to install the program on at least three computers, or larger businesses can opt for the $649.00 price that allows installation on up to fifty computers. Therefore, it is be cheaper to buy licenses for as many of your computers as possible.
How It Protects (4 out of 5)
After Spyware Doctor With Antivirus 6 is installed, there should be no difficulty in using this program. It has a simple user interface that allows the user to select any of the following actions:
Scan Computer Now
Enable Computer Immunization
Enable IntelliGuard Protection
This user interface is easy enough for someone who is not technical to operate the software. It is simply a matter of pointing the cursor to one of the tabs, and clicking. Other than manually completing a scan, Spyware Doctor with Antivirus 6 has "timed" system scans, which can be setup on your own schedule.
IntelliGuard (5 out of 5)
Other than regular system scans, Spyware Doctor also has IntelliGuard. IntelliGuard is the resident protection suite of software that carries out a multitude of functions. The user is able to access over ten different Guard tools to protect their computer:
Browser Guard – Is used to provide protection to the Web site browser installed on your computer. It monitors the browser's settings, and sends a notification of any program trying to make changes to the browser.

File Guard – Is responsible for protecting against malware applications that try to install on your hard drive. This component of IntelliGuard will also monitor and scan any email attachments.

Network Guard – Is one of the best components located in the IntelliGuard Protection system. As the name suggests, it prevents malware from a making changes to the settings for your network. It will also monitor the Windows Messenger Service.

Pr****ocess Guard – Is the component that protects your computer from the execution of or becoming infected with Rootkits. A system that is infected with a hidden Rootkit will not be susceptible to having it activate on the user's computer system because of Process Guard.

Startup Guard – Is the component of IntelliGuard that protects the files associated with Windows Startup. This can include anything from Windows Registry files to entries in the Task Scheduler.

Immunizer Guard – Is responsible for immunizing your computer against any malicious ActiveX files. Whenever immunization is complete, it will be logged in the section called Activity History.

Cookie Guard – Any spyware program should be able to protect against cookies left on the user's computer. Spyware Doctor will observe your computer for traces of cookies that report your browsing habits.

Keylogger Guard – Is ideal in preventing programs called "Keyloggers" from infecting a computer. With an increase in identity theft, Keylogger Guard will stop any software from transmitting personal information.
Other than the Browser Guard component, Spyware Doctor with Antivirus 6 also has add-on software called Browser Defender. Browser Defender evaluates both the Web browser and Web site visited for any harmful infections.
It was quite surprising how easy it was to use this program. There was the expectation that the software of this type would considerably slow down the computer. However, other than a short delay during booting, there was no difference noticed with the computer.
The scanning phase was quite impressive also. The computer was scanned in less than twenty minutes, without any noticeable differences to the computer's speed or ability to process information. PC Tools has developed a product that not only does what it says, but also goes the extra mile.
More Reviews!
Would you like to read more reviews? Look around Bright Hub and you'll find reviews of numerous other leading security solutions including Norton Internet Security, Kaspersky Internet Security, ESET Smart Security, McAfee Total Protection, Blink Professional and ZoneAlarm Internet Security Suite.