New Avast Internet Security 2011 Review
Avast! Internet Security
Version 6 of Avast Internet Security was made available together with its Avast free and pro editions. New features include WebRep, SafeZone, AutoSandbox and support for 64-edition of Windows 7 and Vista operating systems. Other features in Avast have been enhanced but you'll notice in this Avast Internet security 2011 review that I am not impressed with SafeZone.
Setup and System Requirements (4 out of 5)

Avast runs on Windows 7, XP with SP2 and Vista operating systems, except the starter edition of Vista. Installing the Internet security suite requires a reboot which is not attractive especially if other vendor's security suite doesn't require a reboot after a successful installation. The program will install a gadget for Vista or Windows 7 but you can always opt out by using a custom install.
A non-vulnerable version of Microsoft Visual C++ 2008 redistributable was installed, in addition to Avast WebRep plugin for Firefox and Internet Explorer.
Features and Options (4 out of 5)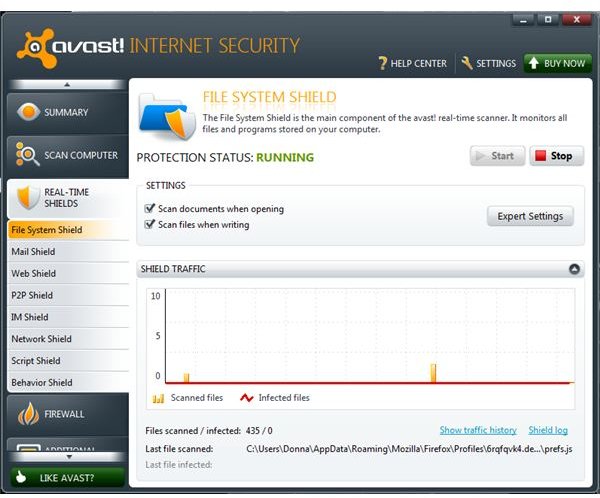 Avast Internet Security 6 provides the following new features but not all of them are attractive to all users:
WebRep – A plugin that displays how other Avast users rated a website and you can also add your own rating. It does not support other browsers except Firefox and IE which is a surprise because Avast free is known to offer Google Chrome browser.
SafeZone – It's a virtualized environment in which you can browse the Internet using the Google Chrome browser only. It's not impressive because not every user in the world wants to use Chrome browser only and it is not allowing you to browse for files or run other applications on your computer while in SafeZone mode. Note that Avast Internet security will not install standalone Google Chrome browser that you can access anytime but it is only accessible when using SafeZone mode. It only means that Chrome browser is integrated now in Avast Internet security program that I personally don't like especially if Microsoft has stopped integrating their browser to newer operating systems.
AutoSandbox and Sandbox – This is what Avast Internet security users should use that allows other applications (not just Google Chrome) to run while in virtualized mode.
The program continues to provide virus and firewall protection, anti-spam, site blocking and an on-demand scanner. Note that you cannot view the statistics gathered by Avast unless you have Adobe Flash Player installed on your computer.
Avast Firewall Performance (3 out of 5)
The firewall program in Avast is by default set as a silent firewall. It means you won't receive any firewall alerts unless you change the setting to ask you whenever an application attempts to use the Internet connection. Advanced users will enjoy the firewall protection of Avast since it's a rule-based firewall. However, avast firewall is slow in alerting again when you deleted an application rule and application group. An example scenario: Delete Firefox application rules while the browser is not running. When you open Firefox browser, the firewall continues to allow the Internet connection used by Firefox. You have to wait a bit before you'll receive the firewall alert that provides the option to allow or deny the connection attempt by an application.
Another issue there is no option to immediately block incoming and outgoing traffic for specific time or until the user decides to allow the connection again.
Avast Antivirus (5 out of 5)
Avast antivirus has improved big time. Please read the recent review and comparison regarding the Avast antivirus program:
Price to Value and Availability (4 out of 5)
A 30-days trial version of Avast Internet Security is available but I had issues when I try the trial version. The license information keeps reporting that the computer is not secure anymore because the trial has expired. I had to install Avast Internet Security more than two times to make the license report that it's a new install (a system image where Avast was never installed before) which means there should be 30 days to go.
At $50 for 1 computer, Avast Internet security is a good deal. However, Kaspersky Internet Security and Norton Internet Security suites have better firewall options.
Conclusion
Avast Internet Security 6 is packed with new features but not quite useful to every user. The overall performance of the Avast Internet security suite is quite good. There is no system lag at all and the virus protection is now top-notch. It is highly recommended to PC users that prefer an easy to use Internet security program.
References
Screenshot taken by the author, courtesy of Avast Software a.s.
Product reviewed: Avast! Internet Security v6.0.1000
Information based on author's experience.