The New Kaspersky Internet Security 2011 Review
Internet Security Suite
One of the popular Internet security programs in the market is from Kaspersky Labs. Kaspersky Internet Security 2011 is offering new and improved features that you should check out before deciding to renew or buy the rival product. I am seeing a lot of improvement and below is my review of the program.
Setup and System Requirements (4 out of 5)
Setting up Kaspersky Internet Security 2011 (KIS) is simple. The installer of KIS 2011 will check for newer versions before it will installs the program on Windows. You can customize the installation path but it's best to use the default install option. I like the way Kaspersky installs everything that an end-user needs which is far different from the Norton Internet Security or Norton 360 that requires users to download another installer to have a parental controls program.
The image at the left is the option to join the Kaspersky Network Security program. You don't have to join this program unless you want to allow automatic collection of some information from your computer with regards to using the product and any threats it finds.
The program will install add-ons for Firefox and Internet Explorer called Virtual keyboard and Link Checker.
KIS runs on 32-bit and 64-bit editions of Windows XP with Service Pack 2, Windows Vista and Windows 7. However, one of the useful features in the program, Safe Run, doesn't work on the 64-bit edition of XP and has limitations on 64-editions of Vista and Windows 7.
Features and User Interface (5 out of 5)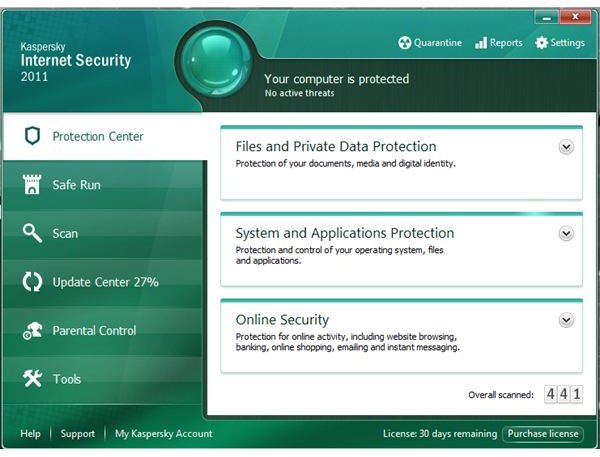 There is not much difference with the UI in KIS 2011 from its previous edition other than the text in the UI surface. I'm happy that they continue to provide one menu to configure the settings of the program which is what I did not like with Avast 6 because the settings menu in Avast is scattered.
Kaspersky continues to provide real-time protection against viruses, trojans, rogue software, computer worms, spyware, adware, rootkits and other types of malware. It also provides blocking of malicious and fraudulent websites. The program also has an exclusion and quarantine manager and allows for a scan schedule. There's also an option to use a virtual keyboard and vulnerability scanner.
The new offerings in KIS 2011 are as follows:
System Watcher - New feature to protect against malicious activities on the computer and allows roll-back of malware actions.
Safe Run for websites - The previous edition of KIS program only has Safe Run for applications. Safe run for websites automatically opens the default browser in virtualized mode.
Safe Surf and Geo Filter - Block malicious websites and the option to use filtering by regional domains.
Idle scan - The antivirus component in KIS 2011 will not scan if you are not using the computer or an application. The idle scan will resume when you stop using an application.
Improved features:
Application Control allows a more effective definition of applications status and configuration of application rules.
Parental Control - You can now control the user's access to the computer and Internet, the launch of computer applications, restrict access to websites with undesirable content and downloading files from the Internet, control user's communication in social networks and through Internet-pagers, as well as view reports on the controlled user's actions.
Performance (5 out of 5)
I'm impressed by the new edition of Kaspersky Internet Security 2011 (KIS) because the scanner may continue to use huge memory but it is no longer causing performance issues. The memory usage of KIS is around 16 MB while monitoring the computer for malicious activity and its scanner will use 200-315 MB or 59% CPU usage.
Scanning the system drive that has 106 MB of free space (total hard disk space is 149 MB) only took 30 minutes. That's a fast scanner this time.
Windows boot-time after installing, updating and configuring KIS is acceptable:
Windows boot-time without KIS 2011:

.

Windows boot-time with KIS 2011 program:
Web Browsing Protection (3 out of 5)
The web browsing protection offered by Kaspersky is not that effective against phishing sites. The malware or malicious link detection is great. That is what I discovered after visiting 3 phished websites and 4 malicious sites as part of this Kaspersky Internet Security 2011 review. Below are the screenshots of the detected and undetected URLs by KIS 2011.
Images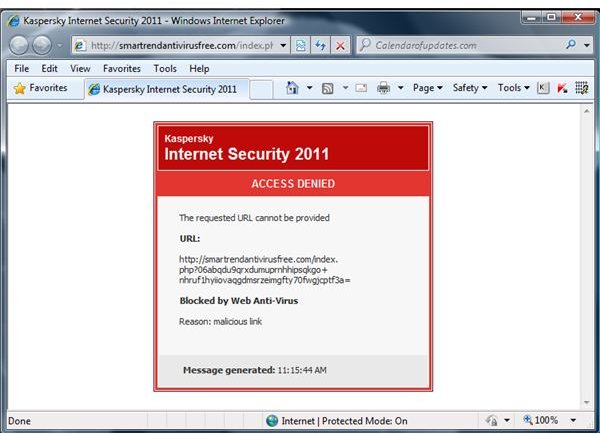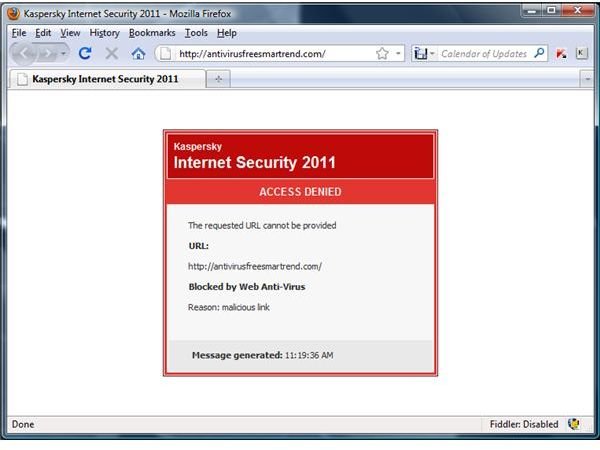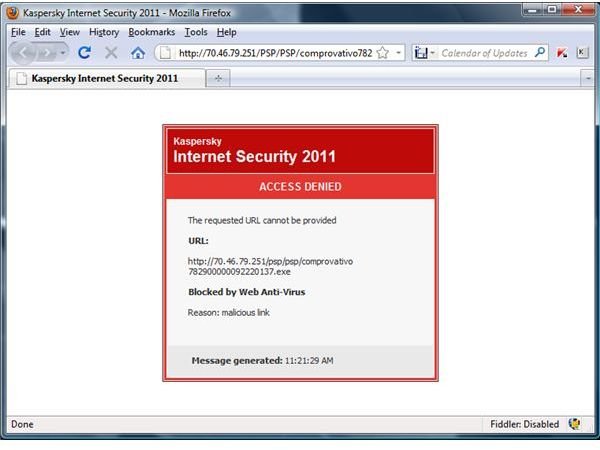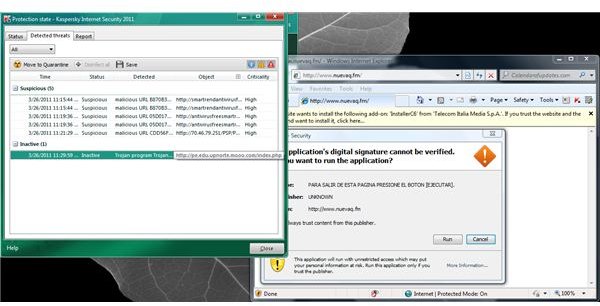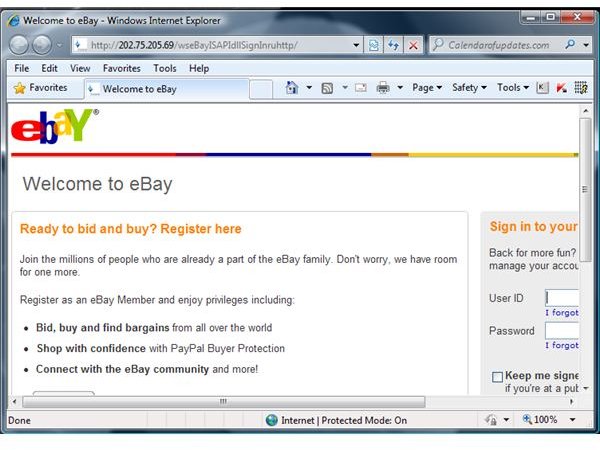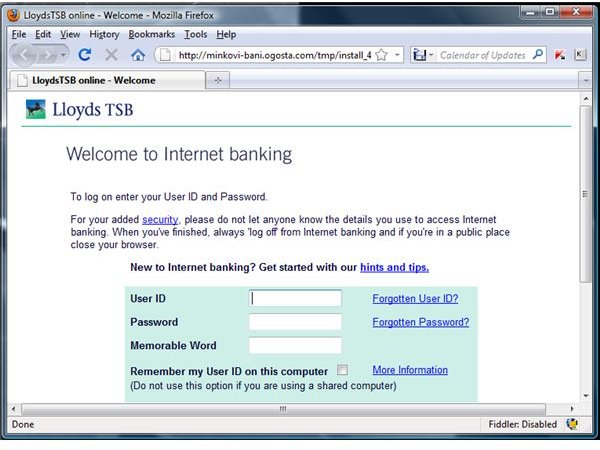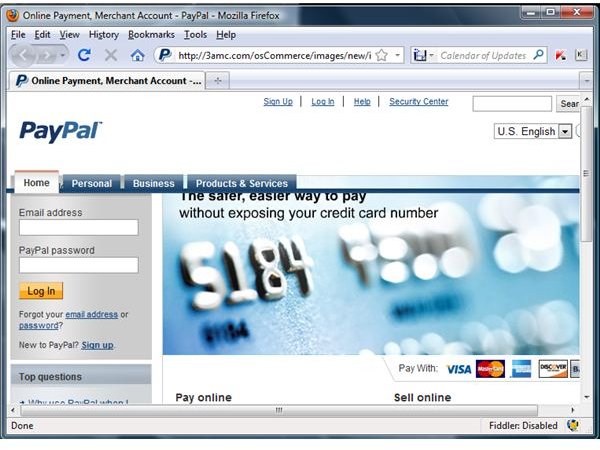 Malware Prevention (4 out of 5)
The malware prevention of Kaspersky is above average. I transferred 15 new malwares and it was able to prevent the transfer of 13 out of 15 malware files. It actually detected 14 out of 15 but failed to remove one, but has provided an option to allow a fix: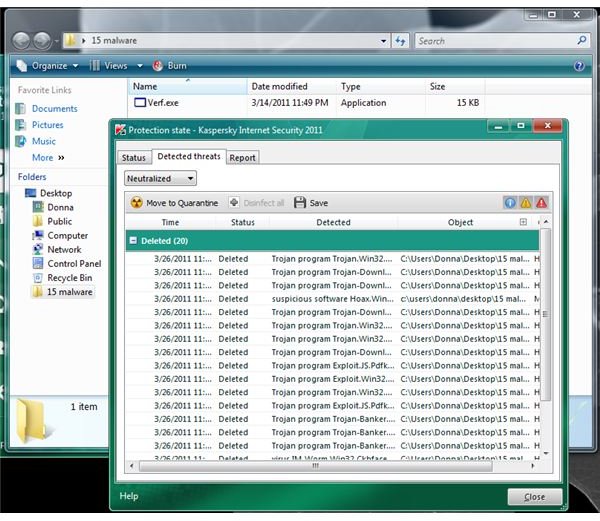 The on-demand scanner failed to find malware on the remaining sample - 1: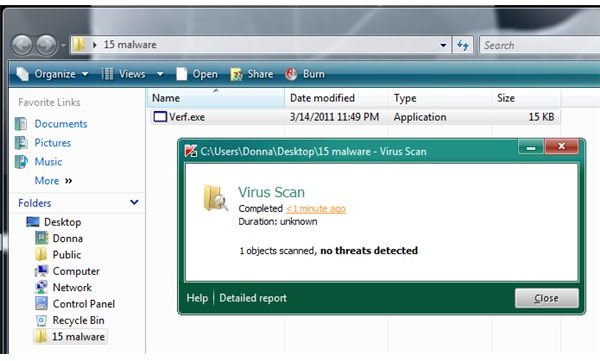 Executing the remaining malware left the computer infected. There's no perfect antivirus program but 14 out of 15 is very good already, unlike Avast and AntiVir that only detected 12 out of 15 and 11 out of 15, respectively.
Price to Value (3 out of 5)
Kaspersky Internet Security costs $60 for 1 PC with 1 year of subscription. It's a bit expensive compared to Norton Internet Security 2011 which is only $70 for 3 computers.
Conclusion
The improved performance and good malware protection offered by Kaspersky Internet Security 2011 is enough to give it a thumbs-up. However, it's best to always enable the fraud and malware protection feature in Firefox, Internet Explorer, Opera or any other web browser to protect against phishing sites. Kaspersky should focus on fast detection of fraud sites.
References
Image credit: Screenshots taken by the author, courtesy of Kaspersky Labs.
Information based on author's experience and product documentation.
Product version: Kaspersky Internet Security 2011 v11.0.2.556