Digital Defender Free Antivirus Review: Is Digital Defender Antivirus any Good?
Introduction to Digital Defender Free Antivirus
Digital Defender is a relatively new name within a free antivirus market that is largely dominated by the big players – Grisoft's AVG; Alwil's Avast! and Avira's Anti-Vir, and with such stiff competition, Digital Defender would need to bring something special to the free antivirus market.
Digital Defender free antivirus was developed by the eponymously-named UK-based security software company in 2008, but has largely failed to break the stranglehold of the more established free antivirus solutions that are around.
With most of the antivirus and Internet security solutions available – both free and paid for solutions – perhaps requiring a degree of technical nous to set up and configure properly for maximum protection, Digital Defender's offering aims to be as uncomplicated as possible. It all sounds good in theory, but it raises the question, is Digital Defender any good?
Test System & Installation
This review is written based on the findings of Digital Defender's Engine Version 2.1.51, with antivirus definitions updated to Version 13.6.254.
The software was installed onto a Acer Extenza 5620Z laptop running Windows Vista (32-bit), fitted with an Intel Centrino 1.66 MHz dual-core CPU, 2 GB RAM and a 160 GB HDD split into two equal partitions of 80 GB each.
After downloading Digital Defender, installation of the core engine was very quick and easy, but the software then required to download a sizable update before I could use it. There was also no need to reboot the laptop, and Windows Security Center recognized Digital Defender without any problems.
Digital Defender User Interface (2 out of 5)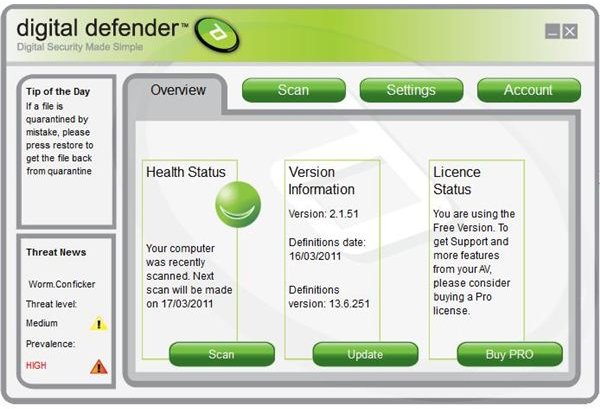 The user-interface of Digital Defender free antivirus is extremely sparse, and unlike Avast! or AVG, users have virtually no customization over how to configure Digital Defender.
The interface presents users with four primary tabs – Overview, Scan, Settings, Account.
From the 'Overview' tab, users can initiate an antivirus scan, update the software or buy the Pro version of the software. On-screen information shows the date of the next scan, the engine version, definitions date and definitions version.
The 'Scan' tab allows users to perform varied antivirus scan tasks – Quick Scan, which only checks the system's critical parts of the user's computer; Full scan, which checks the entire computer, as well as connected external storage devices and optical media; and Custom Scan, which allows users to specify files and folders for scanning.
Within the 'Scan' tab, users can also see quarantined items the software has detected as unsafe and also add files, folders and programs to a whitelist to allow scanning to be skipped.
The 'Settings' tab allows users to schedule antivirus scans, change the display language, set automatic updates for virus definitions, view log files and set more advanced options, including real time protection and proxy settings.
This tab is where much of the customization and configuration of the software takes place, but most of the options are available only to Pro users; free users are limited to the default settings, which cannot be changed.
Configuration Options (1 out of 5)
So, what can be changed and configured on the free Digital Defender license? Users of the free version can:
Switch on/off scheduled scanning - the day/time is preset, but users can elect to switch on (or off) the scheduled scan.

Switch on/off automatic updates – the software will check periodically for new updates and download them automatically. Free users cannot influence frequency of checks.

Switch display language – users can change the language used by the software to any one of 16 languages.

Switch on/off extended logging – users can elect the level of activity logging delivered by the software.
And that's it! If you want scheduled scans, real time antivirus protection or want to perform any action other than quarantine when an infection is found, you'll need to fork out bucks for the Pro version.
The 'Account' tab provides information on your user license and provides an opportunity to purchase the Pro version, which costs around $28.
Performance (3 out of 5)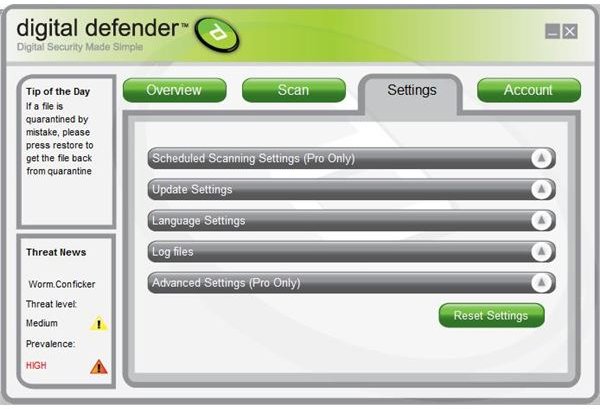 On the surface, Digital Defender's free antivirus performed adequately. Scan speeds were VERY quick, with my laptop's primary C: drive (60 GB full from 80 GB capacity) being scanned in little over 30 minutes – an equivalent scan to Avast! took more than double that time to complete.
The software engine's footprint on my test system's RAM was tiny at just 19 MB, and there was no appreciable slowdown in either boot-up time or software initialization once Windows had loaded.
In testing, the software correctly blocked attempts to download the EICAR test virus, and also blocked a batch-file containing the EICAR test virus code. The software also passed all tests performed by the Spycar website, which attempts to replicate spyware-like behavior. Both these sets of tests are pretty old, however, and so it would be a disappointment to see any antivirus software fall down on either of these tests.
Next, using a batch of infected files, Digital Defender also correctly identified and blocked most of my samples, although in truth it should, as like the EICAR and Spycar tests, my test virus infections are older viruses and should pose no threat to any decent antivirus solution.
It did, however, miss a potentially dangerous Trojan within a zip file that was detected and removed by other antivirus solutions.
Conclusion and Final Rating (2 out of 5)
Digital Defender's sparse feature set and the lack of configuration options in the free version puts it well behind more established rivals, and although its performance is decent enough overall with reasonable virus and malware detection rates, fast scanning speeds and little impact on system resources, it simply doesn't bring enough to the table to recommend its use or persuade users to jump ship from the likes of AVG, Avast! or Avira in the free antivirus arena.
Also, perhaps the inclusion of a free trial of the $28 Pro version bundled in the free version's installer might have won some more support; but on the basis of the free version alone, the case for shelling out for a Pro license is not a strong one.
Those PC users who only use their systems for intermittent light browsing might find the protection afforded by Digital Defender's free antivirus to be enough; but heavy users, gamers and more advanced PC users would be better advised to stick to more established and full-featured products for their free antivirus solution.
References & Credits