Avast 6.0 Free Antivirus Review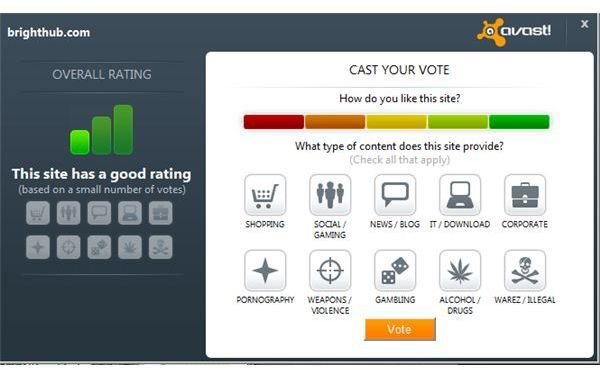 Many of Alwil customers are not only excited but quite to happy hear that they can upgrade now to free Avast antivirus 6.0. There are new features and product improvements in the widely-used antivirus and anti-malware program from Alwil:
WebRep - A module to view the reputation ratings of websites while you search the Internet or while viewing a page. WebRep runs as a plugin for Internet Explorer and Firefox browsers.
Autosandbox - The sandbox technology is one of the on-demand components in security programs. Alwil has added an autosandbox feature that automatically scans suspicious programs inside the Avast sandbox.
Script and Behavior Shields - The real-time protection modules in Avast will not only monitor for malicious files and activity in the PC, but also check for malicious scripts and malware-like behavior of files and processes. Note that the behavior shield was first introduced in v5.1.889. Avast users with earlier versions do not have a behavior shield in the program. Users of ThreatFire should disable this feature to prevent problems. Find out more info on incompatible software in the article, ThreatFire and Avast. Script shield is now offered in the free version of Avast. This feature was previously available only to paid editions of the program.
Site Blocking - Another module of Avast that was previously available to paid customers of Avast.
System Requirements and Install (4 out of 5)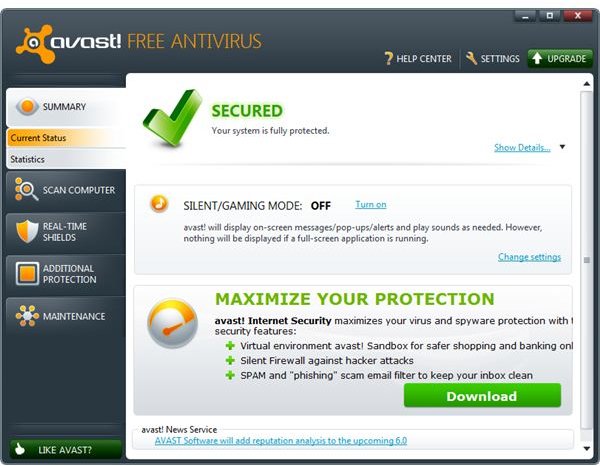 The free Avast antivirus 6.0 install process is straight-forward. The only item you need to watch out for is the option to install Google Chrome. It's not necessary to install another browser to take advantage of the antivirus program. The installer will add browser plugins, startup items and services in Windows. It will also install the Microsoft Visual C++ 2008 redistributable with Service Pack 1. An Avast gadget will be installed if you opted to install the program using the typical install process.
During installation, Avast will create a restore point in Windows and run a quick scan on the computer. The program automatically checks and installs available virus signature updates after installation. You don't have to restart the computer to start using the protection offered by Avast.
User Interface and Features (4 out of 5)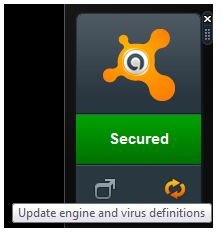 The UI of Avast 6.0 is simple to use. The only issue are the settings are scattered on the UI surface. There is another setting menu in the top right corner of the main program that allows settings for scanners, real-time protection and other components.
They key features of Avast are as follows:
Boot-time scanner - A component in Avast to scan and remove malware before Windows loads.
On-access and on-demand scanners.
Behavior and Script shields.
Site Blocking.
Virus chest (aka quarantine) and exclusion manager.
Network, File, Web, IM, P2P and Mail shields.
Logging and statistics - Note that you can only view the statistics if Adobe Flash Player is installed in Windows.
The default settings in Avast is what the antivirus vendor recommends but I don't recommended the defaults for users who want to protect their computer against potentially unwanted programs (PUPs) and some MIME files when browsing the Internet. Also, the default setting of Avast's real-time scanner does not scan every files. Avast can beat Trend Micro's detection on malware, only if you modify the protection settings in Avast.
Performance and Price to Value (5 out of 5)
Avast will only use 6 MB to 13 MB of memory while monitoring or scanning the computer for malicious activity. The memory usage of Avast is impressive knowing there are new features or components in the antivirus program that run in real-time.
Avast is free for personal use! What else can we say?
Conclusion
The above-average malware protection offered by Avast (see comparison of Avast vs 9 other free antivirus programs) is hard to ignore! Avast 6.0 is highly recommended to anyone looking for free antivirus protection in Windows!
References
Image credit: Screenshot taken by the author, courtesy of Alwil.
References: Avast 6.0 Free antivirus v6.0.1000.