The Cleaner Program Review
The Cleaner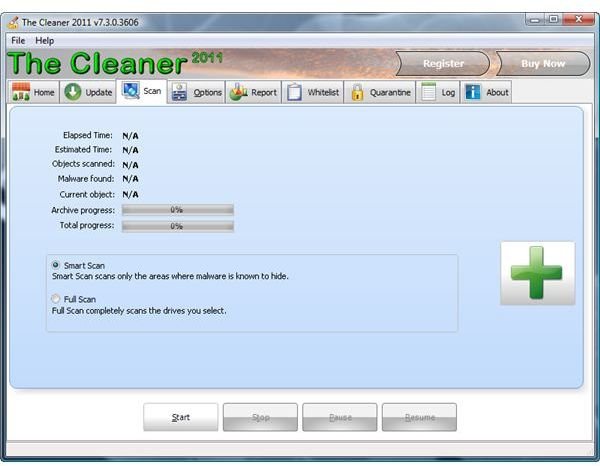 The 2011 edition of The Cleaner provides better detection and removal capabilities of known malware. It also offers heuristics detection to catch unknown Trojans and malware. The real-time protection offered by The Cleaner is called TCActive! that sits on the system tray notification area in Windows. The program will run on Windows computers that have antivirus protection already, because it is designed to complement antivirus software.
A portable edition of The Cleaner 2011 is also available, but it is limited to only scan and remove Trojans and other types of malware that are not as nasty.
System Requirements and Installation (5 out of 5)
The Cleaner runs on Windows 7, Vista, XP and Windows Server 2003/2008 operating systems. Its install process is so quick and straightforward that even new computer users can handle it. A PC reboot is not required to start using The Cleaner 2011. It will automatically check for malware database and program update and display the neat and easy to use user interface.
The program will install TCActive! startup program with filename tcap.exe and The Cleaner Helper service, mhelper.exe. The helper service is necessary to be running especially when removing malware like rootkit.
Features and Options (4 out of 5)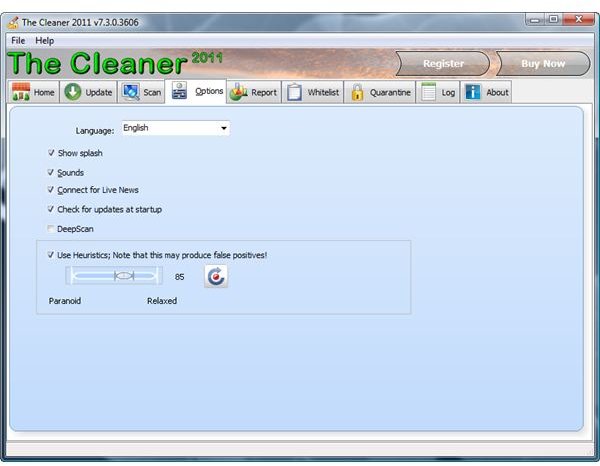 The Cleaner 2011 provides the following features and options for Windows computers:
Real-time protection against Trojans and other types of malware via its TCActive! module.

On-demand scanner with quick, custom and full system scans. A context menu scanner is also available.

Task Scheduler to scan and update the anti-Trojan program.

Quarantine and Exclusion Manager.

Drag and drop files to scan. Note that this feature does not work if the user account control (UAC) in Vista or Windows 7 is enabled.

Option to adjust the heuristic detection from paranoid to relaxed mode.

Activity log that you can view, save or clear.

Send detected or suspicious files to Moosoft for analysis.

Automatic Update for database of malware, registry, *FileSpect, files, deep scan, language and programs.

.
What is neat in using The Cleaner 2011 is you can actually navigate to any of its program options or tabs during a scan. There is also an option to pause, stop or resume a scan.
* FileSpect is an exclusive technology in The Cleaner 2011 to detect or inspect infected files or processes.
Note that the portable edition of The Cleaner 2011 will not check for updates on startup but you can manually update when using the program. It also does not have real-time protection or helper service that should help remove nasty infections, like rootkits. You cannot use the portable edition with CD/DVD media, only USB thumb drives.
Performance (4 out of 5)
A quick scan using The Cleaner 2011 can finish in 7 minutes while a full system scan will finish in less than 30 minutes. The memory usage during a scan uses 27MB to 37MB of memory.
The only issue I noticed is that you cannot minimize the program to the notification area in Windows while scanning, but can only minimize it into the taskbar. Closing the user interface of The Cleaner 2011 during a scan will stop the task because it does not minimize itself into the notification area in Windows.
Malware Detection (3 out of 5)
To test the malware detection by The Cleaner 2011, I transferred 420 malware samples into the system drive. The Cleaner was only able to detect 109 malware samples, leaving the computer vulnerable to 311 malware threats. Note that the software in this review uses a trial version which has limitation of not being able to use the real-time protection using its TCActive! module.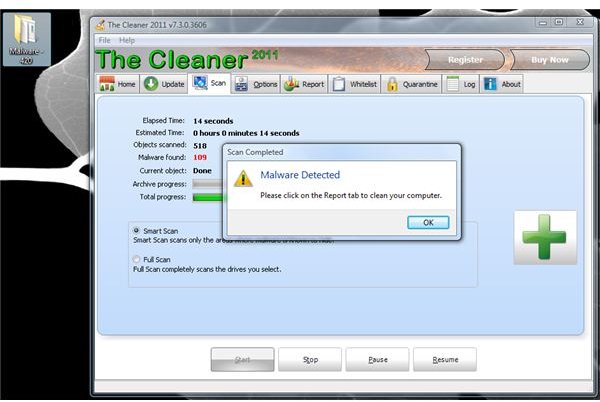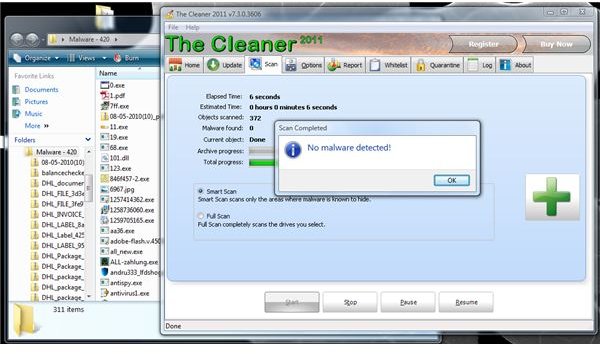 On an infected computer with rootkits, rogueware and Trojans, The Cleaner succeeds in detecting all active and running infections.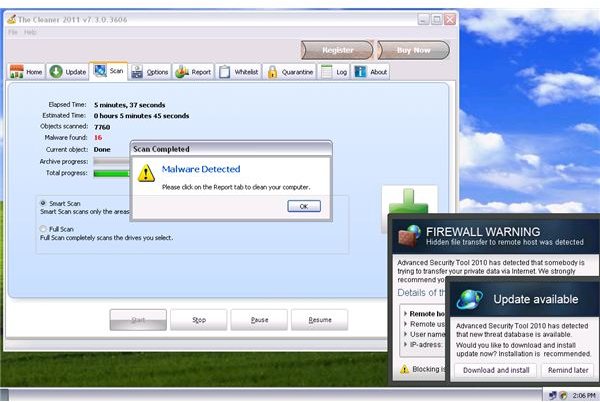 However, the malware removal engine failed to remove the rootkit infection.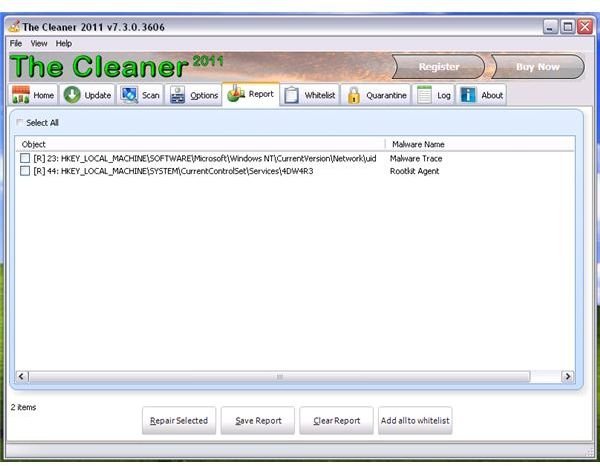 Price, License and Support (5 out of 5)
The Cleaner 2011 is only $19.95 with a 1 year of subscription and can be installed on two computers. That means the user has 2 licenses to use the program. Students can take advantage of a 15% discount while non-profit organizations can enjoy 20% off.
A trial edition is available for 30 days, but limited to only scan for and remove malware threats. There is no real-time protection from TCActive! when using a trial version. Also, the task scheduler is not available when using a trial version.
Moosoft provides support for The Cleaner via e-mail or through support tickets.
Conclusion
Complementing the virus protection in Windows using The Cleaner 2011 helps prevent infection from malware that antivirus software may miss. Using dedicated anti-Trojan software, like The Cleaner 2011, that is designed to remove and detect Trojans is recommended. The Cleaner is also recommended if you want to add extra protection that works along with an antivirus program to provide real-time protection. However, if you need effective malware removal software for things that your antivirus missed, I suggest that you use the free Malwarebytes' Anti-Malware program. If you'd rather use a paid anti-malware removal tool, I suggest using Hitman Pro.