What's New in Microsoft Security Essentials 2.0?
Microsoft Security Essentials 2.0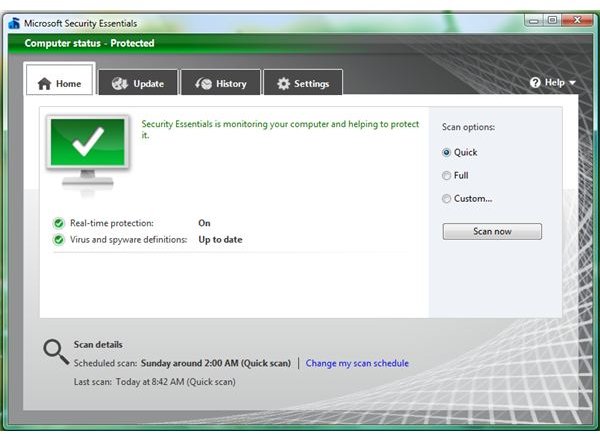 It's important to use an antivirus program that provides frequent and daily updates, fast support and fixes on product issues, but also program upgrades by adding new features and enhancements to its existing protection modules. With engine upgrades and new features in antivirus, it's is the only way that the antivirus can defend itself, the network and computer against advanced or sophisticated Trojans, worms, rootkits, spyware, adware, virus, and other types of malicious software.
Microsoft continues in supporting their customers by providing free antivirus for Windows and this free software has received needed enhancements and new features. Read the Microsoft Security Essentials 2.0 review below to learn more.
System Requirements and Installation (4 out of 5)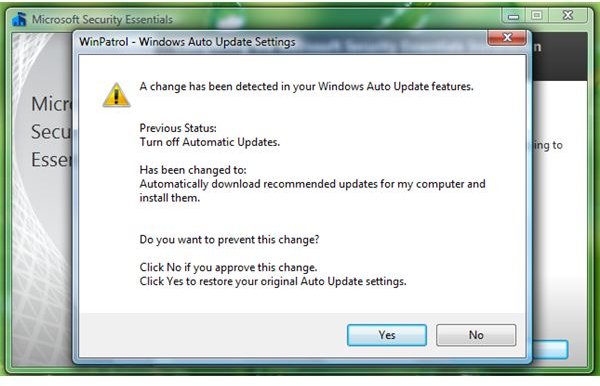 Microsoft Security Essentials (MSE) is one of the free Internet security software programs by Microsoft that runs on any home and small business computers using Windows 7, Vista, XP, and XP Mode in Windows 7. The install process is straight-forward, and does not require a restart.
The only issue (but by design) that people might notice when installing the free antivirus by Microsoft, is when the Automatic Updates in Windows is set to never check for updates. The installer of MSE will change the settings from never check for updates, to automatic, thus enabling the Automatic Updates function in Windows. Customers of WinPatrol will receive an alert about the change, and have the option to restore the changes in Automatic Updates setting, or approve the changes made by MSE.
Version 2.0 of MSE will also prompt users to enable a Windows Firewall during the install process of the antivirus program, if it's disabled, or if the third-party firewall program has been disabled by the user for some reason. The installer also provides an option to run an initial quick scan after getting the latest definitions updated for MSE 2.0.
End-users using version 1 of MSE will receive an upgrade notice when pushed by Microsoft and can proceed to install version 2.0 of MSE without the need to manually remove the older version. There's also an upgrade option in the Help menu of the program, or an option to install the new version on top of existing version by downloading the setup file of MSE 2.0.
If you encounter problems with the installation of MSE, see the article "How to Solve Microsoft Security Essentials Installation Errors."
Options and Features of MSE 2.0 (5 out of 5)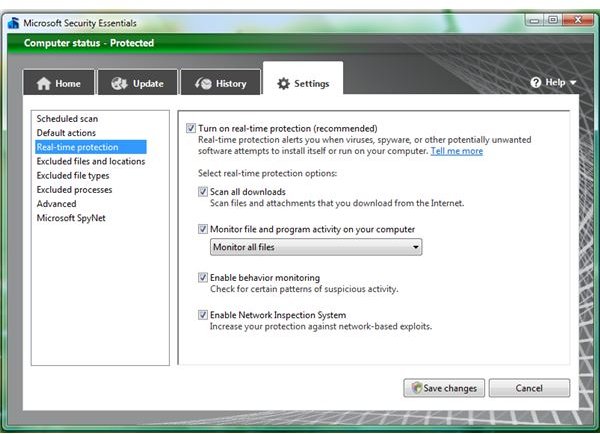 The key and new features of Microsoft Security Essentials 2.0 are as follows:
Windows Firewall Integration – As I mentioned above, MSE's installer will now detect if the firewall is disabled in XP, Vista or Windows 7.
Network Inspection System – MSE will now protect users from exploits or zero day vulnerabilities that can cause zero day malware attacks.
New Detection Engine – Behavior-based detection has been added to protect against new malware that has similar action or activity by existing virus or malware, but has not been fully identified by the signature-based detection engine.
Real-time Protection – MSE runs its on-access protection to monitor all files or processes in Windows for malicious activity.
Automatic Updates – Whether the Automatic Updates function in Windows is set to never check for Windows or Office updates, MSE is automatically updated to take advantage of new virus database. MSE also provides an option to check for definition updates before a scan occurs.
On-demand Protection – MSE includes a manual scanning engine to check the computer's health.
Scheduled scan - The option to schedule scans.
Option to Limit CPU Usage During a Scan – The default setting of MSE is to reduce the CPU usage by 50% during a scan. You can reduce it from 10% to 100% but it will become slower to finish a scan when choosing the highest available setting.
Unsafe Downloads Protection – MSE 2.0 will now scan any email attachments or files being downloaded from the Internet, instead of after downloading email attachments.
Monitoring of Files – There's now an option to allow MSE to monitor all files for malicious activity or only use incoming and outgoing files to and from the computer.
Quarantine Manager – There is now an option to automatically delete quarantined files after certain period of time.
Exclusion Manager – Option in MSE to exclude paths, files, processes or file extensions during a scan.
Spynet – An option for MSE users to voluntary submit some files that the antivirus program detects as malware or suspicious, allowing the Microsoft Malware Research team to analyze further and provide an updated detection signatures, if required.
Suspicious File Tool - Submission of suspicious file for analysis.
Like some free antivirus software, there's no option in MSE to protect networked-drives. Users should install the free antivirus for each computer they personally use to protect against malware.
Please continue on to Page 2 for more on our Microsoft Security Essentials 2 Review.
Performance and Ease of Use (4 out of 5)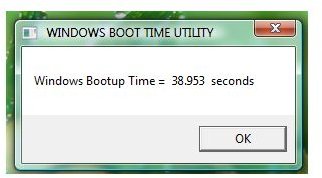 Continuing with the Microsoft Security Essential 2.0 review, next is a look at the performance and ease of use the program offers. MSE 2.0 uses some 54MB of memory while it's monitoring the computer for viruses or malware. During a scan, the memory usage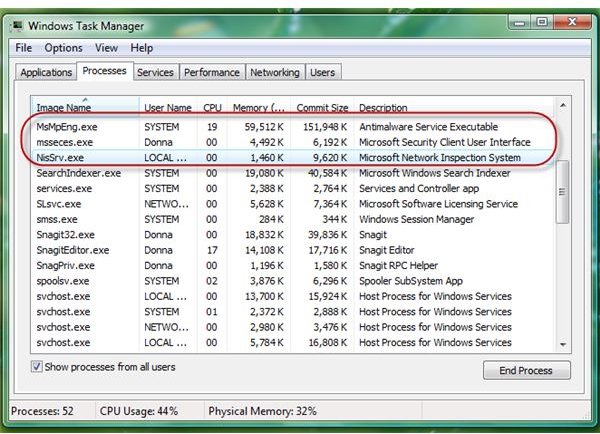 and will return to normal after the scan. The memory usage during the scan varies on the setting of the end-user (see option to limit CPU usage during a scan in page 1 of this article under Options and Features of MSE 2.0).
There is no lag in using the computer while MSE is monitoring or scanning the computer, or even when it is busy updating itself. The user interface should not confuse end-users for it is easy to use.
The boot-time in Windows has increased by 11.357 seconds when MSE 2.0 is installed. Without MSE, the boot-time of Windows is 27.596 seconds but it changed to 38.953 seconds. Ad-Aware 9 Free Internet Security provided better boot-time performance as it increased by 5.834 seconds.
Network Inspection System and Browsing Protections (4 out of 5)
I visited malicious websites and downloaded unsafe files from the Internet to test the detection engine and the new feature, Network Inspection System that should protect end-users from zero-day exploits and malware. MSE 2.0 is not quite as good in preventing rogue or fake antivirus websites, but good in preventing malware caused by exploits and unsafe downloads. Below are the screenshots where MSE 2.0 succeeds and failed in protecting the computer from rogue websites and PDF exploits.
What is neat with MSE's browsing and network inspection system features is it will protect any browser used; e.g., Apple Safari, Google Chrome, Internet Explorer, Firefox, or Opera.
Images: Browsing Protection by MSE 2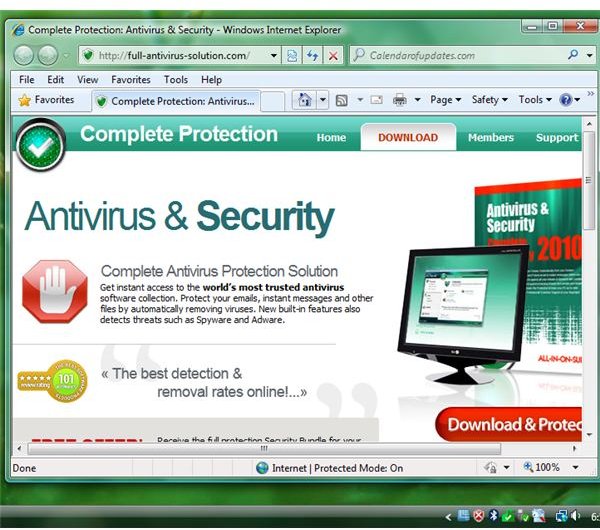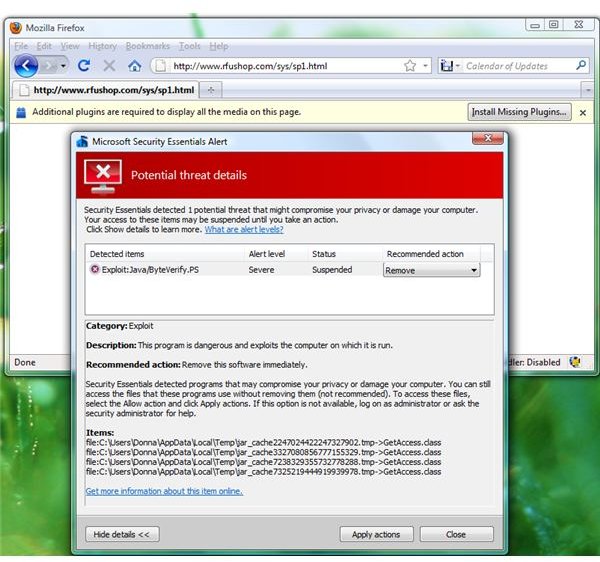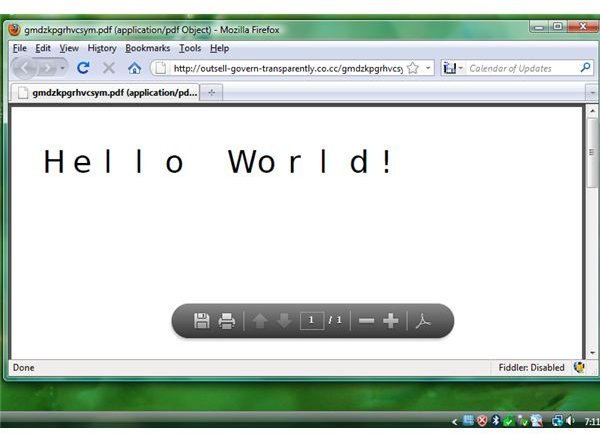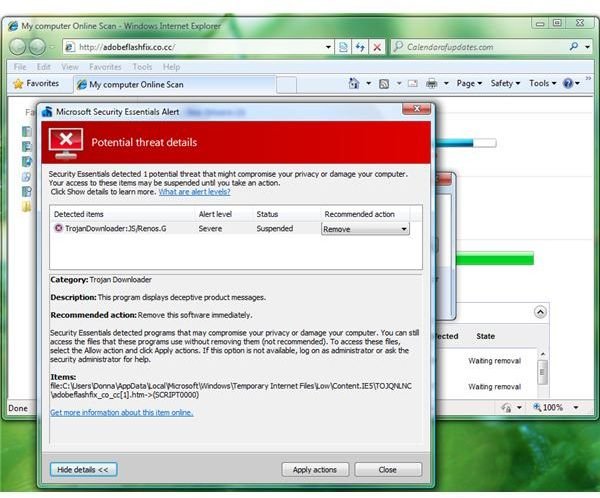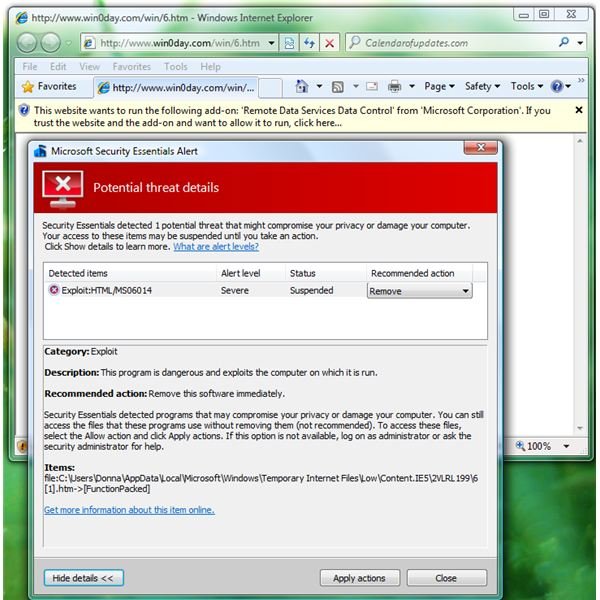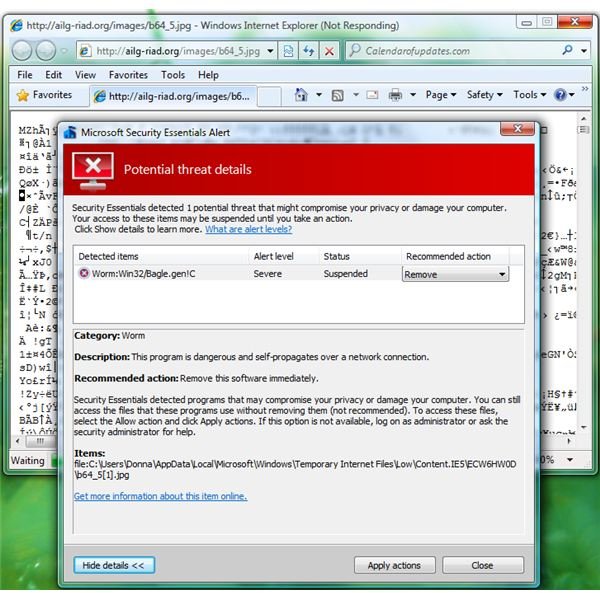 Malware Detection and Protection (4 out of 5)
To test the real-time and on-demand scanning engine, I transferred 420 malware samples to the system drive. The on-access protection by Microsoft Security Essentials 2.0 prevented 394 malware samples, out of 420 – leaving the computer at risk from 138 threats.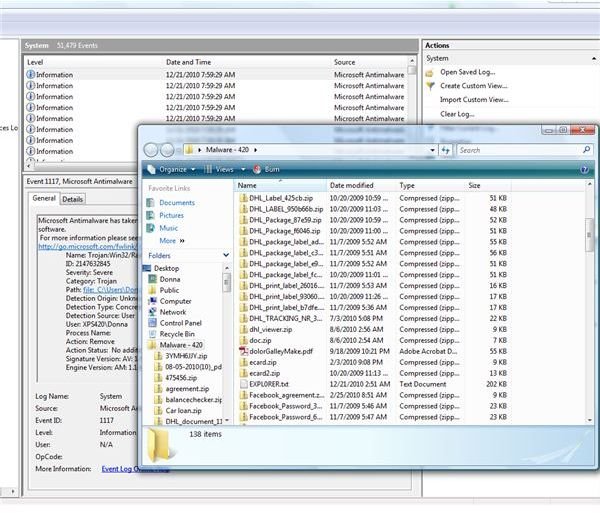 I proceed to run its on-demand scanner, and it detected and removed another 112 threats. The remaining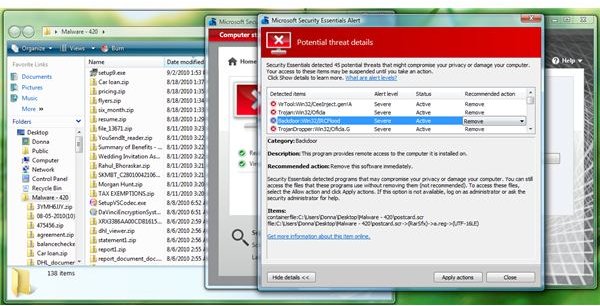 by MSE with the latest definitions update. I continued the test by executing the remaining 26 threats, but MSE's behavior-based detection engine, which is another new feature in this new version of free antivirus by Microsoft, detected only 1 out 26 threats, leaving Windows at risk from 25 risks. It even failed to prevent the executed and now running rogue antispyware program:
The malware protection and detection by MSE 2.0 is no different than MSE 1.0, for both versions can provide up to 96% of protection, which is above-average.
It should be noted that severe and new malware were detected by MSE 2.0, much the same as MSE version 1.0. However, the exploit protection in this new version definitely adds an extra layer of protection for Windows.
In this Microsoft Security Essentials 2.0 review, Microsoft Spynet, if enabled in the program, has done its job by collecting the sample threats the Microsoft Malware Research team will further analyze.
Price to Value and Support (5 out of 5)
Microsoft Security Essentials is free for home and small business computers, up to 10 computers which most users will really appreciate. Support is provided for free via email, phone or at the Microsoft Answers forum. You can download Microsoft Security Essentials at the Microsoft website.
Conclusion
Microsoft customers who want a standalone antivirus program with a neat user interface, easy to use applications, and above-average protection should definitely consider trying or keeping Microsoft Security Essentials security software.