Detailed Ad-Aware 9 Review - Free Internet Security for Windows
Ad-Aware 9 Free Internet Security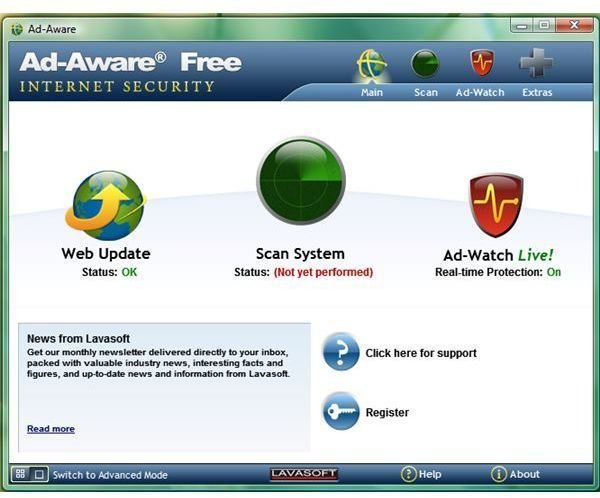 Ad-Aware free software provides anti-virus protection for Windows using Sunbelt's VIPRE and Lavasoft's anti-spyware and anti-adware software. It runs on Windows 7, Vista and XP computers and reports its status to Windows Security Center as virus, spyware and malware protection.
Ad-Aware 9 is focused on providing proactive detection. To do this, Lavasoft provides not one, but two new detection technologies which you'll see in this Ad-Aware 9 review.
Installation (4 out of 5)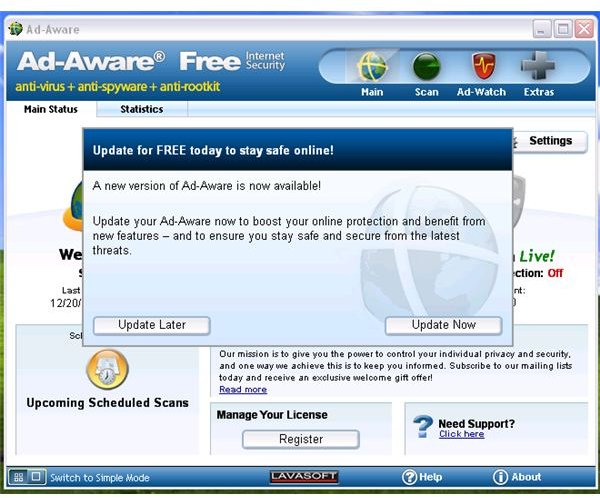 The new version of Ad-Aware 9 reviewed here was installed on XP and Vista systems as an upgrade and a new installation, respectively.
As a New Installation: The installation process of Ad-Aware 9 is straight-forward, but it continues to require a system restart after installation. An Internet connection is required and it will download the new detection database before the PC is restarted. The setup file is 124MB, which is quite big compared to Microsoft Security Essentials, Avira AntiVir and Avast software which are only 7.5MB, 56.07MB and 49.13MB, respectively. The AVG setup file is bigger than Ad-Aware at 145.81MB. The new installation will display the basic or simple mode with less options for using the program. This is useful for end-users that are not familiar with virus protection software. Advanced-users can switch to advanced mode to enjoy other options in Ad-Aware. The installer includes Download Guard for Internet Explorer, Microsoft Visual C++ Runtime 9 and the optional Google Chrome browser. The browser is not required for antivirus and anti-spyware protection from Ad-Aware.
As an Upgrade from Ad-Aware 8.3 to 9: If the old version of Ad-Aware is installed, the updater will alert you of the availability of Ad-Aware 9. Users have the option to update now or later. Upgrading is free, and is done using the software updater (without the need to manually download the setup file). A PC restart is not required after upgrading to Ad-Aware 9. The previous configuration is applied by Ad-Aware 9 so users don't have to modify the settings again.
Features (5 out of 5)
Lavasoft has released version 9 with the new features of Dedicated Detection and MagmaShield. Both detection technologies provide proactive detection. MagmaShield doesn't rely on signatures, and instead looks for malicious activity with its behavior-based detection. The Dedicated Detection technology will detect polymorphic and obfuscated files, which means related malware that is known to Ad-Aware definitions will be flagged.
The key features in Ad-Aware 9 Free are as follows:
Real-time virus protection using Ad-Watch Live that monitors only running processes.
Two Detection Layers: An antivirus engine by VIPRE and Winlogon protection.
Download Guard for Internet Explorer.
On-demand Scanner: Context menu with options for Full, Custom or SmartScan with rootkit, virus and archives scan engines.
Quarantine and Exclusion Manager
Frequent daily definitions update via its built-in software updater, and an option to import downloaded definition files.
Scan scheduler
TrackSweep - This will clean-up your cache, cookies, last typed URL, history and tabs in IE, Opera, Firefox and Chrome browsers.
ThreatWork Alliance – An optional feature to submit suspicious files detected by Ad-Aware.
The only features that I think Lavasoft should add is a the download guard for other major web-browsers, and allow free users of Ad-Aware to use the behavior-based detection engine, not just the behavior-based file scanner.
Ease of Use (5 out of 5)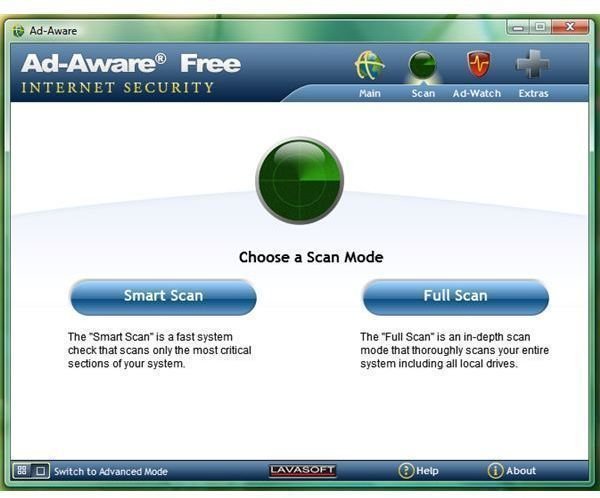 Using Ad-Aware 9 is straight-forward. In simple mode, the first scan will run a full system scan that can't be stopped or paused. An option to run a Smart (aka quick scan) or Full scan is displayed only after the initial full system scan has finished and the option to stop the scan process will be displayed. The TrackSweep in simple mode of Ad-Aware automatically cleans-up history, cookies, etc. for installed browsers. Note that there is no option to schedule a scan using the simple mode. And since it's a simple mode, access to statistics, exclusions and the quarantine manager is not available.
Users who switched to Advanced mode can enjoy an extra scan option: Custom or Profile scan. This also lets you configure which areas in the browser to clean-up, and what browser TrackSweep will clean. There's also an option to schedule a scan, view statistics or manage the ignore and quarantine list when running the advanced mode in Ad-Aware.
It seems quite obvious the Lavasoft understand the needs of the people by providing two modes for using the program.
Performance (5 out of 5)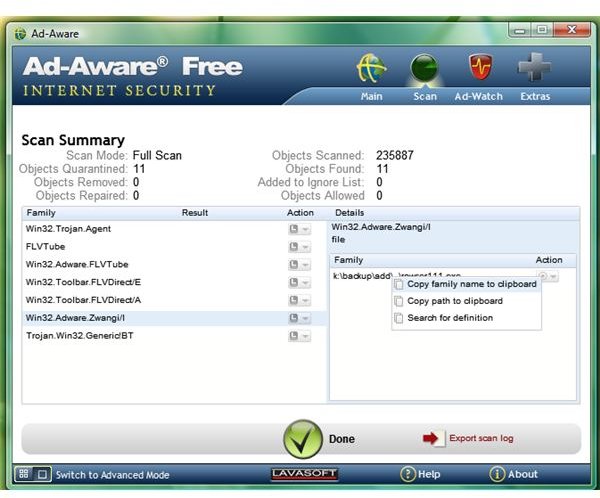 Ad-Aware 9 uses 35MB of memory because it runs two processes: AAWService.exe and AAWTray.exe, which are the Ad-Aware service and its program notification icon, respectively. When the full scan is running, Ad-Aware uses a whopping 100MB of memory, but it did not slow down the computer while browsing or cause lag for any running programs. A full system scan finished in 9159 seconds, or 2.5 hours, which is impressive considering that it scanned a 320GB local drive and two external drives, 250GB and 160GB, respectively. Smart scan finished in 84 seconds, or 1 minute and 14 seconds, which is another improvement for version 9 of Ad-Aware. Profile scan for Drive C: (320GB system drive only) finished in 3171 seconds, which is down to just 52 minutes and 51 seconds.
For this review, the test system was infected with potentially unwanted software. Ad-Aware was able to detect it all. The only false positive by Ad-Aware occurred when it found Combofix executable. Some other antivirus and anti-Trojan software identifies Combofix as a threat, so it is known false detection.
I had no real trouble updating Ad-Aware 9. There were no more slow or large update processes after the initial updates were installed. This is an improvement, since Ad-Aware v8 would often be rather slow even when updating only the database. I also noticed that Ad-Aware now re-initializes its' program without issue. In my previous Ad-Aware version 8 review, the program continued to have problems starting Ad-Watch Live and kept prompting me to restart the computer. This is now fixed in Ad-Aware 9.
What impressed me most is that Ad-Aware 9 did not significantly affect the boot-time in Windows. Without Ad-Aware installed, the boot-time of the test system is 23.587 seconds. The boot-time changed to 29.421 seconds after installing Ad-Aware, which means there is only a 5.834 seconds delay in booting Windows. This is better than AVG and Outpost security suites, which have delayed the boot-time of Windows by 16 seconds in my tests.
Malware and Browsing Protection (5 out of 5)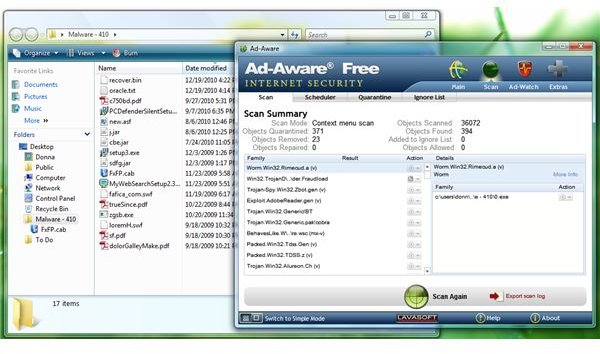 This Ad-Aware 9 review is not complete without checking the scanner's ability for detecting known malware, viruses, Trojans, potentially unwanted programs (PUPs), spyware, exploits and worms. I transferred 410 malware samples and allowed the scanner to run an on-demand scan. Ad-Aware detected 393 out of 410, leaving the computer at risk from 17 malware samples only. I proceeded in executing or running the remaining samples, and
the running process of 1 rogue antivirus program, and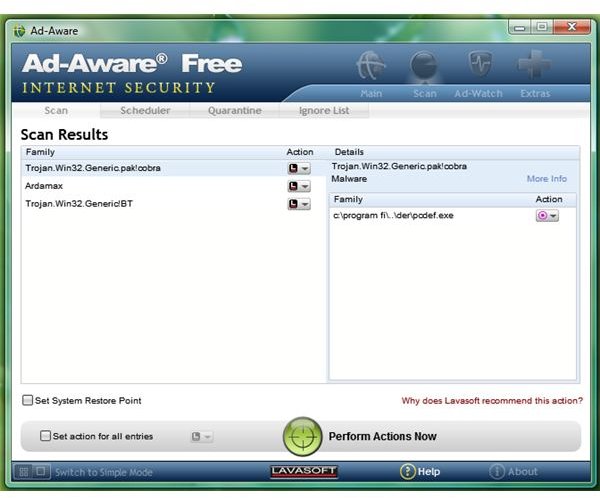 . This means, Ad-Aware Free is able to block and prevent a total of 394 out of 410 malware sample, which is an above-average detection rate.
The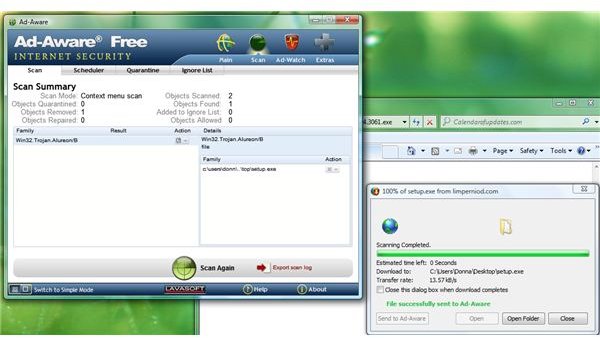 works like a charm, as it detects many unsafe downloads using just Internet Explorer.
Price to Value, Limitation and Support (5 out of 5)
It's free to use Ad-Aware 9 or Ad-Aware Free Internet Security, and both provide the excellent VIPRE antivirus engine from the reputable company, Sunbelt Software. You really can't beat that deal. If you want to use free antivirus from Lavasoft, all you have to do is download Ad-Aware from the vendor's website.
Support for free customers is rendered via the support forums. The free edition of Ad-Aware does have some limitations:
2 scheduled scan only.
Ad-Watch Live does not monitor for malicious files (when saving or transferring files on the computer), the registry (for entries in the Windows registry e.g. a startup item), and unwanted or malicious IP or websites (e.g. rogue antivirus websites or pages with exploits). Also, the behavior-based detection is not available in the free edition.
Does not include Process Watch, Auto Start Manager, and Hosts File Editor.
1 profile scanner only.
Game mode is not available.
Users can only have the above limitations lifted when using the paid edition of Ad-Aware.
Conclusion
The ease of use, improved software updater, low memory usage and above-average malware detection earn Ad-Aware Free Internet Security a strong recommended for users looking for free virus protection without a catch.
Image credit: Screenshots taken by the author.