The Top 5 Outdoor Pan Tilt Network Security Cameras
Introduction
Now, more than ever, owners of homes and businesses need to protect their assets. These outdoor pan tilt network security cameras will help keep their employees safe during the day and guard their assets at night.
Panasonic Outdoor Wireless Network Camera with Two-Way Audio
The Panasonic outdoor wireless network pan/tilt camera can be viewed and controlled from a standard Web browser, video display, compatible cell phone or a compatible PDA. It communicates wirelessly with standard wireless devices. Install and operate the camera anywhere, without having to run network wires. The panning and tilting will provide a wide viewing area of your building or parking lot.
This camera functions perfectly in extreme conditions, including wet-weather operation. Mount it on a wall, ceiling or tripod mount. You can set up the camera to enable 50 general users to view the feed. You can also configure up to 12 cameras to view on your camera page.
Set your camera to record video automatically at certain times and at certain speeds. It has a built-in heat sensor that will allow the camera to record and/or notify you by email when someone enters the room. In addition, you can get external sensors (sold separately) that will tell the camera to email you when triggered by motion, sound, light, timer or a push button. The camera comes with a flexible stand, mounting screws, AC adaptor, sunshade, connector cover, rubber cap, putties, self-bonding tape and setup CD-Rom.
Source: Smarthome.com
PolarisUSA POL-27X-IP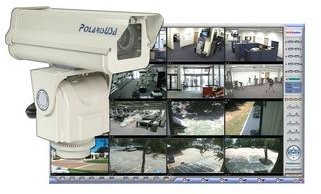 The POL-27X-IP is used to view real-time video by combining the 27X optical zoom lens with the Pan/Tilt heads. With this camera, you can zoom in to whatever you are aiming at and tilt it to get the best view. If the subject is a person, they will not know that you are sitting in a back office filming their movements. Use this camera to monitor buildings, parking lots, school yards, etc.
Source: PolarisUSA
Home & Residential Security Camera Kit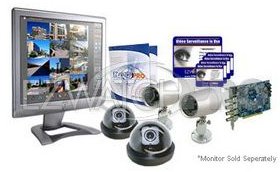 The 4 security camera kit includes 2 indoor/outdoor IR night vision bullet cameras and 2 standard resolution indoor dome cameras. Connect with any system that uses Internet Explorer and avoid the need to install additional software to view your home video surveillance system. Optional pan, tilt and zoom control is available upon request.
Source: EZWatch Security Cameras
TRENDnet Pan Tilt Zoom Internet Camera Server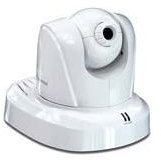 The TRENDnet Pan Tilt Zoom Internet Camera Server provides real-time security monitoring for large offices or warehouses, panning 312 degrees and tilting 115 degrees. You can manage up to 32 TRENDnet cameras with the included software.
Set up email alerts, schedule recording sessions, auto-patrol pan/tilt, zoom in on a particular area and set motion detection recording. This camera is good for home, small office or business use.
Source: MacConnection
Axis 214 PTZ Network Camera Pan Tilt Zoom Day Night 2-Way Audio

This high performance camera was designed for professional surveillance and remote monitoring of mid-sized businesses, such as retail stores. The operator can zoom in on a particular area or object by controlling a mouse or a joystick. It comes with an 18x optical auto-focus lens.
Source: MacConnection