Using McAfee Virus Protection For Windows 7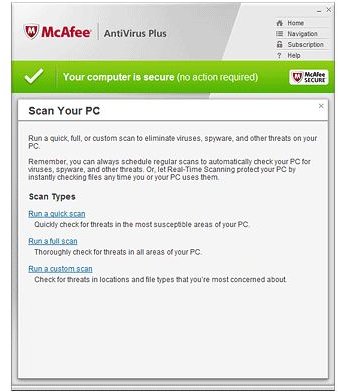 Try McAfee AntiVirus Plus 2010
You can't simply wander through life online without some form of virus protection, unless you somehow plan to reinstall Windows every day – and even that might not protect you if the threat is hiding on a USB disk.
Your best solution is to purchase a suitable antivirus product such as McAfee virus protection. If this is your first time looking at and installing something like McAfee's virus protection for Windows 7 operating systems, don't worry – this is a polished, well-presented and easy to understand interface that will make safeguarding your PC from threats very simple.
McAfee's experience in PC security is considerable, so purchasing an application such as McAfee AntiVirus Plus 2010 is a good place to start.
Visit home.mcafee.com/Store to download a free trial copy of this and other McAfee tools.
Available Features in McAfee Antivirus Plus
McAfee's virus protection for Windows 7 computers includes a great selection of features designed to keep your PC safe from threats of all kinds.
The VirusScan is the standard antivirus and anti-malware tool, and along with the ability to schedule scans, this module also manages real-time scanning, scanning all actively running programs for threats.
To enhance your Windows firewall, McAfee Antivirus Plus 2010 includes a rule-based firewall component designed to protect your PC from unauthorized incoming and outgoing network activity. The idea of this is to keep your PC and data safe from, for example, sniffer tools such as keystroke loggers, which can be used to record your personal data and transmit it to hackers.
Along with these standard tools, McAfee Antivirus Plus also includes a version of SiteAdvisor to help you to steer clear of suspicious and potentially dangerous websites, Quick Clean to remove old files from your hard disk drive, a Shredder tool to dispose of sensitive data, and the all-important status checking tool to ensure your antivirus software is up to date.
Using McAfee Virus Protection for Windows 7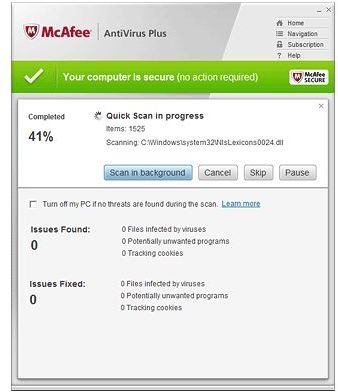 During installation of McAfee Antivirus Plus 2010, the software will check for any applications that are running that might prevent its correct installation, or that might affect its integrity as a security application. After installation, an automatic full scan will run; with the aim of detecting any historical threats on your PC that might cause problems later on.
Various virus scanning options are available with McAfee Antivirus Plus 2010 – these are available by running the tool from the system tray, and going to Virus and Spyware Protection > Scan Your PC:
Run a quick scan – Quickly scans the usual places a virus or malware program might hide, such as in the Windows system folder.
Run a full scan – Runs a complete virus scan of every file in your PC and attached disk drives.
Run a custom scan – Select the folder or drive you wish to run the scan on.
While a scan is in progress, you can pause, cancel or even force it to run in the background at a slower speed; this is a good idea if you are performing some vital work, for example.
McAfee Antivirus Plus 2010 will discard threats for you – if a virus or malware is found, it will be either deleted or moved to a safe "vault" and removed when you next restart your PC!
(Images via www.mcafee.com)