Free Norton Malware Remover Tool - Norton Power Eraser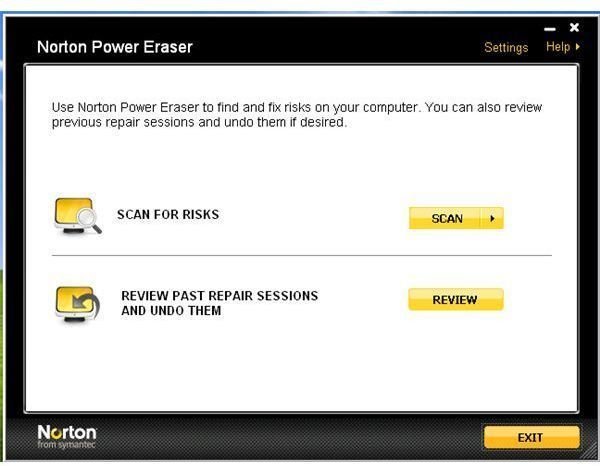 Free Recovery Tool - Norton Power Eraser
Norton Power Eraser by Symantec is a free malware removal tool that requires no installation. The program uses the new engine, called Symantec Maximum Repair, that combines aggressive heuristic detection and advanced removal capabilities. The program was developed by Symantec to get rid of new and tough to remove infections on Windows machines, fake antivirus programs and advanced rootkits such as Tidserv (aka TDSS or Alureon infection) and the Stuxnet worm.
Features of Norton Power Eraser
Norton Power Eraser provides the following options:
Local scan - A quick scan for active malicious processes.
Directory scan - A custom scan of selected folders or drives.
Remote scan - An advanced feature in Norton Power Eraser that re-scans detected file by sending them to Symantec servers.
Malware removal - An option to "Fix" detected malware for free.
Logging - A log file in XML format that can be viewed and saved.
Restore point creation - An option to create a system restore point, if enabled in Windows.
Undo - An option to restore previously deleted files (malware or not) without the need of using the System Restore feature in Windows.
Automatic updates - Before a scan, Norton Power Eraser checks for new versions of the program and updates the detection database.
File Insight - A reputation-based detection process used in Norton products. The only issue I find with this feature is that it is incorrect in detecting when the file was first installed on a test system. File Insight only shows the digital signature of a file, if available.
This free Norton malware remover can scan a computer quickly. It runs in Windows XP, Vista and Windows 7 operating systems. You can download Norton Power Eraser from https://security.symantec.com/nbrt/npe.asp?lcid=1033 and start checking your computer for active malware, or scan a folder, partition or drive for malicious or infected files.
Performance of Norton Power Eraser
I like Norton Power Eraser because it is free and simple to use. It's handy that you can save it on your desktop or on a removable drive e.g. USB device or flash drive, and there's no need to re-download for an updated version. The only requirement is an Internet connection so you can get the latest database update to detect malware or the latest version of Norton Power Eraser, if available.
I tested Norton Power Eraser on removing malware on an XP system. The standalone scanner and remover detected a startup item that was added by malware that I executed for testing: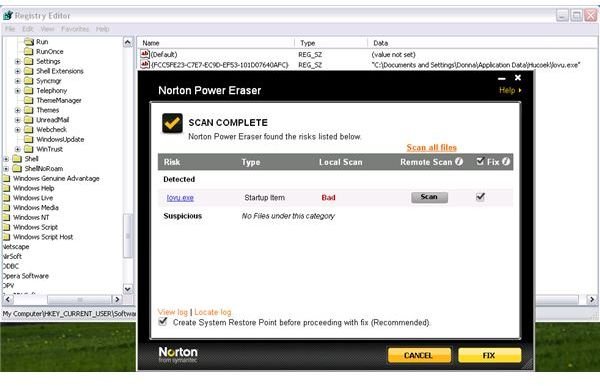 Next, I allowed Norton Power Eraser to scan the file remotely, but even though it says it is not a threat, the initial local scan found it as a bad file and suggested that Norton should remove it: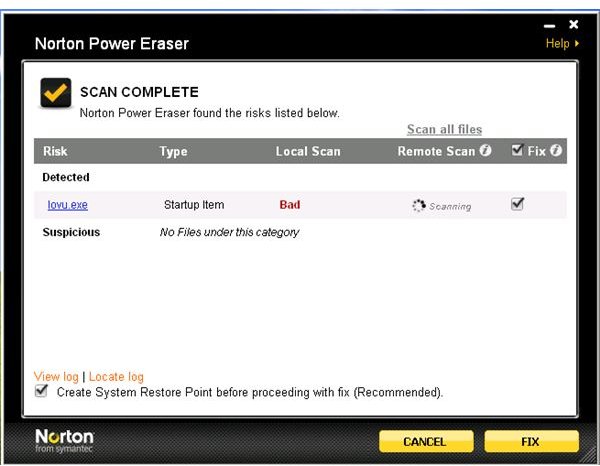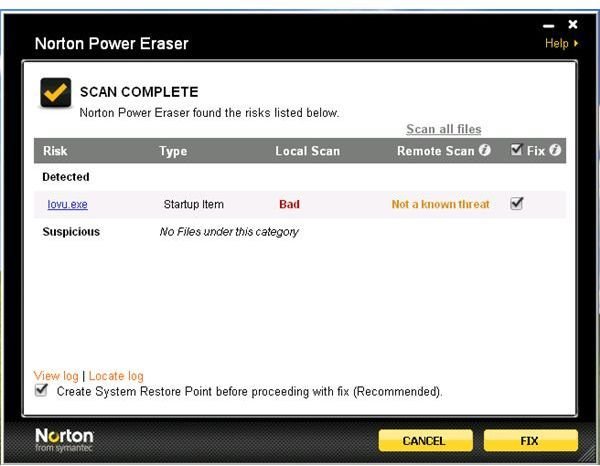 A system reboot is required to proceed with the malware removal process, and when the computer restarted, Norton Power Eraser opens itself to display the removal result: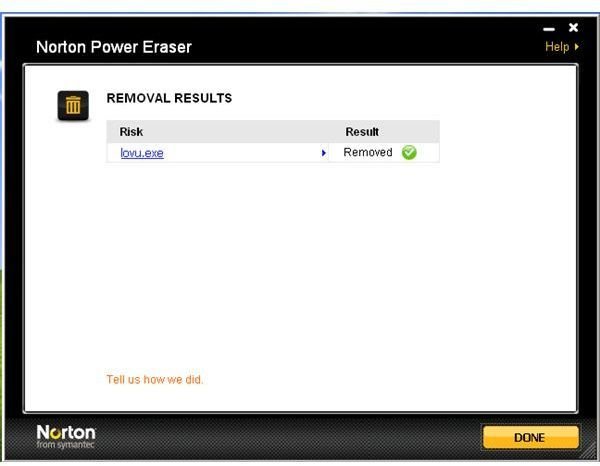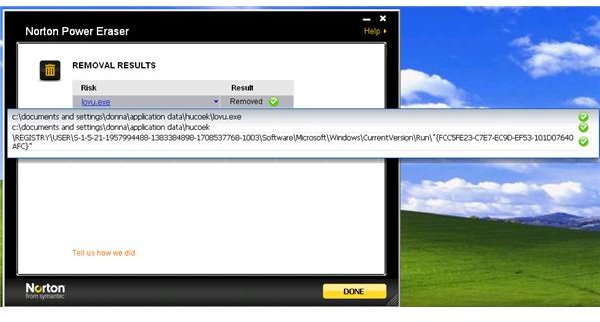 The System Restore feature in Windows also displays that a restore point was successfully created by Norton Power Eraser:
Final Words
I welcome this new tool by Symantec! It is a standalone and free removal tool with a simple user interface that any level of user can take advantage of. Malware and fake antivirus programs are affecting many people and we need this type of easy-to-use tools to help the community remove infections, if their normal antivirus missed anything.
Image credit: Screenshots taken by the author.