Spyware Remove - Antivir System Message and Fake Alerts

Fake AntiVir System Message
AntiVir Desktop or Avira AntiVir Personal are free antivirus programs by Avira. This program is a legitimate antivirus from a reputable
antivirus vendor. Some rogue security software sets use the name AntiVir to mislead or deceive end-users into paying for their fake AntiVir software. Often, the fake program displays an AntiVir system message such as:
Windows reports that computer is infected. Antivirus software helps to protect your computer against viruses and other security threats. Click here for the scan your computer. Your system might be at risk now.
There are serious threats detected on your computer. Your privacy and personal data may not be safe. Do you want to clean and protect your PC?
Your computer is being attacked by an Internet virus. It could be a password-stealing attack, a Trojan - a dropper or similar.
None of the above AntiVir system messages are true because the message comes from a fake antivirus program that exploits not only the name of Avira AntiVir Personal, but also takes advantage of the balloon notification feature in Windows and displays warnings for non-existing viruses, Trojans, spyware, worms and other types of threats.
How to Deal with Fake AntiVir Antivirus Program
If you've become a victim of fake antivirus programs that have AntiVir in their program name or title, deal with it by following the steps below: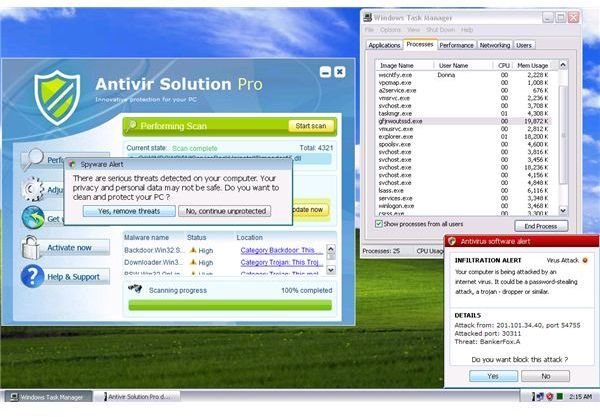 If you have a legitimate antivirus program and you can open it to update or scan the computer, do it immediately. However, if the fake AntiVir displays a fake message that your antivirus is infected, you need to use the next step.
Open your browser (Internet Explorer, Firefox or Opera) to download any effective and quick on-demand malware scanner. Examples of these scanners are Malwarebytes, EmsiSoft MalAware, Norton Power Eraser, SUPERAntiSpyware and Hitman Pro. If you cannot use the browser to download the tools, restart the computer to Safe Mode with Networking and then try again to download the on-demand scanners.
Whether you are using the computer in Safe or Normal mode, you should immediately install, update (if required) and then run a quick scan on the computer using any of the above on-demand scanners that you've just downloaded.
The fake AntiVir should be detected and removed from your computer and you should no longer see fake AntiVir system messages.
What You Should Not Do When You See a Fake AntiVir System Message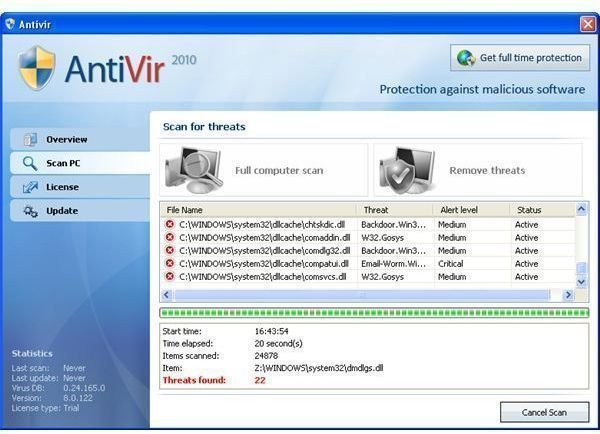 Many people have become victims of frauds because they fall for tricks used by rogue software and scareware. They thought that paying for the software that displays or "detects" threats on the computer will remove the threats. Little did they know that they just handed over their money, their name and their credit card number to scammers and they will never receive the software or remover that they just purchased.
Whenever you see a suspicious alert in Windows, you should not immediately trust what it says. Also, never provide any of your private information to any website, software or service that you did not visit or install yourself. And if the message from the unknown program prompts you to uninstall an existing antivirus or anti-spyware that you are using, ignore it or close the dialogue box. Deal with the fake program using the above steps.
Image credits: AntiVir 2010 UI from https://siri-urz.blogspot.com/2010/01/antivir-2010.html, AntiVir Solution Pro screenshots taken by the author.