Does Norton Family Online Really Keep Your Family Safe? An In-Depth Review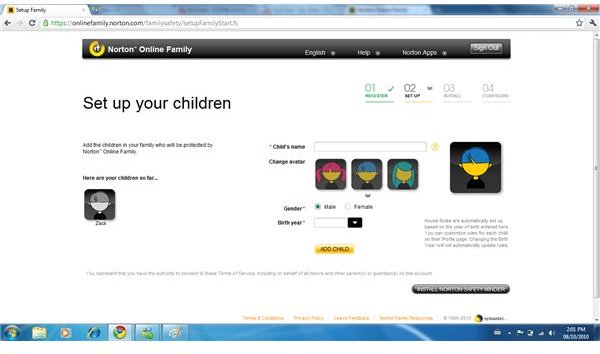 What Does Norton Family Do?
Before jumping right into the review, you should probably figure out what Norton Family does. There are two components to Norton Family. The first is the software, which gets installed on your computer and tracks all of the activities performed on it. The second is the online reporting system, which delivers all the monitored activities to you in an easy-to-read way. The purpose of the program is meant to keep your family safe, specifically the children in your family. It is a way to ensure your children are using the Internet in an appropriate and safe manner while avoiding harmful websites or adult-content websites.
Setup: Simple Vs. Time-Consuming (4 out of 5)
The first thing that must be covered in this Norton Family Online review is the set up procedure. There are quite a few steps involved in this, so a quick summary will help.
To begin protecting the members of your household from online threats, you need to visit the Norton Family website. Once there, you will need to create an account by entering your name, email, and desired password.
As soon as you have set up an account, you will be provided with a step-by-step wizard. The first step required is to finish creating your profile by entering your desired Display Name and selecting an Avatar. Next, you will need to enter your child's information, including their name, gender, and birth year.
One really quick note that needs to be mentioned is that the household rules will automatically be created for your child depending on his or her birth year. If you want any of the rules changed, you can always log in and make some tweaks. You may think this is an inconvenience, but it definitely saves time. Which would you rather do; tweak rules or create them all? Another important point, you can add additional children by clicking the "Add Child" button.
This is a very simple process to follow, and once you have your entire family set up in the system, you can continue to the next page. This is when you will be required to download the program and install it on each computer in your house. Yes, in order to monitor and protect your children, you must install it on all computers in your house. This is somewhat irritating, but the installation takes under ten minutes to complete; depending on your Internet connection.
The final step is to specify which child logs onto which Windows User. Once this is done, you will be redirected to the website again with further steps.
Overall, the set up is straightforward. It can take quite a bit of time though, and the multiple installs are slightly annoying. For this reason, the "Set Up" portion of this review receives a four out of five rating.
How It Works: Efficient, Annoying, Or Just Right? (4 out of 5)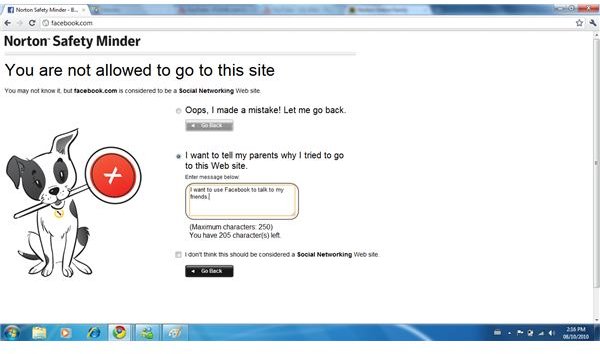 Norton Family monitors all of your children's activities online. This is both advantageous and disadvantageous. It is beneficial because you can access the data anywhere you want to - from home, work, on the road, or in a hotel.
It does not matter where you may be, you can always monitor the activities of your children. At the same time, you are restricted to monitoring online. This means that if you do not have an Internet connection, you will not be able to see what your children are up to.
The program monitors, warns, and blocks your child's activities depending on what he or she is doing. For instance, if a ten year old attempts to connect with Facebook, the website will be blocked. As a side note, this program would be extremely useful in high schools where all students check their Facebook accounts multiple times throughout the day, despite teacher wishes.
When a website is blocked, your son or daughter has two options. The first is to return back immediately, and the other is to write a little note about why they attempted to access the site.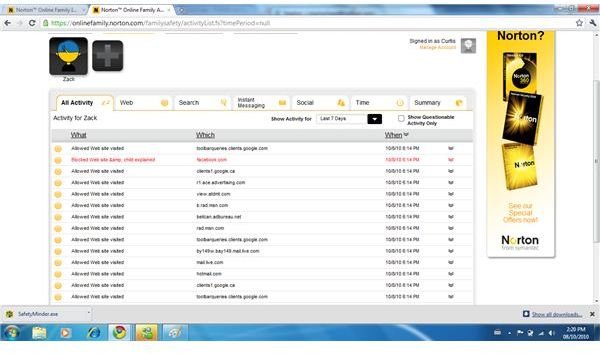 It logs all visited websites by your children, records the people they talk to through instant messaging, tracks all search terms used, and how much time they are spending on the computer. This is all put into a report in an online interface for you to review.
That online interface is the next section to cover, but first a little reasoning behind the rating. The program works well and blocks websites efficiently, but the fact that you can only access the reporting information online is a nuisance.
Because of this, the "How It Works" section of Norton Family Online gets a four out of five rating yet again.
Reporting & Monitoring Your Child (5 out of 5)
This portion of the program gets an outstanding five out of five rating!
Why does this portion get such a high rating compared to the others? Because Norton Family Online has such detailed reporting that really does make life easier. If Norton has excelled in any area of this program, this is it.
The reporting lists all Activities that your children have done, sorted from one child to another. You can organize the reporting by various forms of data, including:
Websites
Search Entries
Instant Messaging
Social Networking
Total Time Spent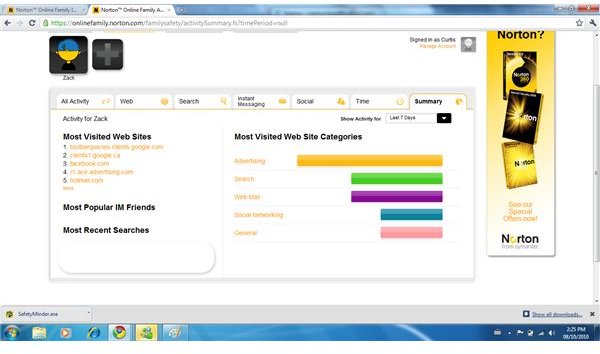 Important issues are on the "Alerts" page, which is the default page you are presented with when logging in, and highlighted in red in each of these report views.
Another helpful component is the "Summary" section that summarizes the data in a simple and easy to read way. It provides you with the Most Visited Websites, Most Popular IM Friends, Most Recent Searches, and Most Visited Website Categories.
This is a fantastic and quick way to ensure your children are behaving while on the Internet. So, for the simple layout and flexibility of options you have, the "Reporting" portion of the review receives an excellent rating.
How Useful Is Norton Family? (5 out of 5)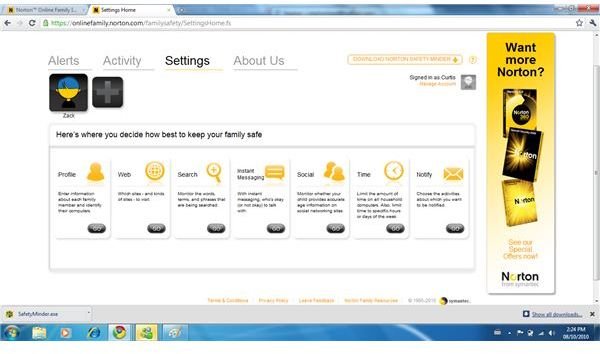 Whenever a parent looks into these types of products, they always wonder how effective it is. After all, these programs can usually be closed down, disabled, or uninstalled. Luckily, this is not the case with Norton Family. In order to uninstall or disable the product on any computer or laptop it is connected to, an individual will need to enter the email and password that was created when you first installed the product.
This means that unless you tell your children what the password is, they will not be able to turn the monitoring off. This is an efficient security tactic, and it will surely prevent your children from avoiding the monitor measures you employ.
Verdict: Five out of five!
Norton Family Online: Household Security, Or Privacy Breach
There is no question that your children may meet this program with a little bit of hostility. They may think it is breaching their privacy, especially for those children who are somewhat older.
Regardless, it is an effective program to use to ensure your family stays safe online. Reviewing the program and why you are using it is a crucial step in ensuring trust is built between you and your children.
That being said, Norton Family is an excellent product that should seriously be considered; especially because it is free.