The Best Firefox Parental Controls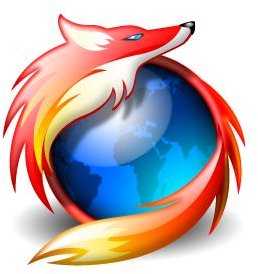 Firefox and Parental Controls
Guardians or parents won't be able to filter or restrict their kids or minors from viewing unwanted websites in Firefox. Mozilla has not added Firefox parental controls, content filtering or website blocking features. It may be because there are already Firefox add-ons that can be used as parental control programs.
Setting up parental control software in the Firefox browser is easy as 1, 2, 3 and you don't have to pay a fee or subscription to stop children from visiting dangerous or unwanted pages. Below are some of the great parental control add-ons for the Firefox browser. Note that I'm only mentioning 2 of the best parental controls add-ons for Firefox so you don't have to keep trying other add-ons that might not meet your needs in guarding your kids online.
ProCon Latte: Parental Controls Add-on for Firefox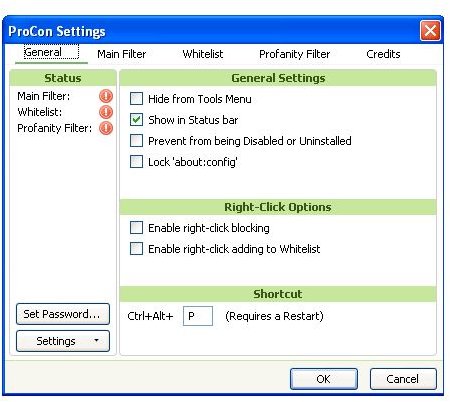 One of the best Firefox parental controls is called ProCon Latte. The add-on is available for download at the Mozilla add-on website or from the developers' website. You can start protecting kids using ProCon Latte for the Firefox browser by restricting allowed websites using keywords and site name filters. You don't need to add a complete URL address to block a site. You simply have to enter the words that ProCon will block. If it finds the entered word in the website address, it will be blocked.
One cool thing with ProCon Latte is that you can restrict removing or disabling the add-on for people with the password. Also, you can hide the ProCons' icon so it is not visible to any kids or users that may try to access the preferences menu. If you're worried that the kids are smart enough to disable anything using about:config in Firefox, you can use ProCon Latte to lock access to about:config.
If a website is blocked by ProCon, kids will see the default notice that says, "The website you have attempted to view is unavailable due to restrictions on this computer".

If you find that boring or you want to personalize the blocking message, you can create one in ProCon Latte settings e.g. "Son or Sunshine, I don't think you should be visiting this site. Love… Mom"
LeechBlock: Free Firefox Parental Controls Add-on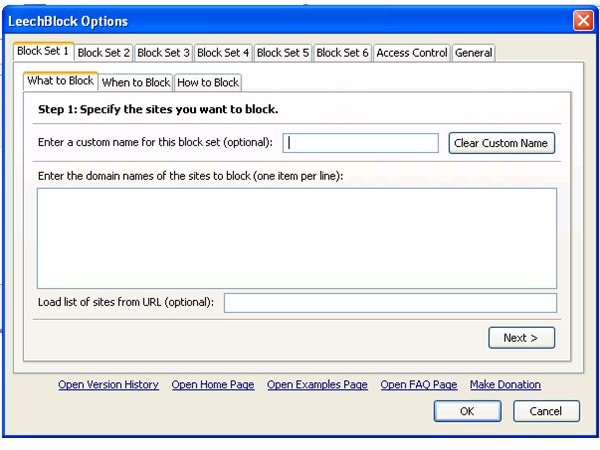 LeechBlock is another parental control add-on for the Firefox browser that can be customized like ProCon Latte. You can download LeechBlock from the authors' website or from the Mozilla add-on website.
With LeechBlock, all you need to do is answer three questions before you decide to restrict the kids online: What to block?, When to block? and How to block?.
Example: If you decide to block a social networking site, like facebook.com or myspace.com, enter it in the LeechBlock options. Enter as many domain names as you wish to block, but input only one website address per line.
Next, proceed to enter the time periods when LeechBlock blocks the sites e.g. from 1000 hrs. to 2400 hrs, or all day. You can also choose to block websites on certain days or every day.
Finally, choose how the blocking message will be displayed. For example, sending them to another website or your family photo album online. You can also just show the default local blocked page that LeechBlock has as a default message: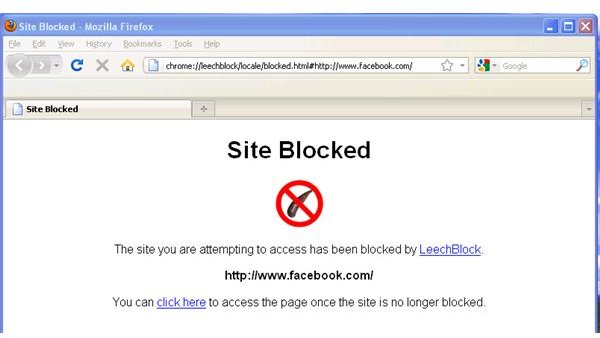 Another option in using LeechBlock is to disallow anyone without a password from disabling or uninstalling the Firefox parental controls add-on.
Not Using Firefox Browser?
If you are not using the Firefox browser but you want to restrict kids online, check out the best parental controls software article and how to block and unblock sites using IE, Opera, Google Chrome or Vista and Windows 7 operating systems.
Image credits: Firefox logo from https://commons.wikimedia.org/wiki/File:Firefox_LiNsta.png, screenshot taken by the author.