What to Do if Avast Will Not Start Windows 7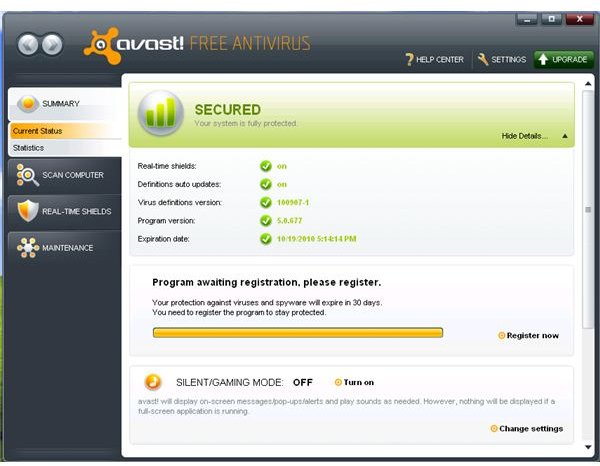 Windows 7 and Avast! v5 Antivirus
The new version of Avast has been reported to have issue in Windows 7 by not starting up or loading. There's no error message and the program compatibility is not showing any report. The only symptom of an issue is simple: Avast will not start in Windows 7. If you want to fix the problem, try the following troubleshooting guide in below sections.
Avast Compatibility in Windows 7
Microsoft's Windows 7 Compatibility website shows version 4 of Avast runs on 32-bit and 64-bit editions of Windows 7. This means that the newer version of Avast, which is Version 5, is also compatible with Windows 7. Using the latest product version is recommended
Avast has caused performance issues in Windows 7 startup
Some Avast users have reported that Avast will not load or start in Windows 7. Before fixing the issue, you should verify by checking the event logs in Windows 7 or by opening the Performance Information and Tools in Windows 7.
Open the Control Panel in Windows then select System and Maintenance
Click on the Performance Information and Tools, and then click Advanced tools in the left pane.
Under Performance issues, ensure that there is no report that Avast is causing performance degradation.
Next, open the Event Viewer in Windows by typing eventvwr.msc in the run command/box.
Locate for any recent Diagnostic and Performance event/log that says "This application took longer than usual to start up, resulting in performance degradation in the system startup process: File Name: AvastSvc.exe". If you find such entry, proceed to below troubleshooting.
To solve the problem of delayed startup or not loading of Avast in Windows, try the following possible solutions:
Boot the computer to safe mode
Manually open Avast, and then click on "Settings" which is located in the upper right-hand area of Avast user interface.
Click the "Troubleshooting" menu in the left pane, and then put a check before the box for "Load Avast! services only after loading other system services". Click OK to apply

If the above troubleshooting has helped, report the issue to Avast with your system information to help the developers identify the issue, and provide a permanent fix.
Other Antivirus or Anti-Malware Program and Avast
Another method to troubleshoot Avast startup issue in Windows 7 is to try disabling other security tools in Windows 7, third-party or the built-in security programs:
Disable Windows Defender anti-spyware in Windows 7
Temporary disable other standalone anti-spyware, if any.
If you are using a firewall with spyware protection, disable it as well.
Reboot the computer and see if the problem in loading Avast during Windows logon is fixed. If not, proceed to next steps.
If there's other antivirus program, remove it. It is not recommended to run more than one antivirus program in Windows.
If there is other anti-spyware or anti-malware running a real-time protection, add Avast services and processes in the exclusion or trusted files.
You should also configure the firewall program to trust Avast processes.
If none of the above will help, proceed to re-installing Avast after using the Avast Uninstall utility. Ensure that you are using the latest installer of Avast antivirus program by downloading a new setup file, just in case the one you have is corrupted.
Image credit: Screenshot taken by the author.